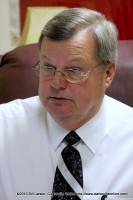 Nashville, TN – Tennessee State Representative Curtis Johnson (R–Clarksville) today announced Montgomery County is set to receive several important appropriations through the 2013-2014 fiscal year budget passed by the Tennessee General Assembly late last week.  The news came after Representative Johnson offered several key amendments to Governor Haslam's official budget to include this important funding.
The first project allocates $4.3 million for the new Clarksville Veterans' Nursing Home. Once complete, the veterans' home is expected to create nearly 100 jobs and have an economic input around $6.6 million. Similar facilities are located in Murfreesboro, Humboldt, and Knox County. According to state officials, there are 22,389 veterans in Montgomery County. Of those, 3,313 are over the age of 65.
The second appropriation, also secured by Representative Johnson, includes $400,000 to be used for upgrades to the Austin Peay State University Animal Sciences Building. This funding will be used to continue construction on the school's Animal Science Facility, which will include a new animal husbandry laboratory classroom and a livestock handling area. The building will provide a practical working and learning space for faculty, staff, and students.
In addition to these important projects, the budget details an additional $250,000 for Veterans Courts (only two exist in the state, Montgomery County and Shelby County), an increase in funding for the drug court in Clarksville from $50,000 to $70,000, and the funding to provide for an additional support employee for the Department of Veterans Affairs.
"I'm extremely appreciative to Governor Haslam for making these projects a priority for Montgomery County," stated Representative Johnson. "This is another great moment for our community and I am especially pleased to provide my assistance to help the veterans of our state as well as our area's flagship university, Austin Peay."
Curtis Johnson lives in Clarksville and serves as House Speaker Pro Tempore in the Tennessee General Assembly. He represents District 68, which includes a portion of Montgomery County.