Written by Cody Bush
APSU Sports Information

Richmond, KY – Austin Peay State University remained unbeaten in extra inning affairs this season, scoring three runs in the 10th inning to secure a 9-6 Ohio Valley Conference victory against Eastern Kentucky, Saturday, at Turkey Hughes Field.
Austin Peay (32-13, 13-7 OVC) got a little help from the Eastern Kentucky defense to start its 10th-inning drive. First baseman Craig Massoni singled to start the frame and left fielder Cody Hudson stepped to the plate to move the runner with a sacrifice bunt.
Hudson did that and more as his bunt was slowly handled by EKU pitcher Myles Scott, giving Hudson time to beat the throw to first base for a hit. Scott's throw sailed past the first baseman and down the right-field line, allowing Massoni to score and Hudson to reach third base.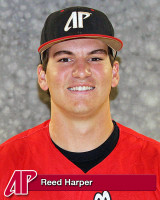 Shortstop Reed Harper drove in the inning's second run with a sacrifice fly, but APSU's rally did not end there. Pinch hitter Tommy Hager singled to left field and catcher P.J. Torres doubled high off the wall in right to put two runners in scoring position. Center fielder Dylan Riner added the inning's third run with a sacrifice fly and APSU led 9-6.
Closer Tyler Rogers climbed the bump for the third time in the game and sealed the win with two strikeouts and a ground-out around a walk.
Eastern Kentucky (15-26, 11-10) forced extra innings with a wild four-run eighth inning. With reliever Don Whitson Jr. on the mound for the Govs, EKU saw five of its first six batters reach base safely. First baseman Bryan Soloman singled to drive in a run and center fielder Austin Grisham followed with a two-run single, cutting the APSU lead to one run and forcing Whitson from the game.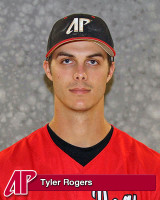 The Govs turned to closer Tyler Rogers to end the inning but third baseman Doug Teegarden hit a seeing-eye single past APSU second baseman Jordan Hankins to tie the game. Rogers would recover and induced a ground ball back to the mound where he started an inning-ending double play with the game tied, 6-6.
Eastern Kentucky scored the game's first run in the second inning on a Soloman single. It was the Colonels only lead outside of the advantage they held following a walk-off hit in Game 1.
That lead did not survive the Govs next turn at bat as the Govs put four of their first five batters aboard safely in the third inning. Eastern Kentucky assisted the Govs with a pair of wild pitches and a pair of passed balls. Riner tied the game with a sacrifice fly, right fielder Rolando Gautier had a RBI triple and third baseman Kevin Corey added a run-scoring single to give APSU a 3-1 lead.
The Colonels scored a run in the fifth thanks to an Austin Peay error. However, the Govs responded again with three runs in the sixth, including a Torres' two-run single, to build a 6-2 lead.
Rogers (6-2) picked up the win after tossing the final 2.2 innings, allowing no runs of his own and striking out two. Austin Peay starter Zach Hall left with no decision despite a quality outing where he allowed two runs over seven innings while scattering six hits.
Every Governor who took a turn at bat recorded a hit, with five players recording a multi-hit outing in the 15-hit affair. Hudson finished the day 2-for-4 with a sacrifice bunt in the sixth inning. Torres went 2-for-4 with two RBI.
EKU's Scott suffered the loss after allowing three runs on seven hits over the final four innings. Starter Shane Grimm allowed six runs on eight hits over the first six innings. Soloman led the EKU offense with a 3-for-5, two RBI outing.
Austin Peay returns home with its next scheduled outing a three-game Ohio Valley Conference series against Morehead State, beginning with a 6:00pm, Friday contest.