Mazda CX-5 inches past RAV4 in ranking

Yonkers, NY – Redesigned for 2013, the new Toyota RAV4 performed well in Consumer Reports' tests—and achieved a "Very Good" overall score. But the RAV4's performance wasn't enough for it to reclaim its top spot among small SUVs.
The RAV4 now ranks, behind the Consumer Reports' 2013 Top Pick Honda CR-V and the latest Mazda CX-5, equipped with a new 2.5-liter engine, for small SUVs. The race is very tight, only one point separates the CR-V from the CX-5, and the CX-5 from the RAV4.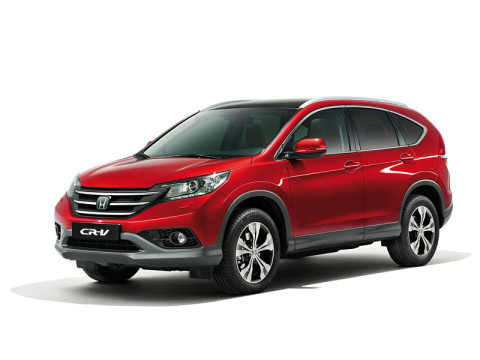 "The good news for consumers is that the Small SUV category is a very tight and competitive race with a number of solid vehicles to choose from," said Jake Fisher, director, Consumer Reports Auto Test Center.
Complete tests and ratings of the RAV4 and CX-5 appear on ConsumerReports.org today, and in the June issue of Consumer Reports, on newsstands May 7th. The Honda CR-V was tested previously. Updated daily, ConsumerReports.org is the go-to Website for the latest auto reviews, product news, blogs on breaking news and car buying information. Check out CR's ongoing Twitter feed at @CRCars.
Consumer Reports found the CX-5 and RAV4 are capable, well-equipped vehicles that provide versatile choices for consumers. The RAV4 is versatile, efficient, and easy to live with. Its redesign brings some welcome changes, such as an easier-to-use rear hatch that lifts up instead of swinging to the side, as it did in previous generations of this vehicle. With 24 mpg overall, it also stretches fuel dollars farther than most competitors. Its agile handling and spirited powertrain make the RAV4 enjoyable to drive. A roomy interior, super easy access and mostly intuitive controls add to its appeal.
For 2013, Toyota has dropped the optional third-row seat, which few people will miss, and the sprightly, efficient V6 engine, which some will miss. Knocks? The ride borders on being overly firm, the cabin is fairly noisy, and some interior trim is quite basic.
If the CX-5 has been a surprising sleeper among small SUVs, CR's engineers think its new 184-hp, 2.5-liter four-cylinder engine will wake people up. Included in mid-and top-trim models, the new four feels more muscular and provides much quicker acceleration than the pokey 155-hp, 2.0-liter four in the CX-5 that we tested last year and that's now relegated to the base Sport trim. It got the same impressive fuel economy: a best-in-class 25 mpg overall.
Consumer Reports found the CX-5 is also one of the more fun-to-drive SUVs the organization has tested, thanks to its agile handling. Plus, it has surprisingly roomy interior and comfortable seats. Drawbacks include a noisy cabin, so-so ride comfort, and a relatively high price that doesn't include several features found on competitors, such as heated seats and automatic headlights.
Consumer Reports tested the mid-trim CX-5 Touring stickered at $28,090, and the mid-trim RAV4 XLE was $26,802. Because Consumer Reports expects above-average reliability from each, the CX-5 and RAV4 are CR Recommended.
Consumer Reports finds Mazda6 Fun and Frisky
In addition to the small SUVs Consumer Reports also tested the Mazda6 sedan. Consumer Reports engineers found the Mazda6's 184-hp, 2.5-liter four-cylinder engine delivers a frugal 32 mpg overall and a diesel-like 44 mpg on the highway. That's the best Consumer Reports has measured in a conventional midsized sedan, edging out the four-cylinder Nissan Altima (31 mpg) and Honda Accord (30) as well as many compact and subcompact cars.
"In a crowded, competitive class, the Mazda6 often gets overlooked by people shopping for a midsized sedan. But with the 2014 redesign, it makes a strong case for the spotlight by blending eye-catching, coupe-like styling, a sporty driving character, and excellent fuel efficiency," said Fisher.
About Consumer Reports
Consumer Reports is the world's largest independent product-testing organization. Using its more than 50 labs, auto test center, and survey research center, the nonprofit rates thousands of products and services annually. Founded in 1936, Consumer Reports has over 8 million subscribers to its magazine, website and other publications.
Its advocacy division, Consumers Union, works for health reform, food and product safety, financial reform, and other consumer issues in Washington, D.C., the states, and in the marketplace.