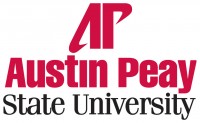 Clarksville, TN – Barry Jones, Austin Peay State University associate professor of art, sat at his desk in a small basement studio off First Street in downtown Clarksville. The room was dark because of the rain outside.
It tapped softly against the windows while Jones rubbed his hand through his beard. He seemed as if he could use a cup of coffee or something with a bit of caffeine. His eyes, usually gleaming with a quiet happiness, were red from staring at a computer screen on this dreary afternoon.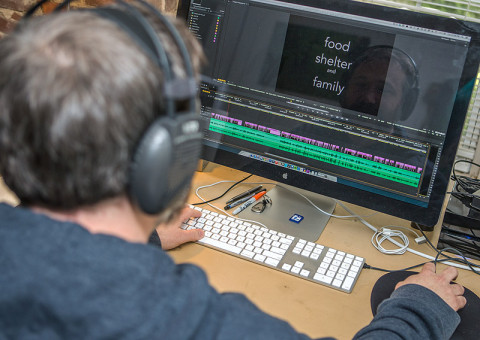 "What does it mean to live a good life?" he asked. "I have no idea, but I'm hoping to find out."
Jones, a married father of four, was awarded a Faculty Professional Development Assignment this semester to explore that and other fundamental questions about existence. He traveled throughout the Clarksville community, collecting answers from a wide range of citizens, and he has turned their responses into the dynamic, community art piece, "Common Hope," which he plans to unveil to the entire city the week of May 20th-26th. During those seven days, Jones will project their words onto public buildings while playing audio clips of their answers.
"It seems that Clarksville's answer to living a good life is to follow your dreams and have a positive impact," Jones said. "Despite what broadcast television is telling us, we're probably not as divided or different as we think. Family seems to be very, very important to everyone. They also want to live a life they're proud of. That's pretty inspiring. And it doesn't seem to matter where on the political spectrum they are. When it comes right down to it, as a community, our core values are pretty consistent."
Jones, an APSU alumnus, returned to Clarksville eight years ago, and he considers the community his home. This is where his children go to school and have made friends, and he plans to stay here throughout his career at APSU. This connection to Clarksville got him thinking recently about his responsibility as an artist.
"What is the role of an artist in a community?" he asked. "What's my role? Is it to make discrete objects to sell? I decided I wanted to be involved. I wanted to know Clarksville."
For the last three months, Jones has visited local public institutions, such as schools, churches and community and senior centers. Armed with a digital audio recorder, he has asked everyone from children to senior citizens, conservatives to liberals, four simple questions. What are your hopes and dreams? What is the most important thing in your life? What does it mean to live a good life? What are our responsibilities to each other?
"My theory was that the hopes and dreams of a child in elementary school would be very similar to the hopes and dreams of a senior citizen, and I set out to prove it," Jones said. "What I'm looking for is those common hopes. And when we talk about responsibility, everybody says we have to take care of each other. We may disagree on how, but it's nice that we all want to do it."
Jones did a similar project in Spartanburg, SC, with typographic animation of people's responses projected onto the local library. The result, along with the audio responses, made it seem as if the public building was talking.
"My attitude toward art making has changed a lot, and how I think about success as an artist really," Jones said. "This won't be in galleries. I'm making it for the city really. It's public art, but in a new way. It's not a bronze figure."
The dates and locations for the "Common Hope" projections are
5:00pm-8:00pm, May 20th, Moore Magnet Elementary School.
8:30pm-9:30pm, May 21st, Kenwood High School.
8:30pm-9:30pm, May 22nd, Deliverance Outreach Temple Church.
8:30pm-9:30pm, May 24th, Ajax Turner Senior Citizens Center.
8:30pm-9:30pm, May 25th, Trinity Parish Episcopal Church.
8:30pm-9:30pm, May 26th, Clarksville-Montgomery County Public Library.
8:30pm-9:30pm, June 17th, Kleeman Community Center.
Jones is still collecting responses for this project. He has set up a link to a call-in website, http://commonhope.us/, allowing individuals to call and leave their responses.