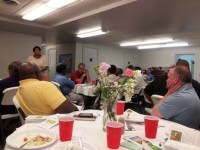 Clarksville, TN – The Clarksville Area Ministerial Association welcomed Tasha Chusac as the guest speaker for the monthly luncheon. Tasha shared the mission and purpose behind the Early Connections Network with the diverse group of pastors.
That mission consists of bringing together families, caregivers, teachers, providers, governmental agencies, and natural supports in the promotion of healthy development.
As a federally funded early childhood system of care initiative in Middle Tennessee that is overseen by the Tennessee Department of Mental Health and Substance Abuse Services, ECN serves young children, birth to 5 years of age with social, emotional, and behavioral needs in Fort Campbell, Cheatham, Dickson, Robertson, Sumner, and Montgomery counties.
Because children develop best when they have secure, consistent relationships with responsive adults and opportunities for positive relations with peers, ECN provides free training to parents, grandparents, and professional development in addition to support to parents, adolescent parents, grandparents, and staff.
Community collaboration is paramount to linking various resources in the community so that the referral process among various agencies is seamless. The Early Connections Network also provides direct therapy services to families with children birth through five.
Tasha articulately painted the picture of the parents that may be struggling with the woes of seeking assistance from various agencies. She described the frustration from parents having to constantly provide the same information to each agency they encounter and the feeling of hopelessness they experience trying to garner all the community resources to assist them in working with their children.
The goal of ECN is to increase awareness about the successes and challenges in children's mental health and emphasize the importance of family and youth involvement in the children's mental health movement.
Parents with concerns about their child's age's birth to 5, social, emotional, and behavioral well being are encouraged to contact ECN at 931.221.3800.