Charleston, IL – With one top-eight finish in seven event finals on Day One of the 2013 Ohio Valley Conference Outdoor Track and Field Championships, Austin Peay State University women's track and field team has some ground to make up, Saturday, with the Lady Govs sitting in 10th place following the first day of action.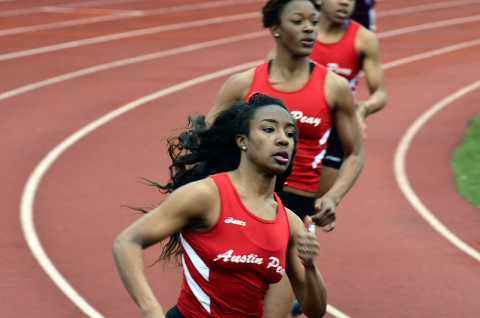 Senior Nichole Bressner earned the Lady Govs lone top-eight finish at O'Brien Stadium, Friday. The Fairbury, Ill., native tied for eighth in the pole vault with a 3.35m (10' 11.75") to share the point with Eastern Illinois' Kirstie Wieber.
"We're not worried about the scoreboard today," said head coach Doug Molnar. "We underperformed a bit in spots, but we got huge qualifying performances from some other people that sets us up well for tomorrow."
Saturday portends to be a better day for the Lady Govs, who already have several student-athletes qualified for track event finals. In the 800m run, senior Chantelle Grey (first) and junior Xiamar Richards (ninth) are both in the final field for the event; Richards will also give it a go in the 1500m and 5000m, Saturday.
"Richards is going to have a full day," Molnar said. "With 10 in the 800m final, she can't rest; she'll have to work to pick up a point or two."
Freshman Breigh Jones also has a busy Saturday awaiting her; the Memphis native will run in both the 200m and 400m dash finals. She qualified second in the 400m event (54.87) and snuck into the 200m with a seventh-place mark (personal-best 24.72).
Sophomore Natalie Olberding staked a claim as the conference's best 400m hurdler; she blew past the field with a blistering 1:00.96 mark to qualify in the top spot for Saturday's final. That run was nearly two seconds faster than her previous personal-best.
In the 100m dash, sophomore Erika Adams' personal-best 11.90 mark was the second-fastest qualifying time; she'll be in the third lane for Saturday's final.
"That was a huge personal-best for Erika," Molnar said. "Natalie and Breigh both had huge days and have the potential to get on the podium tomorrow. We can pick up a lot of places in the standings if we hold some of these places tomorrow."
Action continues 10:00am, Saturday, with the hammer throw. Track events are scheduled to begin at 1:00pm.