Montgomery County, TN – Stone, Rudolph, & Henry, PLC, a full service accounting firm in Clarksville, celebrated their Clarksville-Montgomery County Green Certification with a Green Ribbon Cutting Ceremony on Thursday, May 2nd.
After cutting the ribbon, Montgomery County Mayor Carolyn Bowers kicked off the conversation by saying "Tell us what you all did to earn the certification."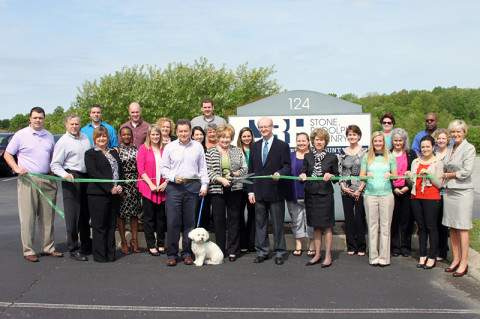 Stephen Springer, a principal at Stone, Rudolph & Henry commented. "First, I thought the classes were excellent and wish everyone in the office could have attended. Our biggest issue is paper and what to do with it. All of our clients bring us paper. We had to look at what we could do in the process to keep from producing more paper."
"Even before the classes we had started using multiple computer screens rather than printing everything out to review. About 99 percent of what we do is now filed electronically, said Springer. "We have increased the use of electronic communication in the office and with clients. All the junk mail and shredding that we once threw away is now recycled. We were able to cut our trash container in half and still don't fill it up. In addition, we stopped providing bottled water to employees and installed a water filter system so employees use reusable cups."
Bowers also asked about any energy initiatives that had taken place.
"We had an energy audit done by the Clarksville Department of Electricity and now regulate our thermostats, added some insulation to our exterior walls including our outlet covers, have our filters changed more often and started energy reduction initiatives with employees, explained Springer.
"I'm proud of you all for doing this and keep up the good work, said Bowers."
City of Clarksville Mayor Kim McMillan also praised their work and then asked, "How is your work translating to what the employees do in their homes?"
Springer said, "When asked about this at one of our office meetings we found that many are recycling and doing other things at their residences that go right along with our initiatives at work. Another thing we did was go from large trash cans to small cans as a visual to encourage less trash and more recycling."
When Managing Principal Thomas Henry asked about the possibility of curbside recycling, McMillan explained it is something they have looked at but that there is a major expense involved.  She pointed out that there are private companies that can accommodate residences to which Chamber of Commerce Vice President Melinda Shepard added were listed on the Chamber web site.
Steve Springer said, "For our family it began with my daughter who was part of Bi-County's Sango Recycling Team. Now she is a senior in high school and we've been doing it that long in our home."
Marketing Director Shea Bradford later added. "Our trash has gone down so much in the business we are considering downsizing to only roll out garbage can."
Stone Rudolph and Henry is a full service public accounting and consulting firm that has served clients in Tennessee and across the nation for almost 60 years with accounting, auditing, tax planning and preparation, business consulting and technology services. For more info about Stone, Rudolph & Henry, PLC visit www.srhcpas.com .
If your business has an interest in learning more about the Clarksville-Montgomery County Green Certification Program email Michelle Newell at or call 931.245.1867.