Clarksville, TN – Following a six-day break for finals, Austin Peay's baseball team returns to action when it travels to UT Martin for a three-game Ohio Valley Conference series scheduled to begin with a 6:00pm, Friday contest at Skyhawk Field.
The Govs have won nine of their last 10 contests, including OVC series victories against Belmont, at Eastern Kentucky and against Morehead State. UT Martin is seeking to end a nine-game losing streak entering this weekend's play – a streak that includes OVC series losses to Morehead State and SIU Edwardsville the past two weekends.
The Govs have not lost an OVC series to UT Martin since 1994, but that does not mean they have escaped unscathed as the Skyhawks have won a game in the last two series played in Martin.
Austin Peay Governors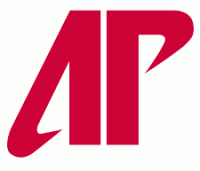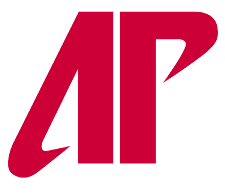 After reaching the season's halfway mark with a 23-5 record, Austin Peay lost 7 of its first 10 games to start the second half before bouncing back to win 9 of its last 10, including a current five-game win streak, and has a 12-8 mark in the second half.
With two weekends remaining in the OVC regular-season race, APSU sits 4th with a 16-7 league mark, 2½ games behind league-leading Tennessee Tech (19-5) with 2nd-place Jacksonville State and Belmont (18-6) sitting 1½ games ahead of APSU.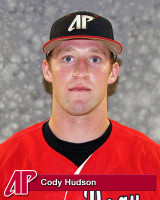 Junior first baseman Craig Massoni is second in the OVC batting race, his .372 average only 13 points behind Morehead State's Kane Sweeney (.385). Massoni leads the Govs and ranks among the OVC's Top 3 in each of the triple-crown categories: average, home runs (10, t-3rd in OVC) and RBI (53, 2nd).
Senior outfielder Cody Hudson has moved to fifth in the batting race (.363) thanks to an impressive three-week burst that has seen him post a .476 average (20-for-42) in 11 games. Junior second baseman Jordan Hankins is 9th in the battle for the hitting crown with a .343 average, including a .374 mark in OVC play.
Right fielder Rolando Gautier received a day of rest, April 24th, and has responded with a six-game hit streak that has seen him bat .384 (10-for-26). Shortstop Reed Harper had the Govs first 5-for-5 outing since 2011 in the Morehead State finale, May 5th Center fielder Dylan Riner saw his six-game hit streak end in the Morehead State finale, but he was 4-for-10 in the series.
Catcher P.J. Torres opened the Morehead State series with a 4-for-5 outing that included a pair of home runs – the first multi-home run outing by a Govs hitter this season. Junior Kevin Corey moved to second base for the final two games of the Morehead State series and he was 3-for-4 in Game 2 of the set. The Govs have used six different players at designated hitter this season.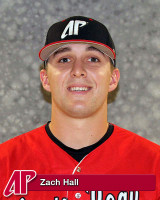 Austin Peay's pitching rotation will again be without junior Lee Ridenhour, the Govs No. 1 the season's first 11 weeks, who will get his second weekend of rest. Junior Zach Hall will get the nod as the Govs No. 1 this weekend, it will be his first opportunity to start a weekend series this season, he has a 3.86 ERA in his last three starts.
Senior starting pitcher Casey Delgado will move back into his familiar No. 2 role, he has allowed six runs in each of his last two outings. Junior Ryan Quick will get the nod for his fifth Sunday start this season, seven days after striking out a career-high tying nine batters against Morehead State.
UT Martin Skyhawks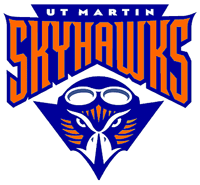 UT Martin brings a nine-game losing streak into this weekend's series against Austin Peay and are 2-21 in their last 23 games. The Skyhawks three OVC victories have come in the OVC opener against Jacksonville State (March 8th), Game 2 of the Belmont series (April 6th) and the series finale at Eastern Kentucky (April 14th).
First baseman Wade Collins leads UTM in each of the three triple crown categories, batting .314 with three home runs and 25 RBI, but has not played in the last 10 games. Senior outfielder Byron Johann is the only other Skyhawks regular batting above .300 (.308) and has three home runs and 22 RBI this season.
Senior right-hander Dan Tobik will get the nod for Game 1 with a 1-6 record but has posted 53 strikeouts in 49.1 innings. Sophomore southpaws Taylor Cox and Dalton Potts will be called on in Games 2 & 3. Cox is winless (0-5) in 11 starts this season but has the trio's best ERA (5.94) despite allowing 79 hits (.357 batting average) over 50 innings (14.22 H/9). Potts is UTM's wins leader with a 4-5 mark and held Eastern Kentucky scoreless through six innings for UTM's last win, April 14th.
The Governors-Skyhawks Series
Austin Peay owns a 75-27-2 advantage in the all-time series, including a 29-14-1 edge in games played at Skyhawk Field. The Govs swept the 2012 series played in Clarksville – their current three-game win streak. APSU has lost one game in each of the last two OVC series played in Martin and in three of the last five series overall. The Govs last lost a series to UT Martin during the 1994 season, dropping 2 of 3 at Martin.
Rogers Puts OVC Career Mark In His Sights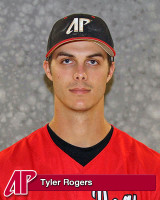 Closer Tyler Rogers, who already owns both the APSU single-season and career saves marks, became the OVC's single-season saves record holder, April 24th, with a save in each game of the Evansville doubleheader.
With three saves in the two weekends since that twinbill, Rogers enters this weekend's set with 31 career saves, one shy of tying the OVC career saves mark held by Jacksonville State's Todd Hornsby who recorded 32 saves (2010-12).
Rogers Zeroing In On Division I Saves Mark
Closer Tyler Rogers' 19 saves this season will put him in the NCAA's record book, the question becomes how far up the ladder he can climb? Rogers became the 25th Division I pitcher to record 19 saves in a season and is among a nine-player tie at 16th. The top spot is held by Southern California's Jack Krawczyk who recorded 23 saves in 1998.
Massoni For The OVC Triple Crown?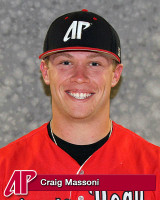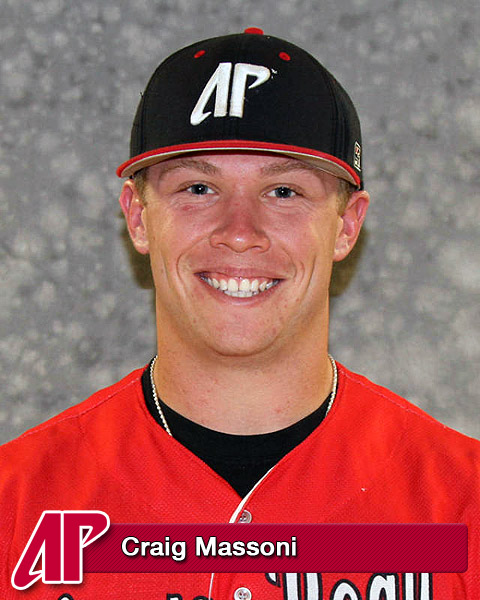 With two weeks remaining, junior first baseman Craig Massoni can see a possible OVC Triple Crown. He ranks second among league hitters in batting average (.372) and runs batted in (53) and third in home runs (10).
Massoni's deficit in the three categories is not overwhelming: Morehead State's Kane Sweeney (.383) has an 11-point edge in batting average, Tennessee Tech's Zach Stephens has a three-RBI lead and TTU's Brandon Thomasson has a two home run cushion. The last OVC Triple Crown champion was Western Kentucky's Ralph Antone (1982).
Govs Ranked No. 7 In Mid-Major Poll
Austin Peay's series sweep of Morehead State helped it remain ranked No. 7 in the CollegeBaseballDaily.com Mid-Major Top 25 Poll. Mercer remained in the poll's top spot for a third consecutive week. The Bears were followed by No. 2 Louisville, No. 3 Indiana, No. 4 South Alabama, No. 5 Gonzaga and No. 6 New Mexico. The Mid-Major Poll includes all baseball conferences except the ACC, Big 12, Big West, Conference USA, Pac 12 and the SEC.
OVC Plot Thickening With Two Weeks To Go
Entering this weekend, the OVC regular-season race has two weekends remaining. The Govs enter their series with UT Martin 2½ games behind league-leading Tennessee Tech. In addition, the Govs are 1½ games behind both Jacksonville State and Belmont which are tied for second.
With each of the top four teams having six games remaining on their schedule, the formula for the Govs becomes simple. If APSU wins its remaining six OVC games, they can pass Jacksonville State and Belmont if both post no better than a 4-2 mark. The Govs would need Tennessee Tech to finish its final six games with no better than a 3-3 mark.
Media Center
Radio: Governors Sports Network
Online Audio: www.LetsGoPeay.com
Twitter: @APSUBaseball
Inclement Weather Updates
With inclement weather forecast for this weekend's OVC series, fans should be advised the schedule may change. Schedule updates will be available via UT Martin's website (UTMSports.com) or on Twitter @APSUBaseball and @LetsGoPeay.
PROBABLE STARTING PITCHERS
Date
Start
Austin Peay Starter
Opponent Starter
Friday.
6:00pm
LHP Zach Hall (Jr., 5-2, 5.72 ERA)
RHP Dan Tobik (Sr., 1-6, 6.75 ERA)
Saturday
4:00pm
RHP Casey Delgado (Sr., 6-2, 4.94 ERA)
LHP Taylor Cox (So., 0-5, 5.94 ERA)
Sunday
1:00pm
RHP Ryan Quick (Jr., 4-2, 6.81 ERA)
LHP Dalton Potts (So., 4-5, 5.96 ERA)