Stephen Parker, Anderson De La Rosa Each Contribute Four RBIs In Victory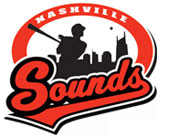 Nashville, TN – The Nashville Sounds plated a season-high 11 runs, including six in the seventh frame, in an 11-7 victory over the visiting Fresno Grizzlies on Thursday evening at Greer Stadium.
The Sounds' 5 through 8 hitters did most of the damage, combining to go 7-for-12 with 10 RBIs and six runs scored, as Nashville (10-22) recorded its third win in the last four contests.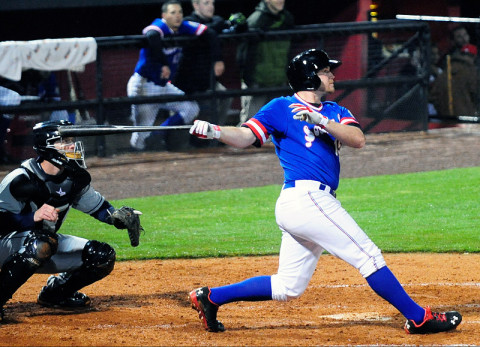 Third baseman Stephen Parker homered and drove in four runs while extending the Sounds' longest hitting streak of the year to 12 games to pace an 12-hit offensive attack. He is batting .318 (14-for-44) during the hit streak.
Catcher Anderson De La Rosa also drove in four runs for Nashville during a 2-for-4 evening that included a pair of doubles.
Fresno first baseman Brett Pill belted a pair of home runs and drove in six of Fresno's seven runs in the losing effort.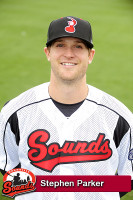 Pill spotted the visitors a quick 3-0 lead with a three-run homer to left off Sounds starter Frankie De La Cruz in the top of the first inning. Kensuke Tanaka drew a game-opening walk and Gary Brown singled before both scored on Pill's one-out blast, the infielder's eighth of the year.
Parker pulled Nashville back within a run in the second when he slugged a two-run homer to right-center. The blast, the infielder's fourth of the year, came off Fresno starter Boof Bonser and extended Parker's hitting streak to 12 games, the best effort by a Sound this season.
Nashville pulled ahead with a pair of runs in the fourth. Josh Prince led off with a double to right-center and Caleb Gindl drew a walk. After Hunter Morris grounded out to move up the runners, Sean Halton laced a game-tying RBI single to center and Parker followed with his third RBI of the night, a go-ahead sacrifice fly that plated Gindl for a 4-3 Sounds lead.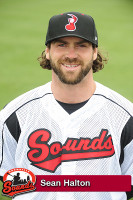 De La Cruz left in line for his second win of the year but took a no-decision after the Sounds' bullpen failed to protect the lead. The veteran right-hander allowed three runs on four hits in 5 2/3 innings of action, walking a season-high five batters and striking out a pair.
The Sounds tacked on a run in the sixth when Halton doubled and later scored on De La Rosa's sacrifice fly to deep left-center, stretching the home team's advantage to 5-3.
Fresno pulled back even at 5-5 in the top of the seventh against Nashville reliever Donovan Hand. Pinch-hitter Chris Dominguez led off with a homer to left-center to greet the right-hander. The blast was Dominguez's third roundtripper of the year and the first pinch-hit homer allowed by Sounds pitching since July 2011. Tanaka followed the dinger by drawing a walk and later came home to tie the contest on a Pill groundout.
The Sounds grabbed the lead right back in the home half of the frame, putting up a season-high six runs against Grizzlies reliever Brett Bochy.
Nashville loaded the bases before Parker drove in his fourth run of the evening by coaxing a two-out walk from the right-hander to force in Scooter Gennett, who has opened the frame by extending his PCL-best on-base streak to 27 games with a single.
De La Rosa followed with a three-run double to center that gave the Sounds a 9-5 cushion. The big inning continued for Nashville as Blake Davis and Hand knocked back-to-back RBI singles to make it an 11-5 game.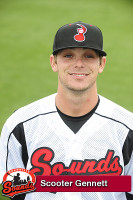 Fresno closed out the night's scoring when Pill went yard for the second time in the contest, belting a two-out, two-run homer off Travis Webb in the top of the ninth.
Hand (2-1) was the beneficiary of the late Sounds rally, earning the win after allowing two runs in two relief innings. Bochy (1-1) suffered his first loss of the year after giving up the six -spot in just two-thirds of a frame.
The Sounds will look to capture their first winning series of the season when the teams meet for a 7:05pm finale on Friday evening. Right-hander Johnny Hellweg (1-4, 4.55) will man the bump for Nashville to face Fresno right-hander Justin Fitzgerald, who will make his Triple-A debut.
Box Score
Fresno Grizzlies (17-18) 7, Nashville Sounds (10-22) 11
May 9th, 2013
| Final | 1 | 2 | 3 | 4 | 5 | 6 | 7 | 8 | 9 | | R | H | E |
| --- | --- | --- | --- | --- | --- | --- | --- | --- | --- | --- | --- | --- | --- |
| Fresno Grizzlies | 3 | 0 | 0 | 0 | 0 | 0 | 2 | 0 | 2 | | 7 | 8 | 1 |
| Nashville Sounds | 0 | 2 | 2 | 0 | 0 | 1 | 6 | 0 | X | | 11 | 12 | 2 |
a-Walked for Bonser in the 5th. b-Homered for Dunning in the 7th. c-Grounded out for Rosario, S in the 8th.
BATTING
HR: Pill 2 (9, 1st inning off De La Cruz, F, 2 on, 1 out; 9th inning off Webb, 1 on, 2 out), Dominguez, C (3, 7th inning off Hand, D, 0 on, 0 out).
TB: Dominguez, C 4; Jurica; Pill 8; Brown, G; Gillespie; Kieschnick; Perez, J.
RBI: Pill 6 (43), Dominguez, C (9).
2-out RBI: Pill 2.
Runners left in scoring position, 2 out: Jurica 3.
GIDP: Bonser, Tanaka.
Team RISP: 3-for-9.
Team LOB: 7.BASERUNNING
SB: Tanaka (8, 2nd base off Hand, D/De La Rosa, A).FIELDING
E: Kieschnick (3, throw).
DP: (Tanaka-Jurica-Pill).
a-Flied out for Heckathorn in the 6th.
BATTING
2B: De La Rosa, A 2 (4, Bonser, Bochy), Prince (3, Bonser), Halton (11, Dunning), Morris, H (6, Lively).
HR: Parker, S (4, 2nd inning off Bonser, 1 on, 0 out).
TB: Prince 3; De La Rosa, A 4; Hand, D; Halton 3; Davis, B 2; Parker, S 4; Gennett; Morris, H 2.
RBI: Parker, S 4 (11), Halton (13), De La Rosa, A 4 (7), Davis, B (10), Hand, D (1).
2-out RBI: Parker, S; De La Rosa, A 3; Davis, B; Hand, D.
Runners left in scoring position, 2 out: Gennett; De La Rosa, A 3.
SF: Parker, S; De La Rosa, A.
GIDP: Morris, H.
Team RISP: 5-for-14.
Team LOB: 8.FIELDING
E: Morris, H (1, throw), Parker, S (5, throw).
PB: De La Rosa, A (7).
DP: 2 (Parker, S-Gennett-Morris, H, Morris, H-Davis, B-De La Cruz, F).
WP: Bonser, De La Cruz, F.
Pitches-strikes: Bonser 83-45, Dunning 26-16, Bochy 30-16, Rosario, S 5-4, Lively 29-15, De La Cruz, F 95-53, Heckathorn 3-3, Hand, D 45-30, Webb 14-10.
Groundouts-flyouts: Bonser 5-2, Dunning 1-3, Bochy 0-0, Rosario, S 1-0, Lively 0-2, De La Cruz, F 9-3, Heckathorn 0-0, Hand, D 3-1, Webb 1-0.
Batters faced: Bonser 19, Dunning 8, Bochy 8, Rosario, S 2, Lively 6, De La Cruz, F 25, Heckathorn 1, Hand, D 10, Webb 5.
Inherited runners-scored: Rosario, S 1-1, Heckathorn 3-0.
Ejections: Nashville Sounds right fielder Caleb Gindl ejected by HP umpire Kellen Levy (5th)
Umpires: HP: Kellen Levy. 1B: Shaun Lampe. 2B: Stu Scheurwater. 3B: Lance Barrett.
Weather: 83 degrees, partly cloudy.
Wind: 2 mph, R to L.
T: 3:38.
Att: 5,390.