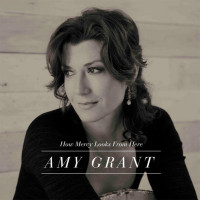 Nashville, TN – On May 10th, Amy Grant will release her first full-length studio album in ten years. "How Mercy Looks From Here" which was produced by Marshall Altman (Natasha Bedingfield, Matt Nathanson).
In the video show here, Amy talks about her new album that she has dedicated to her mother who died in 2011.
Her mom's request was to "Sing something that matters."
Grant is joined on the new album by an array of special guests like James Taylor, Carole King, Sheryl Crow, Eric Paslay, Will Hoge, and her husband Vince Gill.
"Don't Try So Hard," featuring James Taylor, is the first single from the project.
Grant is a six time Grammy winner who has sold more than 30 million records.
"How Mercy Looks From Here" Track Listing
If I Could See
Better Not To Know
Don't Try So Hard (With James Taylor)
Deep As It Is Wide (Featuring Sheryl Crow & Eric Paslay)
Here
Shovel In Hand (With Will Hoge)
Golden
Our Time Is Now (With Carole King)
Not Giving Up
How Mercy Looks From Here
Greet The Day
How Mercy Looks From Here
Find out more about Amy Grant's new album at www.amygrant.com