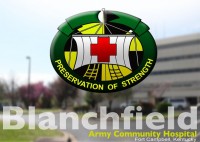 Fort Campbell, KY – Blanchfield Army Community Hospital's Laboratory service is shifting laboratory technicians schedules earlier in the day beginning Monday, May 13th to better meet the demand of the patient population.
The front desk and blood drawing technicians will now be more readily available at 7:30am to meet the increased demand during the early hours Monday through Friday.
"Many patients are required to fast before getting their blood drawn; therefore the earlier they can get their blood drawn in the morning the better it is for the majority of our patient population," said the chief of BACH's Laboratory Lt. Col. Jason Kendelhardt.
The lab will continue to open at 7:30am and now close at 4:00pm. According to Kendelhardt, "These hours are the busiest and having more staff available to assist them during these hours will benefit our patient population needs best."
The Lab's busiest time of the day is during the morning hours between 7:30am to 10:30am. "It's important that we shift our staff to improve the wait times for our patient population when they utilize our services the most."
The Lab is a 24 hour, 7 day a week service for reading lab work; however the blood drawing service is open for patients Monday through Friday from 7:30am to 4:00pm. The Emergency Center and other clinical services will continue to assist with drawing labs after hours if necessary.