Lalli Homers, Goes 3-for-5 In First Start Since Rejoining Nashville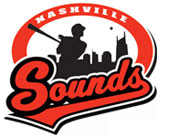 Salt Lake City, UT – The Salt Lake Bees scored 10 runs over the first three innings en route to a 12-6 victory over the Nashville Sounds on Friday evening at Spring Mobile Ballpark.
In his first start since rejoining the Sounds, catcher Blake Lalli went 3-for-5 with a home run to pace Nashville's 12-hit offensive attack. Josh Prince (2-for-4, two doubles) and Khris Davis (2-for-3, two RBI singles) also posted multi-hit efforts for the visitors.
The 12 runs match the most allowed by Sounds pitching in a single game this season (third occurrence). Nine of Salt Lake's runs came plateward with two outs in an inning.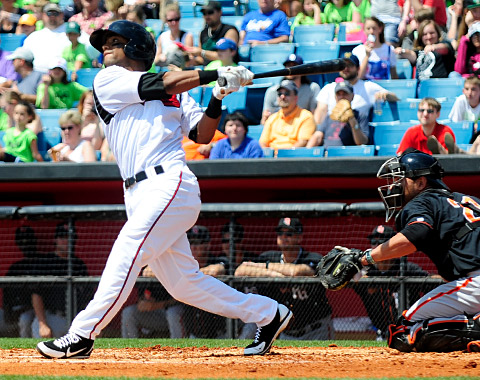 Salt Lake jumped on the board first, plating four two-out runs against Tyler Thornburg in the bottom of the first inning.
After the right-hander retired the first two batters, he allowed a single to Brad Hawpe and issued a four-pitch walk to Efren Navarro before Luis Rodriguez slapped an RBI single to center. Thornburg then uncorked a wild pitch to allow Navarro to race home for a 2-0 Bees lead.
Former Sound Trent Oeltjen delivered the biggest hit of the opening frame, fouling off four consecutive pitches before crushing a 3-2 Thornburg offering to deep right for his fifth home run of the year. The two-run blast made it a 4-0 contest.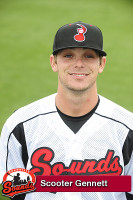 Lalli got the visitors on the board when he led off the second with his first roundtripper of the season, a solo shot to deep left off Salt Lake starter A.J. Schugel.
The Bees added to their lead to 6-1 in the home half of the second, plating two unearned runs against Thornburg after loading the bases with no outs.
Salt Lake filled the bags on a single and walk sandwiched around a fielding error by third baseman Stephen Parker before Andrew Romine followed with an RBI fielder's choice to make it a 5-1 contest. Hawpe followed with a sharply-hit one-hopper to first , which Sean Halton gloved and threw to the plate to retire Roberto Lopez for the second out following a rundown.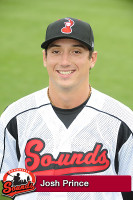 Navarro plated the second run of the frame when he ripped an opposite-field RBI double down the left field line. After another walk loaded the bases again, Thornburg escaped the jam without further damage by striking out Oeltjen.
The Sounds got back within striking distance by plating three runs in the top of the third against Schugel. After Scooter Gennett led off with a single, Josh Prince lined an RBI double into the left field corner and Khris Davis contributed a one-out run-scoring single to left to cut the deficit to 6-3. With two down in the frame, Davis stole second and scored the fourth Nashville run of the night when Halton lifted a flare to shallow center for an RBI single.
Thornburg again ran into trouble in the Salt Lake third, loading the bases with one out by issuing a pair of walks sandwiched around a Lopez double. Johnnie Lowe took over on the hill for the Sounds and was greeted by a bloop two-run single to shallow right off the bat of Romine that fell just out of the reach of a diving Gennett. Two batters later, Navarro turned a Lowe fastball into a two-run single to center to stretch the Bees' lead to 10-4.
Thornburg (0-4) drew the loss after working his shortest start of the season, lasting only 2 1/3 innings. He allowed nine runs (seven ER) on six hits while walking a season-high five batters. Only 43 of his 85 pitches went for strikes.
Nashville continued to fight back against Schugel, getting RBI singles off the bats of Khris Davis and Parker in the top of the fifth inning to cut the Salt Lake advantage to 10-6. Parker's knock extended the third sacker's on-base streak to 17 games.
Schugel (1-2) was the beneficiary of the Salt Lake offensive output, earning his first victory of the season after giving up six runs on 11 hits over five frames of action.
Salt Lake tacked on a pair of insurance runs in the eighth against Jesus Sanchez. Oeltjen singled, stole second and third, and scored on a sacrifice fly. Scott Cousins plated the other run with a two-out RBI single.
The teams continue the series with another 7:35pm CT meeting on Saturday. Left-hander Zach Kroenke (0-6, 6.98) will toe the slab for the sounds and face Salt Lake right-hander Matt Shoemaker (3-5, 3.96).
Box Score
Nashville Sounds (11-28) 6, Salt Lake Bees (20-22) 12
May 17th, 2013
| Final | 1 | 2 | 3 | 4 | 5 | 6 | 7 | 8 | 9 | | R | H | E |
| --- | --- | --- | --- | --- | --- | --- | --- | --- | --- | --- | --- | --- | --- |
| Nashville Sounds | 0 | 1 | 3 | 0 | 2 | 0 | 0 | 0 | 0 | | 6 | 12 | 1 |
| Salt Lake Bees | 4 | 2 | 4 | 0 | 0 | 0 | 2 | 0 | X | | 12 | 11 | 0 |
BATTING
2B: Prince 2 (5, Schugel, Schugel).
HR: Lalli (1, 2nd inning off Schugel, 0 on, 0 out).
TB: Prince 4; Lalli 6; Halton; Parker, S; Gennett; Davis, K 2; Statia; Gindl.
RBI: Lalli (1), Prince (3), Davis, K 2 (14), Halton (15), Parker, S (12).
2-out RBI: Halton; Parker, S.
Runners left in scoring position, 2 out: Statia; Parker, S; Gindl.
GIDP: Gennett, Lalli.
Team RISP: 4-for-12.
Team LOB: 9.BASERUNNING
SB: Davis, K (2, 2nd base off Schugel/Hester), Statia (2, 2nd base off Stetter/Hester).FIELDING
E: Parker, S (7, fielding).
DP: (Gennett-Davis, B-Halton).
BATTING
2B: Navarro, E (11, Thornburg), Lopez, R (8, Thornburg).
HR: Oeltjen (5, 1st inning off Thornburg, 1 on, 2 out).
TB: Cousins; Navarro, E 3; Hester; Hawpe; Oeltjen 5; Romine, A 2; Rodriguez, L; Lopez, R 2.
RBI: Rodriguez, L (25), Oeltjen 2 (13), Romine, A 3 (6), Navarro, E 3 (23), Lopez, R (9), Cousins (7).
2-out RBI: Rodriguez, L; Oeltjen 2; Navarro, E 3; Cousins.
Runners left in scoring position, 2 out: Oeltjen 2; Hawpe.
SF: Lopez, R.
GIDP: Rodriguez, L.
Team RISP: 7-for-13.
Team LOB: 6.BASERUNNING
SB: Romine, A (5, 2nd base off Thornburg/Lalli), Oeltjen 2 (7, 2nd base off Sanchez, Je/Lalli, 3rd base off Sanchez, Je/Lalli).FIELDING
DP: 2 (Romine, A-Hall-Navarro, E 2).
WP: Thornburg.
Balk: Sanchez, Je.
HBP: Prince (by Stetter), Davis, K (by Cordero, C).
Pitches-strikes: Thornburg 85-43, Lowe 37-24, Sanchez, Je 26-17, Hand, D 6-4, Schugel 89-56, Delaney 26-18, Stetter 18-10, Cordero, C 8-5.
Groundouts-flyouts: Thornburg 4-1, Lowe 5-3, Sanchez, Je 0-2, Hand, D 2-1, Schugel 6-4, Delaney 1-2, Stetter 1-1, Cordero, C 2-0.
Batters faced: Thornburg 19, Lowe 13, Sanchez, Je 7, Hand, D 3, Schugel 26, Delaney 8, Stetter 5, Cordero, C 3.
Inherited runners-scored: Lowe 3-3.
Ejections: Nashville Sounds Pitching Coach Fred Dabney ejected by HP umpire Joel Hospodka (7th)
Umpires: HP: Joel Hospodka. 1B: Tom Woodring. 3B: Gerard Ascani.
Weather: 63 degrees, cloudy.
Wind: 14 mph, Out to CF.
T: 3:04.
Att: 4,519.