Clarksville, TN – Montgomery County Relay for Life held the kickoff for the 2013 Relay for Life yesterday at the Hilldale Baptist Family Life Center Soccer Field. Hundreds of Cancer Survivors along with community members gathered to raise funds to help the American Cancer Society seek a cure for cancer.
Relay for life is the world's largest grassroots fundraising movement, and truly shows that one person, one idea can make a huge difference.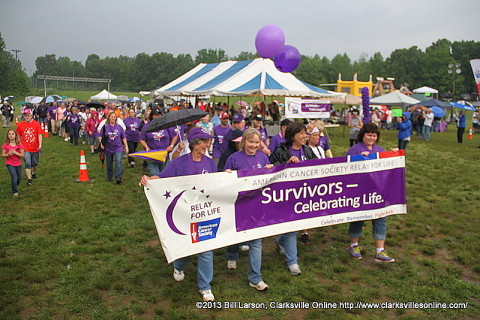 In the mid-1980s, Dr. Gordy Klatt decided to raise funds for his local American Cancer Society office by doing something he loved, running marathons. He challenged himself to spend 24 hours circling the track at Baker Stadium located at the University of Puget Sound in Tacoma, Washington in the process covering a distance of more than 83 miles. As he circled the track friends paid $25.00 to run or walk for 30 minutes with him. More than 300 people watched and participated. He ended up raising more than $27,000 to aid in the fight against cancer.
As he circled the track he thought about how to get communities involved in the fight. What he envisioned was a 24-hour team relay event to raise money to fight cancer. This became the City of Destiny's Classic 24-Hour Run against Cancer, and later expanded to become the American Cancer Society's Relay for Life.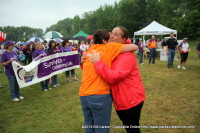 Now, over 5200 Relay events take place each year across the United States. Funds raised go to support research and ACS programs such as the Hope Lodge, Camp Horizon, Road to Recovery, Look Good Feel Better and more.
Relay For Life, mobilizes communities throughout the country to celebrate people who have battled cancer, remember loved ones lost, and provide participants with an opportunity to fight back against all forms of the disease. Relay brings together friends, families, businesses, hospitals, schools, faith-based groups… People from all walks of life – all aimed at furthering the American Cancer Society's vision of creating a world with less cancer and more birthdays.
The Montgomery County Relay for Life event is chaired by Jason Pennington and Cydney Miller.
It was sponsored by Gateway Medical Center and the Gateway-Vanderbilt Cancer Treatment Center. Other sponsors included Fort Campbell Federal Credit Union; Planters Bank; Bridgestone Metalpha USA Inc; Cumberland Bank and Trust; F&M Bank; R.L. Alvarez Construction LLC; Wall Brothers Glass; Legends Bank; Stone Rudolph & Henry, PLC; and Daphene's Portrait Design.
Miller said, "Thank you to the hard work of the entire Relay for Life committee who worked so hard all year." She continued, "I also would like to say thank you to Hilldale Family Life Center for their partnership and use of their facility for the event."
This year 55 Teams participated and the preliminary fundraising totals look to be more than $140,000.
The opening ceremony featured Montgomery County Mayor Carolyn Bowers, City of Clarksville Mayor Kim McMillan, State Senator Mark Green, and Gateway Hospital CEO Tim Putoff.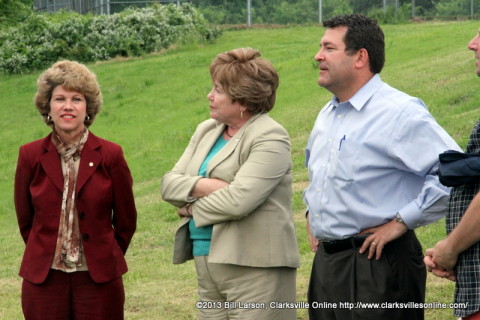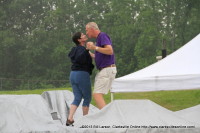 The Keynote speaker was Cancer Survivor Mike Riley who was diagnosed with a brain tumor and told he only had a few weeks to live. His talk was on surviving and beating cancer.
Once the opening ceremony was completed the West Creek High School Step Team gave a short step show.
They were followed by the Survivor recognition and the subsequent walk. More than one attendee was seen dabbing their eyes with handkerchiefs.
Other activities included: Dude Looks Like a Lady pageant, Toilet Paper Bride, Box Car Creation Contest, and musical chairs.
The award for the Best Box Car went to the Bikers Who Care; Best Campsite to Team Brake; and Best Banner to the Fifth Ward Steppers. The Dude Looks Like a Lady contest Winner was Team Scott (CEMC) and first runner up Team Carroll. The Toilet Paper Bride Winner was the BWC Ladies Auxiliary Awards. Best food award went to the Montgomery County Fire Dept, Best the best Breakfast to Convergys.
Due to the rain, the musical entertainment was not allowed to perform due to safety concerns with the wet stage.
Photo Gallery
Top Participants
| | | |
| --- | --- | --- |
| Participant | Team | Raised |
| Cynthia Hall | The Cancer Crushers | $2,026.00 |
| Ben Carroll | Team Carroll | $2,000.00 |
| Crystal Carroll | Team Carroll | $1,155.00 |
| Jeffery Laffoon | Life Unlimited Believers | $1,060.00 |
| Sonya Laffoon | Life Unlimited Believers | $895.00 |
| Angel Yarbrough | Walton's Believers | $675.00 |
| Brittnye Farley | Team Little John | $650.00 |
| Jason Fowler | Team Kinsey | $555.00 |
| Cassie Rogers | Heritage Bank | $550.00 |
| Rhonda Waters | Agero Heroes | $500.00 |
| Teresa Love | Sam's Soldiers Live Forever Club | $500.00 |
| LaTonya Long | Fifth Ward Steppers | $438.00 |
| Beverly Guynn | Fifth Ward Steppers | $400.00 |
| Chandra Stokes | Fifth Ward Steppers | $380.00 |
| Pam Robertson | Team Little John | $355.00 |
| Shirley Pickens | Fifth Ward Steppers | $325.00 |
| Kathleen Evans | Distinguished Steppers Unlimited | $311.00 |
| Mary Lynn Wood | Walton's Believers | $310.00 |
| Marquita Gibbs | Together Liberty Cares | $300.00 |
| Sandra Miller | Distinguished Steppers Unlimited | $300.00 |
| Karen Davis | Team Little John | $295.00 |
| Felisa Hyde | Cumberland Bank & Trust | $276.00 |
| Kristy Rhemann | Cumberland Bank & Trust | $260.00 |
| Cydney Miller | The Road To The Cure | $250.00 |
| Tanya Ruiz | Sam's Soldiers Live Forever Club | $250.00 |
| Kathy Babb | Bikers Who Care Ladies Auxillarya | $225.00 |
| Mason Boisseau | Team Little John | $220.00 |
| Charles Lonergan | Team Kinsey | $215.00 |
| Luke Henry | Mt. Hermon Crusaders | $205.00 |
| Donna Brewer | Cumberland Bank & Trust | $185.00 |
| Brittney Moulton | Together Liberty Cares | $180.00 |
| Christie Fowler | Team Kinsey | $175.00 |
| Sheryl Woodson | Daymar Institute | $170.00 |
| Tabitha Broadhurst | Team Eddie Stew | $163.00 |
| Polly Parker | The Cancer Crushers | $160.00 |
| Judith Rogers | Cumberland Bank & Trust | $160.00 |
| Andrea Martin | Tcb – Cumberland Heights Elementary | $160.00 |
| Katie Mulloy | Walton's Believers | $150.00 |
| Judith Simmons | Team Nyrstar | $150.00 |
| Doreen Triff | | $148.10 |
| Kathey Dines | The Cancer Crushers | $145.00 |
| Sherrice Love | Faces Of Change | $140.00 |
| Ginger Williams | Team Little John | $135.00 |
| Julea Pugh | Team Convergys | $130.00 |
| Mark Stone | Montgomery County Sheriff's Office Fear Fighters | $130.00 |
| Timothy Dines | The Cancer Crushers | $125.00 |
| Dawn Burr | Cumberland Bank & Trust | $120.00 |
| Sarah Fowler | Team Kinsey | $116.00 |
| Harold Evans | Distinguished Steppers Unlimited | $111.33 |
| Eldore Boggs | Faces Of Change | $110.00 |
| James Adkins | Faces Of Change | $110.00 |
| Shavonne Raker | Team Carroll | $110.00 |
| Kathy Raker | Team Carroll | $110.00 |
| Tonika Bell | Faces Of Change | $110.00 |
| Christine Adkins | Faces Of Change | $110.00 |
| Phillip Hester | Walton's Believers | $110.00 |
| Kimberly Schmid | Walton's Believers | $110.00 |
| Alicia Nunn | Faces Of Change | $110.00 |
| Arianna Pubill | Faces Of Change | $110.00 |
| Kimberly Davis | Helen's Helpers | $110.00 |
| Stephanie Lobdell | Team Scott | $110.00 |
| Corneice Hester | Walton's Believers | $110.00 |
| Stephanie Williams | The Green Aprons | $105.00 |
| Celestine McNeal | Distinguished Steppers Unlimited | $105.00 |
| Sara Bowman | Emes Strong | $105.00 |
| Julie Wallace | Team Scott | $105.00 |
| Denise Bell | Distinguished Steppers Unlimited | $100.50 |
| Angela Rios | Agero Heroes | $100.00 |
| La Shaune Thompson | | $100.00 |
| Jane Gilman | Team Carroll | $100.00 |
| Gerry Gilman | Team Carroll | $100.00 |
| Richard Carlisle | Team Carroll | $100.00 |
| Brenda Kinsey | Team Kinsey | $100.00 |
| Anna Bahn | Tcb – Cumberland Heights Elementary | $100.00 |
| Shawn Kinsey | Team Kinsey | $100.00 |
| Brittany Kinsey | Team Kinsey | $100.00 |
| Julie Capps | Tcb – Cumberland Heights Elementary | $100.00 |
| Tom Kane | Fort Campbell Federal Credit Union | $100.00 |
| Gladivee Garcia | Team Nyrstar | $100.00 |
| Seth Roberts | Team Scott | $100.00 |
| Jennifer Slate | Tcb – Cumberland Heights Elementary | $100.00 |
| Karen Rottero | Team Nyrstar | $100.00 |
| Christie Stratchko | Tcb – Cumberland Heights Elementary | $100.00 |
| Valerie Singleton | Fort Campbell Federal Credit Union | $100.00 |
| Sherry Strysick | Fighting For Your Cure | $100.00 |
| Terry Carlisle | Team Carroll | $100.00 |
| Frankie Knarr | Team Convergys | $100.00 |
| Amanda Bertram | Tcb – Cumberland Heights Elementary | $100.00 |
| Briana Martin | Tcb – Cumberland Heights Elementary | $100.00 |
| Cheryl Brewer | Distinguished Steppers Unlimited | $100.00 |
| Katy Edwards | Gateway Er | $100.00 |
| Kara Baggett | Be Well With Walgreens! | $100.00 |
| Kelly Deffendoll | Team Scott | $100.00 |
| Paula Woodall | Mt. Hermon Crusaders | $100.00 |
| Kellee Halford | Fifth Ward Steppers | $100.00 |
| Brandi Bazzell | Wal-Mart 3495 | $91.00 |
| Stacey Herrell | Bikers Who Care Ladies Auxillarya | $85.00 |
| Patricia Halford | Fifth Ward Steppers | $80.00 |
| Yonette Martin | Distinguished Steppers Unlimited | $75.00 |
| Dena Finley | Oasis In Home Care Inc | $70.00 |
Top Teams
| | | |
| --- | --- | --- |
| Team Name | Team Members | Raised |
| Walton's Believers | 20 | $4,639.00 |
| Team Carroll | 12 | $4,550.00 |
| Heritage Bank | 22 | $4,356.22 |
| Montgomery County Sheriff's Office Fear Fighters | 2 | $3,710.00 |
| Mt. Hermon Crusaders | 22 | $3,490.00 |
| The Cancer Crushers | 10 | $3,391.00 |
| Sam's Soldiers Live Forever Club | 10 | $3,135.71 |
| Fort Campbell Federal Credit Union | 20 | $3,100.00 |
| Planters Bank-Clarksville | 15 | $3,085.00 |
| Wal-Mart #3495 | 9 | $3,076.52 |
| Life Unlimited Believers | 12 | $2,685.00 |
| The Road To The Cure | 1 | $2,580.00 |
| Fifth Ward Steppers | 7 | $2,303.00 |
| Daymar Institute | 18 | $2,295.00 |
| Team Little John | 11 | $2,265.00 |
| Team Brake | 2 | $2,028.00 |
| Be Well With Walgreens! | 10 | $1,775.00 |
| Distinguished Steppers Unlimited | 14 | $1,722.00 |
| Team Kinsey | 8 | $1,551.00 |
| Faces Of Change | 15 | $1,520.00 |
| Montgomery County Fire Service | 3 | $1,316.00 |
| Cumberland Bank & Trust | 10 | $1,265.00 |
| Team Convergys | 17 | $1,260.82 |
| Tennessee Oncology | 7 | $1,122.38 |
| Regions Bank | 2 | $1,060.00 |
| Tcb – Cumberland Heights Elementary | 12 | $970.00 |
| Team Scott | 6 | $926.00 |
| Team Nyrstar | 7 | $900.00 |
| Together Liberty Cares | 33 | $795.00 |
| Mathews Nissan | 1 | $735.00 |
| Bikers Who Care Ladies Auxiliary | 21 | $665.00 |
| Agero Heroes | 8 | $620.00 |
| Emes Strong | 9 | $410.00 |
| The Annihilators | 1 | $294.00 |
| Fighting For Your Cure | 8 | $243.13 |
| Team Eddie Stew | 3 | $188.00 |
| Gateway Er | 11 | $160.00 |
| Green Genies | 23 | $125.00 |
| Gateway To Birthdays! | 8 | $120.00 |
| Team Gcu | 4 | $115.00 |
| Helen's Helpers | 9 | $110.00 |
| The Green Aprons | 5 | $105.00 |
| Bridgestone Metalpha Usa Inc | 1 | $100.00 |
| The Riverview Inn | 10 | $100.00 |
| Jersey Mike's | 15 | $90.00 |
| Oasis In Home Care Inc | 7 | $80.00 |
| Never.Lose.Hope | 4 | $70.00 |
| Putting A Bullseye On Cancer | 3 | $60.00 |
| Balloonville | 1 | $10.00 |