101st Airborne Division Soldiers Return Home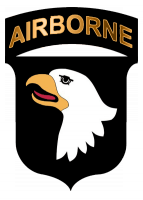 Fort Campbell, KY – A welcome home ceremony was held for returning Soldiers from both the 3rd Brigade Combat Team "Rakkasans," and the 101st Combat Aviation Brigade, 101st Airborne Division (Air Assault), at Fort Campbell, KY, on Saturday, May 18th at 2:50am at the Campbell Army Airfield.
Around 290 Soldiers were recognized for their completion of their deployment to Afghanistan and a job well done.
Welcome home ceremonies are very unique events because they provide the first opportunity for soldiers and family members to reunite after long periods of separation that result from deployments.
Families, friends and colleagues gathered to celebrate the accomplishments of homecoming Soldiers during deployment to Afghanistan in support of Operation Enduring Freedom, where their exceptional effort and selfless service significantly contributed to the mission accomplishment in assisting the Afghan country in Regional Command East.