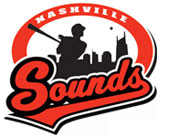 Salt Lake City, UT – Despite holding three different two-run leads Sunday afternoon at Spring Mobile Ballpark, the Nashville Sounds were on the losing end of an 8-7 extra-innings dogfight series finale against the Salt Lake Bees, splitting the series at two games apiece.
The Sounds had the Bees down to their last strike with a 7-6 lead in the bottom of the 10th inning, but Salt Lake catcher Luke Carlin spoiled Nashville's chance for its first series win of the season by crushing a two-run homer off closer Rob Wooten (0-1) for the walk-off win.
The Bees last-ditch rally marks Wooten's first loss and first blown save opportunity of the season, after previously going five-for-five. He finished with five earned runs on five hits over 1 2/3 innings of work. Jeremy Berg (1-0) picked up the win for Salt Lake.
Nashville nearly lost the game prior to extras, but outfielder Josh Prince found a timely double to right-center that scored three runs with two outs in the ninth inning. Prince's hit made it 5-3 Sounds before the Bees rallied against Wooten in the home half of the inning to tie it up.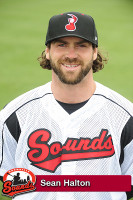 In the 10th, the Sounds cashed in two lead-off walks for two runs and a 7-5 lead. With no outs and the bases-loaded, Sean Halton hit a fly ball to the outfield for a sacrifice fly, which was followed by Blake Davis' sacrifice bunt.
The Sounds first two-run lead disappeared in the sixth inning with reliever Mike Olmsted on the hill. Roberto Lopez started off the frame with a single to left field, moved to second on a sacrifice bunt and scored on Jimmy Swift's double to the wall in centerfield.
Travis Webb stepped in after the Swift double to try and hold the 2-2 tie, but was hit for an RBI-single by leadoff man Trent Oeltjen. Webb proceeded to load the bases with two walks, but escaped any damage from the free offerings by getting Rodriguez to fly out.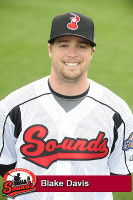 The Sounds initial lead was started in the third by Blake Davis, who hit a triple to the right-field wall before coming home on Scooter Gennett's sacrifice fly.
In the fourth, catcher Blake Lalli belted a home run just over the right-field wall to make it 2-0. The homer was Lalli's second of the season for the Sounds and is the team's sixth in their last seven games.
Sounds pitchers entered the game on a 10-inning scoreless streak against Salt Lake and starting pitcher Frankie De La Cruz extended it to 14 before the Bees found their first run in the fifth. Bees Infielder Efren Navarro connected for a two-out single and came around to score on Luis Rodriguez's shallow bloop double, landing just fair in left field.
De La Cruz racked up five strikeouts to three walks against the Bees, letting in one run on six hits across five innings of work. He left in line for the win.
Also seeing work on the hill for Nashville was Tim Dillard, who loaded the bases on three walks, one intentional, before Kyle Heckathorn entered the game to pick up the final out of the seventh inning. Heckathorn stayed in to pitch a scoreless eighth to extend his streak to 11 consecutive innings without allowing a run.
The Sounds continue their road trip Monday, traveling to the Pacific Northwest to play a four-game series with the Tacoma Rainiers (AAA-Mariners). The Sounds will send RHP R.J. Seidel (0-0, 5.40) to the hill opposite Tacoma's RHP Blake Beaven (1-2, 4.86).
Baseball returns to Greer Stadium on Friday, May 24th, as the Sounds host the Albuquerque Isotopes (AAA-Dodgers) to a four-game set. The game will feature a postgame fireworks show.
Box Score
Salt Lake Bees (21-23) 8, Nashville Sounds (12-29) 7
May 19th, 2013
1
2
3
4
5
6
7
8
9
10
R
H
E
Nashville Sounds
0
0
1
1
0
0
0
0
3
2
7
9
1
Salt Lake Bees
0
0
0
0
1
2
0
0
2
3
8
15
0


Two out when winning run scored.
1-Ran for Lalli in the 9th.
BATTING
2B: Prince (6, Cordero, C).
3B: Davis, B (2, Grube).
HR: Lalli (2, 4th inning off Grube, 0 on, 1 out).
TB: Prince 3; Lalli 5; De La Rosa, A; Davis, B 4; Gennett; Statia.
RBI: Gennett (11), Lalli (2), Prince 3 (7), Halton (16), Davis, B (11).
2-out RBI: Prince 3.
Runners left in scoring position, 2 out: Davis, K; Davis, B; Gindl; Statia.
SAC: Davis, B.
SF: Gennett; Halton.
Team RISP: 3-for-11.
Team LOB: 8.BASERUNNING
SB: Prince (3, 3rd base off Cordero, C/Carlin).
PO: Gennett (1st base by Grube).FIELDING
E: Heckathorn (1, pickoff).
a-Doubled for Swift in the 9th.
1-Ran for Young, M in the 4th.
BATTING
2B: Rodriguez, L (9, De La Cruz, F), Swift (7, Olmsted), Lopez, R (9, Wooten), Hawpe (8, Wooten), Long, M (2, Wooten).
HR: Carlin (1, 10th inning off Wooten, 1 on, 2 out).
TB: Swift 2; Young, M; Navarro, E 3; Hawpe 2; Oeltjen; Calhoun 2; Rodriguez, L 3; Long, M 2; Carlin 4; Lopez, R 3.
RBI: Rodriguez, L (26), Swift (10), Oeltjen (14), Hawpe (17), Romine, A (7), Lopez, R (10), Carlin 2 (4).
2-out RBI: Rodriguez, L; Carlin 2.
Runners left in scoring position, 2 out: Rodriguez, L 4; Oeltjen 3; Long, M 2; Romine, A 2; Calhoun.
SAC: Carlin.
Team RISP: 4-for-20.
Team LOB: 16.BASERUNNING
SB: Young, M (10, 2nd base off De La Cruz, F/Lalli), Calhoun 2 (2, 2nd base off De La Cruz, F/Lalli, 2nd base off Webb/Lalli), Oeltjen 2 (9, 2nd base off Webb/Lalli, 3rd base off Webb/Lalli).FIELDING
DP: (Navarro, E).
Pickoffs: Grube (Gennett at 1st base).
WP: De La Cruz, F, Wooten.
HBP: Lalli (by Grube), Halton (by Cordero, C).
Pitches-strikes: De La Cruz, F 102-59, Olmsted 7-5, Webb 19-8, Dillard 22-6, Heckathorn 27-20, Wooten 28-21, Grube 103-60, Cabrera 9-6, Stetter 13-9, Cordero, C 32-19, Berg 25-12.
Groundouts-flyouts: De La Cruz, F 5-5, Olmsted 1-0, Webb 0-2, Dillard 1-1, Heckathorn 2-2, Wooten 4-0, Grube 4-2, Cabrera 2-0, Stetter 0-1, Cordero, C 0-0, Berg 2-1.
Batters faced: De La Cruz, F 24, Olmsted 3, Webb 5, Dillard 5, Heckathorn 5, Wooten 11, Grube 26, Cabrera 3, Stetter 3, Cordero, C 7, Berg 6.
Inherited runners-scored: Webb 1-1, Heckathorn 3-0.
Umpires: HP: Gerard Ascani. 1B: Joel Hospodka. 3B: Tom Woodring.
Weather: 59 degrees, cloudy.
Wind: 16 mph, R to L.
T: 4:22.
Att: 4,455.