Hunter Morris Slugs Team-Leading 7th Homer For Nashville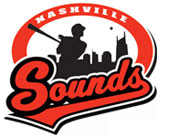 Tacoma, WA – The Nashville Sounds were bested by the Tacoma Rainiers by a 5-2 count on Monday evening at Cheney Stadium in the opener of a four-game series.
Rainiers starter Blake Beavan (2-2) was solid in earning a victory, holding the Sounds to one run on four hits over 7 2/3 innings. The lone blemish on the right-hander's quality start was a Hunter Morris home run.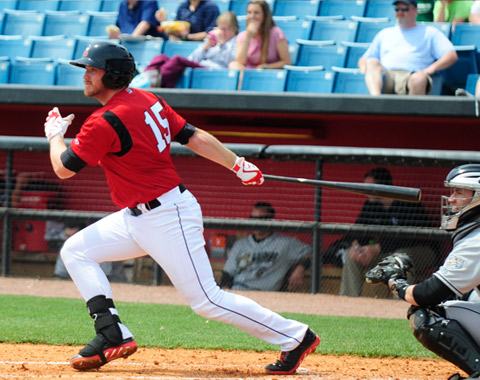 Third baseman Alex Liddi paced the Tacoma offense with a 3-for-4 night that included his team-leading eighth home run of the season and three runs scored.
Tacoma plated the night's first run in unearned fashion following back-to-back fielding errors by the left side of the Nashville infield in the bottom of the third inning.
Scott Savastano led off with a single against Sounds starter R.J. Seidel and Carlos Triunfel followed with a potential double-play grounder to shortstop, which was missed by Blake Davis for the frame's first error. Savastino over ran second base on the play and was erased in a rundown as Triunfel took second on the play. Nate Tenbrink stepped into the box and hit a cue shot towards third base, where Stephen Parker mishandled the ball to allow Trinufel to race home to give the Rainiers a 1-0 lead.
Carlos Peguero upped the Tacoma lead to 3-0 in the fourth when he belted his sixth home run of the year, a first-pitch two-run bomb to right off Seidel. Liddi, who preceded Peguero with a single, also scored on the blast.
The Rainiers tacked on another run in the sixth to increase their advantage to 4-0. Liddi singled with one out, stole second, advanced to third on a wild pitch, and scored on Stefen Romero's RBI single to left, which chased Seidel from the contest.
Seidel (0-1) took a loss in his first career Triple-A decision after allowing four runs (three ER) on five hits in 5 2/3 innings of work.
Morris (2-for-3) broke up Beavan's shutout bid in the eighth with a one-out solo homer to deep right, the slugger's team-leading seventh big fly of the year and his third since being activated from the disabled list on Saturday.
Liddi answered Morris' blast with one of his own in the home half of the frame, taking Jesus Sanchez deep to left for a two-out solo homer that brought the score to its final 5-1 standing.
The Sounds didn't go down without a fight in the ninth, plating a run and bringing the potential tying run to the plate against the Tacoma bullpen.
Blake Davis led off with an opposite-field double against Rainiers reliever Brian Moran and scored Nashville's second run of the night when Josh Prince doubled off the right field wall. Prince went 2-for-4 to extend his longest hit streak of the year to five games.
After Caleb Gindl grounded out for the second out of the frame, Khris Davis drew a four-pitch walk to put runners on the corners for Blake Lalli, who struck out to end the contest as Moran nailed down his first save of the season.
A pair of significant streaks were snapped for Sounds players in the loss. Catcher Anderson De La Rosa went 0-for-3 to bring an end to his season-best 11-game hitting streak. Third baseman Stephen Parker went 0-for-4 and was held off the basepaths for the first time in 20 games to snap the PCL's longest on-base streak.
The teams continue the series with another 8:00pm CT matchup on Tuesday night. Right-hander Johnny Hellweg (2-4, 3.72), who earned a quality start victory in his last outing, will man the bump for the Sounds and face Tacoma left-hander James Gilheeney (2-1, 3.70).
Box Score
Tacoma Rainiers (27-18) 5, Nashville Sounds (12-30) 2
May 20th, 2013
1
2
3
4
5
6
7
8
9
R
H
E
Nashville Sounds
0
0
0
0
0
0
0
1
1
2
6
3
Tacoma Rainiers
0
0
1
2
0
1
0
1
x
5
7
0
BATTING
2B: Davis, B (5, Moran), Prince (7, Moran).
HR: Morris, H (7, 8th inning off Beavan, 0 on, 1 out).
TB: Prince 3; Davis, B 3; Morris, H 5.
RBI: Morris, H (18), Prince (8).
Runners left in scoring position, 2 out: Gennett; Lalli.
GIDP: De La Rosa, A.
Team RISP: 1-for-5.
Team LOB: 3.BASERUNNING
SB: Davis, B (4, 2nd base off Beavan/Zunino).
CS: Prince (4, 2nd base by Beavan/Zunino).FIELDING
E: Davis, B (4, fielding), Parker, S (9, fielding), De La Rosa, A (3, throw).
Outfield assists: Gindl (Savastano at 3rd base).
Pickoffs: Seidel (Tenbrink at 2nd base).
BATTING
HR: Peguero, C (6, 4th inning off Seidel, 1 on, 0 out), Liddi (8, 8th inning off Sanchez, Je, 0 on, 2 out).
TB: Savastano 2; Liddi 6; Romero, S; Peguero, C 4.
RBI: Peguero, C 2 (23), Romero, S (15), Liddi (32).
2-out RBI: Romero, S; Liddi.
Runners left in scoring position, 2 out: Peguero, C; Zunino.
Team RISP: 1-for-5.
Team LOB: 2.BASERUNNING
SB: Tenbrink (5, 2nd base off Seidel/De La Rosa, A), Liddi (5, 2nd base off Seidel/De La Rosa, A), Romero, S (2, 2nd base off Sanchez, Je/De La Rosa, A).
CS: Tenbrink (2, 3rd base by Seidel/De La Rosa, A), Savastano (2, 2nd base by Sanchez, Je/De La Rosa, A).
PO: Tenbrink (2nd base by Seidel).FIELDING
DP: (Tenbrink-Triunfel-Savastano).
Nashville Sounds
Player
IP
H
R
ER
BB
SO
HR
ERA
R.J. Seidel (L, 0-1)
5.2
5
4
3
0
4
1
5.14
Jesus Sanchez
2.1
2
1
1
0
1
1
3.18
Totals
8.0
7
5
4
0
5
2
4.85
Tacoma Rainiers
Player
IP
H
R
ER
BB
SO
HR
ERA
Blake Beavan (W, 2-2)
7.2
4
1
1
0
5
1
3.70
Brian Moran (S, 1)
1.1
2
1
1
1
1
0
3.22
Totals
9.0
6
2
2
1
6
1
3.67
Balk: Moran.
HBP: Tenbrink (by Seidel).
Pitches-strikes: Seidel 88-53, Sanchez, Je 30-20, Beavan 93-65, Moran 22-14.
Groundouts-flyouts: Seidel 5-3, Sanchez, Je 2-3, Beavan 9-4, Moran 2-1.
Batters faced: Seidel 23, Sanchez, Je 8, Beavan 25, Moran 7.
Inherited runners-scored: Sanchez, Je 1-0.
Umpires: HP: Quinn Wolcott. 1B: Brandon Misun. 3B: Spencer Flynn.
Weather: 68 degrees, partly cloudy.
Wind: 4 mph, Out to RF.
T: 2:38.
Att: 2,369.