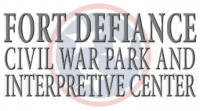 Clarksville, TN – The Fort Defiance Interpretive Center, located at 120 Duncan Street, will host a medical display Saturday, May 25th from 10:00am to 5:00pm.
The exhibit will feature presentations by Mark Britton and include a collection of medical items used during the 19th century to include necessary tools for blood-letting, various surgical procedures and preparation of period medicinal products.
The display will include information regarding use of indigenous herbs used in medical practices, based upon the book "Resources in Southern Fields and Forests," by Dr. Francis Peyre Porcher of the Confederate States of America Surgeon General's Office.
In addition, visitors can also tour the permanent exhibit which includes the 18-minute film, "Crossroads of Change 1861-1865".
This one-day exhibit is free and open to the public.
For a more information, please visit www.cityofclarksville.com or call 931.472.3351.