Clarksville, TN – Austin Peay's nationally-ranked baseball team will put its program-record 12-game win streak on the line when it opens Ohio Valley Conference Tournament play with a 3:00pm, Thursday contest against an opponent to be determined.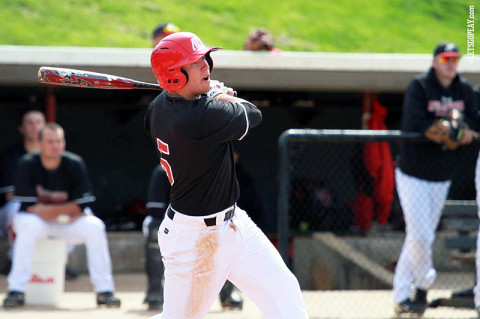 The second-seeded Governors used their season-ending win streak, which included 11 straight OVC wins, to squeeze into second place with one day left in the race.
The Govs tournament-opening opponent will be determined after the conclusion of Wednesday's first-round action. Austin Peay went 8-7 against the five tournament qualifiers this season.
Austin Peay Governors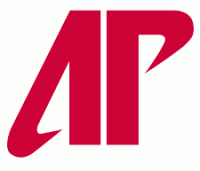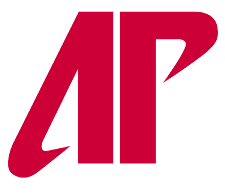 Austin Peay moved up to No. 26 in the May 20th edition of the National Collegiate Baseball Writers Association Poll. The Govs entered the NCBWA poll at No. 30, May 13th, the first national ranking in program history. The Govs also are on the cusp of a Top 25 ranking in the USA Today Coaches Poll, where they are unofficially ranked No. 28 with 22 points.
The Governors have won 16 of their last 17, including a current and program-record 12-game win streak.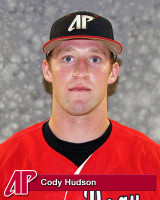 Junior first baseman Craig Massoni is challenging for the OVC's first Triple Crown since 1982, leading the league in batting average (.389) and home runs (15) and sitting second in RBI (64), five behind the leader.
Shortstop Reed Harper has been on a torrid pace during his 8-game hit streak, batting a gaudy .632 (24-for-38) with 9 doubles, 2 home runs and 12 RBI with two 5-hit, two 3-hit and four 2-hit outings. Harper was named the adidas® OVC Player of the Week after posting 12 hits and 7 RBI in the SIUE series.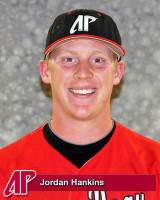 Senior outfielder Cody Hudson wrapped up the regular season with 8 hits and 8 RBI during the SIUE series, going 4-for-4 in the opener and 3-for-5 with 4 RBI in the finale. Junior third baseman Jordan Hankins saw a 7-game hit streak snapped in Game 2 of the SIUE series but was 6-for-15 with 6 RBI.
Right fielder Rolando Gautier received a day of rest, April 24th, and has responded with a 12-game hit streak that has seen him bat .385 (20-for-52). Center fielder Dylan Riner has reached base safely in 14 consecutive games and is batting .577 (15-for-26) with 7 RBI during his current 6-game hit streak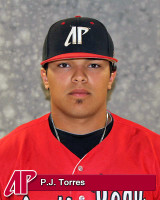 Catcher P.J. Torres went 2-for-3 with a home run and 3 RBI in the SIUE opener, but caught only eight innings in the series as he was given a much needed break. Sophomore Brett Carlson has started 7 consecutive games at second base and is batting .320 with 6 RBI in those outings.
The Govs have used six different players at designated hitter this season, junior Michael Davis started at DH in each game of the SIUE series and batted .462 (6-for-13).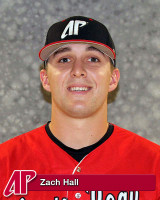 Junior Zach Hall, who is 7-2 this season, has a 4-1 record and 2.51 ERA during his last four starts, including No. 1 starts against UT Martin and SIUE. Senior Casey Delgado, the Govs No. 2, struggled in his final regular-season outing, allowing 7 runs over 5.0 innings against SIUE, but recorded 6 strikeouts and enters the postseason with an OVC best 94 strikeouts to go along with an 8-2 mark.
Junior Ryan Quick has posted a 2-0 record, 2.01 ERA and 24 strikeouts (9.67 K/9) in his last four starts. Senior closer Tyler Rogers tied the OVC's career saves mark with his 32nd stop, May 17th, against SIUE.  It also was Rogers 20th save in 2013, keeping him atop the Division I saves list for a sixth consecutive week (tied with Oregon's Jimmie Sherfy).
Austin Peay Tournament Notes
In addition to its 2012 crown, the Govs won the 1996, 2005, 2007 and 2011 titles and have finished runner-up four times. The Govs won the regular-season series against three of the five teams in the 2013 field and hold a 10-4 mark against those six teams.
Austin Peay won series against No. 3 Belmont, No. 4 Jacksonville State and No. 5 Eastern Kentucky – each a team the Govs could face in their first tournament game. The Govs lost series to No. 1 Tennessee Tech and No. 6 Southeast Missouri.
This is the first time since 2005 APSU will enter the tournament as a No. 2 seed – APSU won the 2005 tourney.  Austin Peay was 14-0 against the five teams that did not qualify for the tournament and 8-7 against teams that did make the tournament. Austin Peay is 36-35 in its previous 22 OVC Tournament appearances.
Shortstop Reed Harper and outfielder Cody Hudson, both seniors, will be making their third postseason appearance. It is the Govs third visit to the tournament at The Ballpark at Jackson – the fifth-year host of the tournament – where they won the tournament crown in their two previous visits (2011 and 2012).
Austin Peay is 9-2 all-time at The Ballpark at Jackson, going 7-1 in the last two OVC tournaments and posting a 2-1 record against Memphis when the two teams played their regular-season meeting in Jackson (2008-10).
Massoni, Rogers Give APSU First POY Sweep Since 1996
During Tuesday's OVC Baseball Awards Banquet, junior first baseman Craig Massoni and senior closer Tyler Rogers were named the league's Player and Pitcher of the Year, respectively. It is the first time since 1996 – and third time in program history – Austin Peay has had players receive both awards in the same year.
In 1996, Nate Manning (Player) and Craig Smith (Pitcher) swept the awards, four years following the 1992 sweep by Randy McDermott (Co-Player) and Jamie Walker (Pitcher). Massoni becomes the Govs first Player of the Year since 1996. It is the second time in three seasons (Jeremy Dobbs in 2011) an Austin Peay pitcher has earned the year-end honor.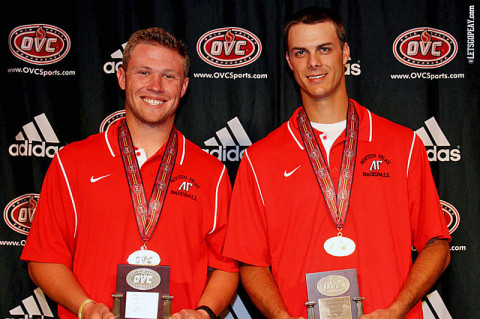 Govs Land Program Record Six First Team All-OVC Honors
Craig Massoni and Tyler Rogers headlined a record six first-team All-OVC selections for Austin Peay. They were joined on the first team by junior second baseman Jordan Hankins, senior shortstop Reed Harper, senior outfielder Cody Hudson and starting pitcher Lee Ridenhour.
In addition, junior catcher P.J. Torres and senior starting pitcher Casey Delgado received second-team All-OVC recognition. The six first-team All-OVC selections broke the mark of five set by the 1996 team. The eight overall All-OVC honorees tied the mark set by the 1996 squad.
Program-Best 12-Game Win Streak Ends Regular Season
The Govs wrapped up the regular-season with a program-record 12-game win streak. It topped the 11-game win streak compiled by the 1971 team – a streak the also came at season's end. Earlier this season, Austin Peay had a nine-game win streak (March 4th-16th) that is now tied for the fourth-longest streak in program-history.
Rogers One Save Away From OVC Career Mark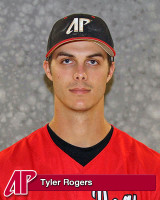 Closer Tyler Rogers, who already owns both the APSU single-season and career saves marks, became the OVC's single-season saves record holder, April 24th, with a save in each game of the Evansville doubleheader.
Rogers picked up his 32nd career save, May 17th, against SIUE, to tie the OVC career saves mark held by Jacksonville State's Todd Hornsby who recorded 32 saves (2010-12).
Rogers Zeroing In On Division I Saves Mark
Closer Tyler Rogers' 20 saves this season solidly placed him in the NCAA's record book. He became the 15th Division I pitcher to record 20 saves in a season and is among a 11 pitchers tied for sixth-most saves in a season. The top spot is held by Southern California's Jack Krawczyk, who recorded 23 saves in 1998.
Massoni For The OVC Triple Crown?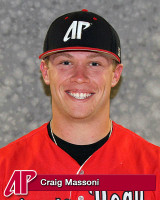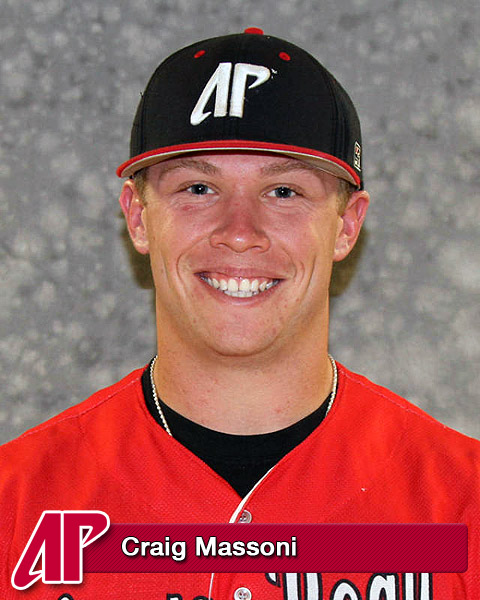 Entering the postseason, junior first baseman Craig Massoni can see a possible OVC Triple Crown. He is the league leader in batting average (.389) and home runs (15) while his RBI total (64) is five behind the league leader.
Massoni holds a 13 point lead in batting average but is tied with Tennessee Tech's Zach Stephens, the OVC's RBI leader (69), for the home run lead. The last OVC Triple Crown champion was Western Kentucky's Ralph Antone (1982).
Delgado Leads Race For OVC Strikeout Title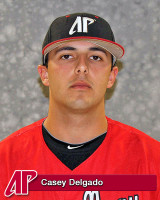 Senior Casey Delgado enters the postseason as the OVC's strikeout leader, his 94 strikeouts currently three ahead of Tennessee Tech's Tristan Archer (91). Delgado also is fourth among league pitchers with 9.90 strikeouts per nine innings. He struck out 16 batters at UT Martin, May 11th, and was one strikeout shy of the Austin Peay record held by legendary Tom Morgan in 1958.
Delgado also became the first Austin Peay pitcher since 1996 to record at least nine strikeouts in five games during a campaign. He also needs three strikeouts to become Austin Peay's single-season strikeout king, topping the 96 struck out by Rowdy Hardy in 2005.
Harper Nearing APSU Career Hits Record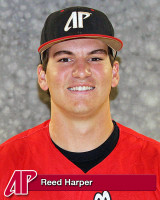 With an impressive eight-game burst that has seen him post 24 hits, senior shortstop Reed Harper has moved a hit away from Austin Peay's career hits mark. Harper, who has 275 career hits, needs one hit to tie and two to become the Govs all-time hits leader, a mark currently held by Greg Bachman, who set the mark last season with 276 career hits.
Harper has posted 71 hits through the regular-season – his third consecutive 70-hit campaign – and his .338 batting average is a career best and the third straight season he has batted .320 or better.
Govs Extend Stay In NCBWA Top 30
Austin Peay improved its standing in the National Collegiate Baseball Writers Association's poll, moving up to No. 26 in its second week among the Top 30. The Govs earned their first national ranking in program history when they were marked the No. 30 team in the NCBWA's May 13th poll. It is the first time since 2009 (Eastern Illinois) an OVC team has earned a national ranking.
APSU Nearly Breaks Through in USA Today Poll
Austin Peay attained its best point total in the USA TODAY Coaches poll, May 20th, receiving 22 points and were unofficially ranked 28th – the third team among the group receiving votes. The Govs returned to the poll two weeks ago and have received votes in nine of the 15 weeks the poll has been released.
National Rankings
APSU: #26 (NCBWA), RV(28) (USA TODAY)
Media Center

ipTV: OVCDigitalNetwork.com (Free)
Radio: Governors Sports Network
Online Audio: www.LetsGoPeay.com
Twitter: @APSUBaseball