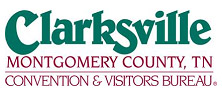 Clarksville, TN – The Tennessee Bass Federation, Inc., part of the largest Grass Roots Bass Fishing organization in the country, will be hosting the 2013 Southern Divisional Tournament at the Clarksville Marina at Liberty Park June 5th-7th.
This year's tournament will see participants from all over the South, including Alabama, Florida, Georgia, Kentucky, Tennessee and North and South Carolina. There are 175 boaters scheduled to compete in the tournament. Teams will be pre-fishing June 2nd-4th, with the actual tournament competition taking place June 5th-7th.
Kenneth Head, Secretary of the Tennessee Bass Federation and a member of the Clarksville Bass Club, said he is excited that the TBF, Inc. will be bringing the first big bass tournament to the new marina.
"With the great fishery we have in the Cumberland River/Lake Barkley, the success of this tournament could open our city up to future fishing tournaments," said Head.
The teams that will be competing were chosen at each State's Tournament or during their State Tournament Trail. While in Clarksville, they will be fishing for top team honors, as well as top individual honors.  The top team will go home with not only part of the cash prize, but also a years worth of bragging rights as the best bass fisher in the South. The top two fishermen from each team will also compete in the 2014 National Federation Championship.
There will be an estimated 70 boats in Clarksville during the week, with tournament competition launching each morning at the Clarksville Marina. The event is free and open for the public to attend, with official weigh-ins beginning at 3:00pm on Wednesday.
"The Clarksville-Montgomery County Convention and Visitors Bureau is excited to work with the Tennessee Bass Federation during their tournament," said Theresa Harrington, Executive Director of the CVB. "We have activities planned for the participants and their families that will show off all the amenities and attractions that Clarksville has to offer."