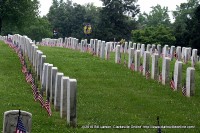 Dover, TN – Fort Donelson National Battlefield and Cemetery will host their Memorial Day Ceremony Monday, May 27th, at 1:00pm to pay tribute to those who serve our Nation so nobly.
Everyone is invited to attend.
Parking is limited at the National Cemetery. Spaces nearest the front entrance will be reserved for those with mobility issues.
Visitors may bring their own chairs.
*Temperatures for Memorial Day are looking warm. Please bring water.
Fort Donelson National Cemetery is located near Dover in Stewart County and was established in 1867 as a final resting place for Union and Confederate soldiers.