Blake Lalli Records Two Homers; Combines With Josh Prince For Back-to-Back Jacks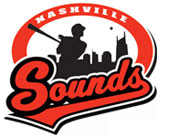 Tacoma, WA – The Nashville Sounds avoided a four-game sweep Thursday night at Cheney Stadium, using the long ball to pick up an 11-2 victory over the Tacoma Rainiers.
The Sounds plated runs in six different innings, highlighted by Nashville's explosive fifth. Already out to a 5-2 lead, catcher Blake Lalli and outfielder Josh Prince connected for back-to-back home runs off of Tacoma starter Jeremy Bonderman (2-4).
Lalli's homer, his third of the year, scored two for Nashville, before Prince attacked his first pitch from Bonderman to make it 8-2. Lalli picked up his second home run in the ninth inning to become the fourth Sound this season to have multiple homers in a single game.
Each Sound in the line-up recorded a hit against Rainiers' pitching, combining to total 14. Lalli led the way with three, while Prince, Hunter Morris and Blake Davis each had two.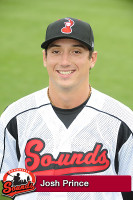 Prince extended his hitting streak to a season-best eight games with his double in the second inning, and scored on a double from Morris, who batted sixth. Morris hit Nashville's third homer in the eighth. The four dingers match a single-game season high for the Sounds.
The Sounds added to a 1-0 lead in the second inning with two runs, as Blake Davis led off the frame with a grounder into right field. He was driven around by a double into right-center from Scooter Gennett, who has now reached base in 38 of his 40 games this season.
Right fielder Caleb Gindl placed a bunt single towards third base to advance Gennett, who scored on a double-play ball to make it 3-0.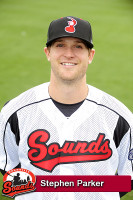 In the fourth, the Sounds scored another pair on three straight singles from the bottom of the order. Stephen Parker hit the first single to advance Prince to third after he reached base on balls. Hainley Statia followed with a single up the line to score Prince and set Parker up to come home on Blake Davis' base knock into left. Statia's single extended his season-best hit streak to seven games.
Starting pitcher Zach Kroenke (2-6) held the Rainiers to two runs on four hits across seven innings of work to pick up his second win of the season. He offered two walks and fired seven strikeouts. His only misstep in the winning effort was the two-run homer in the fourth to Tacoma's Nate Tenbrink. His seven innings of work matches Mike Fiers' seven-inning effort against Memphis for the longest by a Sound this season.
Relievers Johnnie Lowe and Rob Wooten both logged one inning on the hill for Nashville, each allowing a hit and fanning two.
The Sounds finish the road trip with a 3-5 record, during which the team hit .311 (91-for-293) with 30 extra-base hits: 14 homers.
Baseball returns to Greer Stadium Friday as the Sounds host the Albuquerque Isotopes (AAA-Dodgers) to a four-game set. RHP Frankie De La Cruz (1-5, 7.15) gets the start for Nashville against the 'Topes RHP Angel Castro (3-2, 3.64). The game will be followed by a postgame fireworks show presented by Music City Sports Festival.
Box Score
Tacoma Rainiers (29-19) 2, Nashville Sounds (13-32) 11
May 23rd, 2013
1
2
3
4
5
6
7
8
9
R
H
E
Nashville Sounds
0
1
2
2
3
0
0
1
2
11
14
1
Tacoma Rainiers
0
0
0
2
0
0
0
0
0
2
6
0
BATTING
2B: Prince (8, Bonderman), Morris, H (8, Bonderman), Gennett (6, Bonderman).
HR: Lalli 2 (4, 5th inning off Bonderman, 1 on, 1 out; 9th inning off Nunez, J, 1 on, 2 out), Prince (2, 5th inning off Bonderman, 0 on, 1 out), Morris, H (8, 8th inning off Nunez, J, 0 on, 0 out).
TB: Prince 6; Lalli 9; Parker, S; Davis, B 2; Gennett 2; Davis, K; Gindl; Statia; Morris, H 6.
RBI: Morris, H 2 (21), Gennett (12), Statia (3), Davis, B (12), Lalli 4 (8), Prince (11).
2-out RBI: Lalli 2.
Runners left in scoring position, 2 out: Statia.
GIDP: Davis, K, Gennett.
Team RISP: 4-for-8.
Team LOB: 3.FIELDING
E: Kroenke (1, throw).
PB: Lalli (3).
DP: (Gennett-Davis, B-Morris, H).
a-Flied out for Gutierrez, F in the 7th.
BATTING
HR: Tenbrink (5, 4th inning off Kroenke, 1 on, 2 out).
TB: Peguero, C 2; Tenbrink 4; Almonte, A 2; Franklin.
RBI: Tenbrink 2 (17).
2-out RBI: Tenbrink 2.
Runners left in scoring position, 2 out: Tenbrink; Liddi; Savastano; Montero, J.
GIDP: Liddi.
Team RISP: 0-for-8.
Team LOB: 8.BASERUNNING
SB: Almonte, A (3, 2nd base off Kroenke/Lalli), Franklin (7, 2nd base off Lowe/Lalli).FIELDING
DP: 2 (Triunfel-Franklin-Tenbrink, Franklin-Triunfel-Tenbrink).
Nashville Sounds
Player
IP
H
R
ER
BB
SO
HR
ERA
Zach Kroenke (W, 2-6)
7.0
4
2
2
2
7
1
5.23
Johnnie Lowe
1.0
1
0
0
0
2
0
5.30
Rob Wooten
1.0
1
0
0
0
2
0
3.09
Totals
9.0
6
2
2
2
11
1
4.88
WP: Kroenke, Wooten.
HBP: Davis, K (by Nunez, J), Romero, S (by Kroenke).
Pitches-strikes: Kroenke 95-60, Lowe 24-15, Wooten 14-13, Bonderman 76-52, Sweeney, B 21-16, Nunez, J 35-19.
Groundouts-flyouts: Kroenke 5-5, Lowe 0-0, Wooten 1-0, Bonderman 6-3, Sweeney, B 2-0, Nunez, J 3-1.
Batters faced: Kroenke 28, Lowe 4, Wooten 5, Bonderman 25, Sweeney, B 7, Nunez, J 9.
Umpires: HP: Quinn Wolcott. 1B: Brandon Misun. 3B: Spencer Flynn.
Weather: 49 degrees, rain.
Wind: 2 mph, In from LF.
T: 2:59.
Att: 3,099.