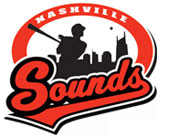 Nashville, TN – Despite erasing a two-run deficit late in the game, the Nashville Sounds lost 7-4 to the Albuquerque Isotopes on Memorial Day at Greer Stadium. The loss gives Albuquerque the 3-1 series win.
After the Sounds tied it up 4-4 in the seventh, the visiting team quickly recaptured the lead with a three-run double from Alfredo Amezaga in the top of the ninth. Albuquerque used a fielder's choice and two hits off reliever Tim Dillard (0-1) to set the table for Amezaga's game-winning hit.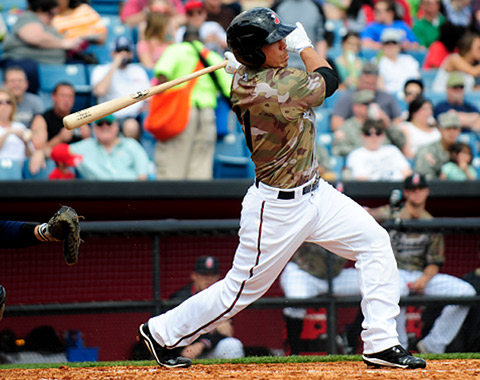 Prior to the ninth, Sounds center fielder Caleb Gindl tied the game by tapping a sacrifice bunt to Albuquerque pitcher Chris Withrow. The bunt moved Khris Davis to third, who singled to get on base and stole second; and a throwing error on the play by Withrow over first base scored Davis.
Cole Garner had a big game for the Sounds, going two-for-three, with two home runs to left-field. Garner's first home run leveled the game in the fifth inning, sending Aaron Laffey's pitch off the top of the wall in left field; and his second, off reliever Red Patterson in the seventh, pulled the Sounds to within one.
Garner's multi-homer game is the sixth recorded by a Sounds hitter this season and the second of Garner's career. Garner has six homers on the year.
The Sounds scored first on a hit-and-run single from outfielder Khris Davis, two-for-four, but the one-run advantage did not last long as the Isotopes plated one in each of the following innings.
Starting pitcher Aaron Laffey drove in Albuquerque's first run on a two-out single into left field in the second inning, while his battery-mate Tim Federowicz made it 2-1 with a solo home run to left field in the third. Federowicz finished with three RBIs for Albuquerque. His base knock to left field off reliever Jesus Sanchez in the seventh put the Isotopes up 4-2.
Sounds starter Tyler Thornburg limited the Isotopes to two runs on seven hits through five innings of work. Thornburg faced a bases-loaded jam in his final inning and twirled two strikeouts to avoid any damage. The righty fanned a total of eight batters and walked one.
Travis Webb also saw work out of the 'pen for Nashville, loading the bases with two outs in the eighth, before Dillard entered to retire Justin Sellers on a fly ball.
Withrow (4-0) picked up the win for Albuquerque, his fourth, and was charged with a blown save. Kelvin De La Cruz netted the save with a hitless ninth inning.
The Sounds welcome the division-rival Iowa Cubs (Cubs affiliate) to Greer Stadium Tuesday at 7:05pm. LHP Zach Kroenke (2-6, 5.23) gets the start for Nashville opposite Iowa's LHP Chris Rusin (3-4, 3.88). Fans attending can enjoy a special buy-one-get-one ticket offer by bringing an empty Coca-Cola Zero bottle or can to the game for Coke Zero Two-For-One Tuesday.
Box Score
Albuquerque Isotopes (26-25) 7, Nashville Sounds (14-35) 4
May 27th, 2013
1
2
3
4
5
6
7
8
9
R
H
E
Albuquerque Isotopes
0
1
1
0
0
0
2
0
3
7
14
2
Nashville Sounds
1
0
0
0
1
0
1
1
0
4
6
1
a-Grounded out for Laffey in the 7th. b-Singled for Patterson in the 8th.
BATTING
2B: Federowicz (8, Sanchez, Je), Ryal (9, Webb), Amezaga (8, Dillard).
HR: Federowicz (8, 3rd inning off Thornburg, 0 on, 2 out).
TB: Federowicz 7; Barden; Herrera, E; Sellers 2; Gwynn 2; Ryal 2; Buss 2; Laffey; Amezaga 2.
RBI: Laffey (1), Federowicz 3 (24), Amezaga 3 (23).
2-out RBI: Laffey; Federowicz 3.
Runners left in scoring position, 2 out: Gwynn; Buss 3; Sellers 2.
Team RISP: 4-for-12.
Team LOB: 10.FIELDING
E: Amezaga (9, fielding), Withrow (1, throw).
DP: 3 (Sellers-Amezaga-Ryal, Ryal-Sellers-Laffey, Amezaga-Sellers-Ryal).
a-Grounded out for Thornburg in the 5th. b-Walked for Sanchez, Je in the 7th. c-Flied out for Dillard in the 9th.
BATTING
HR: Garner 2 (6, 5th inning off Laffey, 0 on, 0 out; 7th inning off Patterson, 0 on, 2 out).
TB: Garner 8; Davis, B; Davis, K 2; Thornburg.
RBI: Davis, K (17), Garner 2 (15).
2-out RBI: Garner.
Runners left in scoring position, 2 out: Gindl; Lalli; Davis, B.
SAC: Gindl.
GIDP: Gindl, Lalli, Statia.
Team RISP: 1-for-8.
Team LOB: 6.BASERUNNING
SB: Davis, K (3, 2nd base off Withrow/Federowicz).FIELDING
E: Buller (2, catcher interference).
Outfield assists: Davis, K (Amezaga at 3rd base).
WP: Thornburg.
Pitches-strikes: Laffey 72-49, Patterson 22-9, Withrow 19-14, De La Cruz, K 14-8, Thornburg 101-71, Sanchez, Je 35-23, Webb 18-10, Dillard 22-17.
Groundouts-flyouts: Laffey 10-3, Patterson 0-1, Withrow 2-0, De La Cruz, K 1-1, Thornburg 6-1, Sanchez, Je 3-0, Webb 0-0, Dillard 3-1.
Batters faced: Laffey 23, Patterson 6, Withrow 5, De La Cruz, K 3, Thornburg 23, Sanchez, Je 9, Webb 5, Dillard 7.
Inherited runners-scored: Dillard 3-0.
Umpires: HP: Joel Hospodka. 1B: Tom Woodring. 2B: D.J. Reyburn. 3B: Gerard Ascani.
Weather: 86 degrees, partly cloudy.
Wind: 2 mph, In from CF.
T: 3:04.
Att: 4,144.