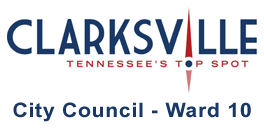 Clarksville, TN – On Monday June 3rd, 2013 at 6:30pm, I will hold a joint community/ward meeting at the Gas and Water building located at the corner of Richview Drive and Madison Street with Councilwoman Kaye Jones of Ward 11.
We will meet in the large conference room that is located in the hallway behind the main entrance (where all the glass doors are) of the Gas and Water building. We will be there to guide you as needed. Please be on time as we usually lock the entrance doors after the meeting starts to ensure building security.
As readers know I hold about one public meeting a year as I use the council email system to keep you informed on regular or late breaking news about any city issues. While I have been keeping you up-to-date on the proposed city budget I will have more info and answers to your questions about the budget.
We'll also talk about traffic and roads (Exit 11 and Sango as examples), issues within city government, the proposed park and address any other questions you may have.
Please mark your calendar and try to come to the meeting. While I email and talk over the phone with a great number of you, I don't always get to say hello face-to-face. I would suggest setting aside 90 minutes for the meeting. As always, I will stay and answer questions or help you with a need as long as needed.
I look forward to seeing you June 3rd at 6:30pm at Gas and Water. If there is a topic you want to alert me to ahead of time for the meeting, let me know.