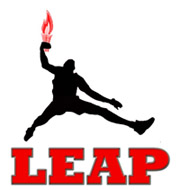 Clarksville, TN – Damon Jennings, of Daymar Institute passionately explains the importance of developing strong interpersonal communication skills to students enrolled in the LEAP Youth Career Development Program.
Damon simplified, yet expanded their definition and understanding of communication being the attempt to send and receive messages between parties whether face to face, telephone, texting, internet, sign language, signage, and other non verbal cues.
He then went on the various types of "Noise" that interferes with messages causing misinformation and problems with the senders and/or receivers.  Some of the lessons students learned were the importance of actively listening, asking for clarity, using appropriate language, tones, and non verbal communication to handle noise.
Equipped with Johari's Window to promote continual self discovery and self improvement, Damon kept the students engaged with various interactive exercise to demonstrate how to successfully communicate with individuals and groups.
For more information on the Youth Career Development Program visit www.leaporg.net