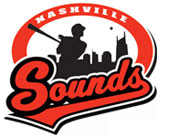 Nashville, TN – The Nashville Sounds overcame an early deficit Friday night at Greer Stadium to defeat the visiting Iowa Cubs, 3-1, and pick up their first winning series of the year. The victory is Nashville's third consecutive and marks the team's longest streak of the season.
Tied 1-1 in the seventh, the Sounds attacked Iowa's starting pitcher Yoanner Negrin (0-2) for two runs, which proved to be the difference. Stephen Parker, 2-for-4, led off the inning with a single into right field and scored the go-ahead run on Josh Prince's double to the left-field corner.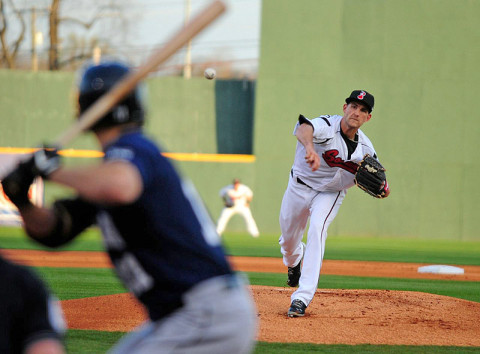 Negrin proceeded to walk Hunter Morris, 0-for-2, before catcher Anderson De La Rosa knocked a soft single through the infield to score Prince for the insurance run.
Sounds starting pitcher Johnny Hellweg (4-4) kept the Cubs in check through seven innings of work, allowing Iowa just one run on five hits. He picked up his fourth win of the season, fanning five and walking two. Hellweg has picked up the win in three of his last four starts.
The seven-inning effort from Hellweg, who entered the game with the third-lowest average against mark among starting PCL pitchers (.198), is a season-best for the hurler and is his fourth quality start of the season.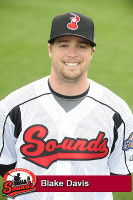 Travis Webb and Tim Dillard combined to pitch a scoreless eighth inning and set the stage for Rob Wooten to pick up his eighth save.
Sounds shortstop Blake Davis got the Sounds offense going in the sixth inning with a leadoff double, which broke up a stretch of 12 consecutive Nashville batter's retired by Negrin and led to the game-tying run.
Hellweg helped his cause on the next play by pushing a bunt to Brad Nelson, who threw the ball to third, but not before Davis got there safely. Covering third and still looking for an out, Donnie Murphy chucked the ball across the diamond over first base, trying to get Hellweg, which scored Davis to make it 1-1 on the error.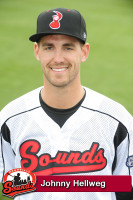 Negrin, who had only thrown 58 pitches through six innings, delivered 18 in the seventh, and left the inning before recording the first out. Negrin was charged with the loss, his second.
The Cubs plated their only run in the third inning via Dave Sappelt's sacrifice-fly. The fly ball to right field scored Logan Watkins, who singled to lead off the inning.
The Sounds head south Saturday to begin an eight-game road trip that takes them to Round Rock, Texas for a four-game series against the Express (Rangers affiliate) before heading to Memphis to take on the cross-state rival Redbirds (Cardinals affiliate).
Throwing on Saturday at 6:05pm for Nashville will be RHP Tyler Thornburg (0-6, 6.66) opposite Round Rock's LHP Martin Perez (1-1, 3.00). Baseball returns to Greer Stadium on Monday, June 10th, when the Sounds host the Omaha Storm Chasers to a four-game series.
Box Score
Nashville Sounds (17-36) 3, Iowa Cubs (24-29) 1
May 31st, 2013
1
2
3
4
5
6
7
8
9
R
H
E
Iowa Cubs
0
0
1
0
0
0
0
0
0
1
5
2
Nashville Sounds
0
0
0
0
0
1
2
0
x
3
6
0
a-Struck out for Nelson in the 8th. b-Grounded out for Schlitter in the 9th.
BATTING
2B: Stewart, I (4, Hellweg).
TB: Nelson; Bogusevic 2; Stewart, I 2; Watkins.
RBI: Sappelt (13).
Runners left in scoring position, 2 out: Murphy 3; Negrin; Watkins.
SF: Sappelt.
Team RISP: 0-for-8.
Team LOB: 8.BASERUNNING
SB: Bogusevic (14, 2nd base off Dillard/De La Rosa, A).FIELDING
E: Murphy (5, throw), Stewart, I (5, missed catch).
DP: (Nelson-Murphy).
a-Grounded into a double play for Hellweg in the 7th.
BATTING
2B: Davis, B (7, Negrin), Prince (10, Negrin), Gindl (12, Schlitter).
TB: Prince 2; De La Rosa, A; Parker, S 2; Davis, B 2; Gindl 2.
RBI: Prince (18), De La Rosa, A (9).
Runners left in scoring position, 2 out: De La Rosa, A; Davis, K; Prince.
SAC: Hellweg.
GIDP: Statia.
Team RISP: 1-for-10.
Team LOB: 5.
Iowa Cubs
Player
IP
H
R
ER
BB
SO
HR
ERA
Yoanner Negrin (L, 0-2)
6.0
5
3
3
1
2
0
3.00
Brian Schlitter
2.0
1
0
0
0
1
0
0.00
Totals
8.0
6
3
3
1
3
0
4.83
Nashville Sounds
Player
IP
H
R
ER
BB
SO
HR
ERA
Johnny Hellweg (W, 4-4)
7.0
5
1
1
2
5
0
3.65
Travis Webb (H, 4)
0.1
0
0
0
1
1
0
4.98
Tim Dillard (H, 3)
0.2
0
0
0
0
1
0
2.79
Rob Wooten (S, 8)
1.0
0
0
0
1
1
0
2.96
Totals
9.0
5
1
1
4
8
0
4.71
Negrin pitched to 4 batters in the 7th.
WP: Hellweg.
Pitches-strikes: Negrin 76-51, Schlitter 22-16, Hellweg 101-62, Webb 8-4, Dillard 8-4, Wooten 11-6.
Groundouts-flyouts: Negrin 11-2, Schlitter 5-0, Hellweg 12-1, Webb 0-0, Dillard 0-1, Wooten 2-0.
Batters faced: Negrin 25, Schlitter 7, Hellweg 28, Webb 2, Dillard 2, Wooten 4.
Inherited runners-scored: Schlitter 2-0, Dillard 1-0.
Umpires: HP: Kolin Kline. 1B: Jordan Ferrell. 3B: Chris Segal.
Weather: 85 degrees, partly cloudy.
Wind: 6 mph, R to L.
T: 2:39.
Att: 8,161.