Clarksville, TN – Austin Peay State University Hall of Fame coach Gary McClure knows he's coaching a special group of baseball players this year. After their dramatic come from behind win over Florida last night at the Indiana NCAA Regional, Clarksville Online talked with coach McClure about the win, about the season, and what he expects during their NCAA Tournament run.
McClure was just finishing up a team meeting when Clarksville Online caught up with him:
During the Florida game, were you and the team getting frustrated that you couldn't find a way to score, and you were leaving men on base?
"No. We were facing one of the best pitchers in the country in Jonathan Crawford, so we knew he would be tough to score on. He's definitely a first round draft pick, but my guys have been finding a way to win all year. I knew if we kept putting runners on base and running up his pitch count, it was just a matter of time before we could get him out of the game.. Crawford was their best chance to beat us, and our guys came through in the end."
Michael Davis had gone 0-3 at the plate when he hit the three run blast. Were you surprised?
"Not at all. Michael has been swinging the bat well all year, he was just having trouble picking up Crawford's pitches. Like I said, Jonathan Crawford is one of the best pitchers in the country. Davis is a guy who will battle you. He's got good power and he's been good for us."
Indiana beat Valparaiso in dramatic fashion last night. Were you "licking your chops" at playing Valpo instead of Indiana today?
"Well, I would be lying if I said I wasn't more excited about playing Valparaiso instead of the #1 seed, but we prepared to play Indiana, and we've prepared to beat Indiana, so either way, we're going to go out and do whatever it takes to win. That win last night gave Indiana a lot of momentum, but our win over Florida gave us huge momentum, so tonight's game should be a good one."
You've met with the team this morning, what did you talk about and how are you preparing them for tonight?
"These guys know what they have to do. They've been down this road before, so I don't have to remind them of who they are, or where they're at. I reminded them that we need to do the little things. Play great defense to back up our pitching and we'll be ok. This is an amazing group of guys who can swing the bat, and they've been seeing the ball pretty good lately. We're not going to change anything we've been doing."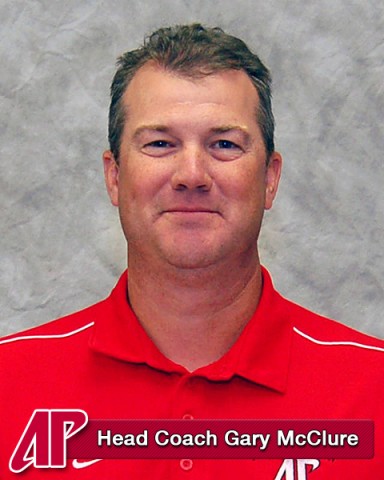 Some of the so called "experts" think this team has peaked too early, what's your opinion?
"I think we're peaking at just the right time. This team is hitting on all cylinders and it's a beautiful thing to watch, and an even better thing to coach. I know what to expect from these guys, and I know what they're going to give me each and every game. We're facing another good pitcher today and they know it, so we've got to play good defense and let our pitchers do what they do best."
Kacy Kemmer seemed to come in at just the right time against Florida, and kind of settled things down for Austin Peay after Florida took the lead. How critical was that for the governors?
"Kacy Kemmer has unbelievable command of all his pitches, and he can just pick you apart. He's a Greg Maddux type of guy who knows how to pitch. He keeps the hitter off balance and keeps him guessing. He's been invaluable to this team this year. Against Florida, I could tell their guys were getting frustrated and were swinging ahead of the pitch, and that's what he does. I was pleased at his performance."
Pitching has been outstanding for the Governors this year. Were you surprised when Florida took a 3-1 lead on a dramatic home-run off of Lee Ridenhour?
'I'm still scratching my head on that one. We don't know how he managed to get that ball out of the ball park. It was a good pitch. It was low and right where Lee wanted to throw it.The guy just took a swing at it and connected. That's all I can think. I'm not disappointed at the pitch, because it was a good one, and he just got it."
How far can this team go?
"I don't think about things like that. This is a good team, and a great group of guys. They've been here before and know that they belong. We'll just see how far we can go, but we believe we've got as good an opportunity as anybody in the tournament. We won't back down from anyone."
#2 Austin Peay Governors will face #1 Indiana Hoosiers Saturday, June 1st at Bart Kaufman Field. The game is slated to start at 5:00pm. APSU won the coin toss and will be the home team.
Catch The Govs
ipTV: ESPN3
Live Statistics: www.NCAA.com
Radio: Governors Sports Network
Online Audio: www.LetsGoPeay.com
Twitter: @APSUBaseball