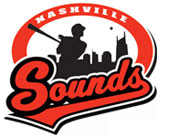 Round Rock, TX – The Nashville Sounds blew a ninth-inning lead but recovered to post a 7-5, 12-inning victory over the Round Rock Express on Monday evening at The Dell Diamond.
In the top of the twelfth, the Sounds snapped a string of 16 consecutive batters retired by Round Rock pitching when Blake Lalli reached on a one-out infield single off Nate Robertson (1-2). Josh Prince followed with a walk before Stephen Parker hit a liner to center that was misjudged by Engel Beltre, resulting in a go-ahead RBI double that put Nashville on top, 6-5. Anderson De La Rosa lifted a sac fly to right that gave the Sounds a two-run cushion.
Kyle Heckathorn (2-1), who worked into and out of a no-out, bases-loaded jam in the eleventh, closed out the game by retiring the Express in order in the bottom of the frame to secure the win.
Sounds starter Johnnie Lowe authored a quality start and pitched well enough to earn his first victory of the year, which he was denied following a late blown save by the Nashville bullpen.
The right-hander held Round Rock to two runs (one earned) on five hits over his six innings of action. He did a good job of limiting damage throughout the evening, stranding Express runners in scoring position in three of his six frames.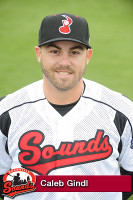 Lowe's solid outing continued a recent trend of strong starting pitching for Nashville hurlers. In the past 10 games, Sounds starters have posted a 2.59 ERA (17er/59.0ip).
Caleb Gindl (3-for-5) gave the Sounds an early 3-0 lead with an opposite-field, three-run homer off Round Rock starter Scott Richmond in the top of the first inning. Blake Davis and Hainley Statia had preceded Gindl with singles before scoring on the outfielder's seventh big fly of the year.
Round Rock got a run back in the home half of the opening frame when Beltre led off with a double against Lowe and, following a passed ball charged to De La Rosa, scored in unearned fashion on a groundout.
The Express got another run-scoring groundout in the second to cut the Nashville lead to 3-2. Aaron Cunningham led off with a two-bagger and later scored on Jim Adduci's ground ball to first.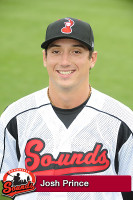 Josh Prince gave Nashville some breathing room in the seventh when he slugged his fifth home run of the year, a two-run shot to right off Richmond. The outfielder continued his strong run production; he has recorded an RBI in 13 of his last 18 contests. Lalli, who singled earlier in the frame, also scored on the blast.
Round Rock took immediate advantage of Lowe's departure, getting those two runs right back against Sounds reliever Travis Webb in the bottom of the seventh to cut the Nashville lead to 5-4.
Mike Olt opened the frame with a single and scored one batter later on Adduci's double combined with a fielding error by Prince in center. Adduci later scored on a sac fly to make it one-run contest once again.
For Nashville, Webb and Michael Olmsted combined to work around a pair of baserunners to log a scoreless eighth before closer Rob Wooten took the mound for the ninth and suffered his second blown save in 10 chances.
Adduci led off the Round Rock ninth by belting a game-tying homer to right, his sixth longball of the year, to square the contest at 5-5.
In the Round Rock eleventh, Heckathorn worked out of a no-out, bases-loaded jam to keep the game going. Joey Butler led off with a double. After Mike Olt singled to put runner on the corners, the Sounds intentionally walked Adduci to load the bases for Greg Miclat, who hit a sharp grounder to second that Hainley Statia turned into a 4-2-3 double play. After another intentional walk to Beltre reloaded the bases, the Nashville right-hander popped up Robinson Chirinos to escape the jam unscathed.
The Sounds will look to gain a split of the four-game set when the clubs wrap up the series with a 7:05pm finale on Tuesday. Left-hander Chris Narveson (0-0, 0.00) will make his second rehab start for the Sounds. Round Rock will counter with southpaw Ryan Feierabend (1-1, 4.91).
Box Score
Nashville Sounds (18-38) 7, Round Rock Express (32-26) 5
June 3rd, 2013
1
2
3
4
5
6
7
8
9
10
11
12
R
H
E
Nashville Sounds
3
0
0
0
0
0
2
0
0
0
0
2
7
9
2
Round Rock Express
1
1
0
0
0
0
2
0
1
0
0
0
5
11
0
BATTING
2B: Parker, S (11, Robertson, N).
HR: Gindl (7, 1st inning off Richmond, 2 on, 0 out), Prince (5, 7th inning off Richmond, 1 on, 0 out).
TB: Lalli 2; Prince 4; Parker, S 2; Davis, B; Gindl 6; Statia.
RBI: Gindl 3 (34), Prince 2 (21), Parker, S (18), De La Rosa, A (10).
Runners left in scoring position, 2 out: Davis, B.
SF: De La Rosa, A.
GIDP: Davis, K.
Team RISP: 3-for-4.
Team LOB: 3.BASERUNNING
CS: Gindl (1, 2nd base by Richmond/Chirinos).FIELDING
E: Davis, B (7, throw), Prince (3, fielding).
PB: De La Rosa, A (9).
DP: (Statia-De La Rosa, A-Lalli).
BATTING
2B: Beltre (15, Lowe), Cunningham, A (16, Lowe), Adduci (11, Webb), Butler, Jy (9, Heckathorn).
HR: Adduci (6, 9th inning off Wooten, 0 on, 0 out).
TB: Adduci 6; Miclat 2; Cunningham, A 2; Beltre 2; Butler, Jy 3; Olt 3.
RBI: McGuiness (33), Adduci 2 (22), Beltre (11).
Runners left in scoring position, 2 out: Beltre; Adduci; McGuiness; Olt; Chirinos 2.
SAC: Beltre; Miclat.
SF: Beltre.
GIDP: Miclat.
Team RISP: 3-for-15.
Team LOB: 9.BASERUNNING
SB: Miclat (7, 2nd base off Lowe/De La Rosa, A).FIELDING
DP: (Solarte-Miclat-McGuiness).
WP: Richmond.
IBB: Adduci (by Heckathorn), Beltre (by Heckathorn).
HBP: Solarte (by Olmsted).
Pitches-strikes: Lowe 76-48, Webb 16-10, Olmsted 16-9, Wooten 24-16, Heckathorn 34-14, Richmond 92-57, McClellan 9-9, Bonilla 37-24, Robertson, N 22-13.
Groundouts-flyouts: Lowe 8-3, Webb 3-1, Olmsted 0-1, Wooten 3-2, Heckathorn 2-2, Richmond 6-9, McClellan 1-1, Bonilla 3-0, Robertson, N 1-1.
Batters faced: Lowe 24, Webb 6, Olmsted 4, Wooten 7, Heckathorn 9, Richmond 28, McClellan 3, Bonilla 9, Robertson, N 6.
Umpires: HP: Spencer Flynn. 1B: Lance Barrett. 2B: Brandon Misun. 3B: Quinn Wolcott.
Weather: 93 degrees, clear.
Wind: 2 mph, Varies.
T: 3:30.
Att: 8,351.