Regular Starter R.J. Seidel Throws Five Scoreless Frames In Relief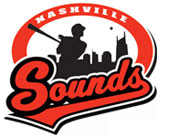 Round Rock, TX – A rough start by rehabbing big leaguer Chris Narveson (0-1) defined the night for the Nashville Sounds, who lost 6-2 to the Round Rock Express Tuesday at The Dell Diamond and dropped the series by a 3-1 margin.
Narveson, making his second rehab start for the Sounds this season, worked a 10-pitch 1-2-3 first inning before allowing six Express runs to cross in the second inning.
Express shortstop Yangervis Solarte started Round Rock's big inning by taking Narveson's 11th pitch to the left-field foul pole for a solo home run. Narverson followed with two consecutive strikeouts, but allowed another home run to Mike Olt to make it 2-0.
Narveson surrendered hits to the following five batters, four to the outfield and one through the infield, to add four runs to the Express advantage. Narverson, charged with the loss, was touched for his eighth hit at the start of the third inning and exited having thrown 45 pitches and 28 for strikes. He had three strikeouts and no walks.
Reliever Tim Dillard pitched out of the inning for Nashville to allow the Sounds regular starter R.J. Seidel to start clean in the fourth.
Seidel cruised through five innings to finish the game for the Sounds, holding the Express scoreless and limiting them to three hits while racking up six strikeouts. He faced only two more batters than the minimum.
Offensively, the Sounds picked up runs in the third and fourth innings. Hainley Statia hit a double into left field to score Anderson De La Rosa in the third, while Josh Prince and Hunter Morris pieced together two doubles to start the fourth, which pulled the Sounds closer at 6-2.
Nashville worked a season-high six doubles off Express pitching, with catcher De La Rosa rapping a pair of two-baggers. Of the Sounds' eight hits, only two went for singles. Khris Davis (2-for-3) and De La Rosa (2-for-4) turned in multi-hit outings.
Ryan Feierabend (3-1) picked up the win for Round Rock, holding Nashville to two runs on five hits across five innings of work.
After a league-wide off day Wednesday, the Sounds will head to Memphis, TN on Thursday to take on the division-rival Redbirds at Autozone Park at 7:05pm. Throwing for Nashville will be RHP Johnny Hellweg (4-4, 3.65) opposite Memphis' RHP Richard Castillo (0-1, 2.31).
Baseball returns to Greer Stadium on Monday, June 10th, when the Sounds host the Omaha Storm Chasers to a four-game series.
Box Score
Round Rock Express (33-26) 6, Nashville Sounds (18-39) 2
June 4th, 2013
1
2
3
4
5
6
7
8
9
R
H
E
Nashville Sounds
0
0
1
1
0
0
0
0
0
2
8
0
Round Rock Express
0
6
0
0
0
0
0
0
x
6
11
0
BATTING
2B: De La Rosa, A 2 (9, Feierabend, McClellan), Statia (3, Feierabend), Prince (11, Feierabend), Morris, H (9, Feierabend), Davis, K (5, Brigham).TB: Prince 2; De La Rosa, A 4; Halton; Davis, K 3; Statia 2; Morris, H 2.
RBI: Statia (4), Morris, H (26).
Runners left in scoring position, 2 out: Garner; Davis, K; De La Rosa, A; Halton; Statia.
GIDP: De La Rosa, A.
Team RISP: 2-for-16.
Team LOB: 7.FIELDING
DP: (Prince-Statia-Morris, H).
BATTING
2B: Bianucci (2, Narveson), Chirinos (7, Narveson), McGuiness (19, Narveson), Cunningham, A (17, Seidel).
HR: Solarte (7, 2nd inning off Narveson, 0 on, 0 out), Olt (2, 2nd inning off Narveson, 0 on, 2 out).
TB: McGuiness 2; Bianucci 2; Solarte 5; Miclat; Cunningham, A 3; Chirinos 2; Beltre; Butler, Jy; Olt 4.
RBI: Solarte (32), Olt (7), Miclat (18), Chirinos 2 (18), McGuiness (34).
2-out RBI: Olt; Miclat; Chirinos 2; McGuiness.
Runners left in scoring position, 2 out: Solarte; Miclat; Olt.
GIDP: Bianucci.
Team RISP: 3-for-7.
Team LOB: 5.BASERUNNING
CS: Cunningham, A (2, 2nd base by Dillard/De La Rosa, A).FIELDING
DP: (Miclat-McGuiness).
Nashville Sounds
Player
IP
H
R
ER
BB
SO
HR
ERA
Chris Narveson (L, 0-1)
2.0
8
6
6
0
3
2
13.50
Tim Dillard
1.0
0
0
0
2
1
0
2.53
R.J. Seidel
5.0
3
0
0
0
6
0
2.93
Totals
8.0
11
6
6
2
10
2
4.67
Narveson pitched to 1 batter in the 3rd.
Pitches-strikes: Narveson 45-28, Dillard 23-13, Seidel 58-37, Feierabend 79-55, Brigham 18-13, McClellan 8-7, Meek 13-7, Yan 8-7.
Groundouts-flyouts: Narveson 2-1, Dillard 1-0, Seidel 3-4, Feierabend 6-4, Brigham 2-1, McClellan 2-0, Meek 1-0, Yan 1-0.
Batters faced: Narveson 14, Dillard 4, Seidel 17, Feierabend 21, Brigham 4, McClellan 4, Meek 4, Yan 3.
Inherited runners-scored: Dillard 1-0.
Umpires: HP: Brandon Misun. 1B: Quinn Wolcott. 3B: Spencer Flynn.
Weather: 92 degrees, clear.
Wind: 12 mph, Out to LF.
T: 2:43.
Att: 8,188.