Nashville, TN – Nick Luper has been named the Tennessee Wildlife Resources Agency 2012 Boating Officer of the Year while Tommy Stockling is honored as Part-Time Boating Officer of the Year.
The recipients of the annual awards were announced by Darren Rider, TWRA Boating and Law Enforcement Division Chief. Both officers serve in TWRA District 31, which encompasses 12 counties in northern Middle Tennessee and has popular boating and fishing destinations. The officers were presented their awards at the May meeting of the Tennessee Fish and Wildlife Commission.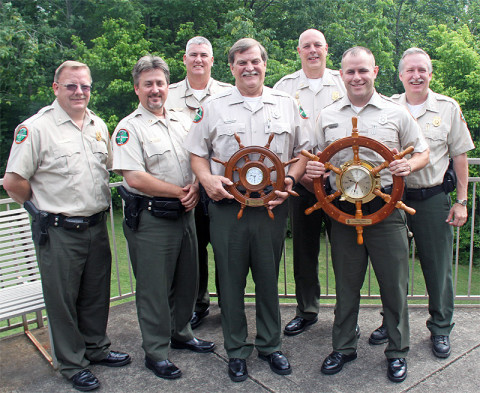 Luper inspected close to 600 vessels for compliance with Tennessee boating laws. He issued 43 citations and 69 warnings. He also arrested 19 operators for Boating Under the Influence (BUI).
He took the lead in boating accidents, including three which resulted in fatalities. He was involved in the rescue of a pair of fishermen from a disabled vessel and made numerous other assists to boaters who were stranded because of mechanical failure.
Active in boating safety education, Luper taught six courses and monitored more than 160 exams. In addition, he also trains wildlife and boating officers in boat operations and BUI procedures.
He is active in public outreach in the Upper Cumberland area. He is responsible for scheduling and setting up the TWRA BUI simulator at public functions to demonstrate the dangers associated with alcohol and boating. He initiated a media event on Center Hill Reservoir in preparation for Operation Dry Water.
Stockling is a member of the agency's part-time boating officer program. As part of his duties, he inspected almost 3,000 vessels for compliance with Tennessee boating laws in 2012, often as boaters prepare to launch their vessels. He performed courtesy inspections to see that the vessels were incompliance, and gave boaters the opportunity to correct any infractions.
He issued 49 citations and 31 warnings. He also made two BUI arrests. He also assisted boaters who were experiencing various problems.
Stockling's education efforts included teaching a pair of boating safety classes and assisted with other classes. He worked with the Free Fishing Day events to promote boating safety. He also worked with a Center Hill Reservoir marina staff and customers to hold a BBQ event to help assist families of military personnel at Fort Campbell, KY.