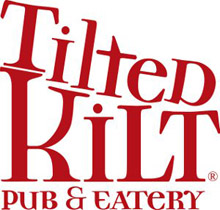 Clarksville, TN – Budweiser and Tilted Kilt kicked off their 3rd annual fundraising program, "Here's to Heroes" on May 27th.  The fundraiser is designed to raise money for the Folds of Honor Foundation which seeks to provide educational scholarships to family members and dependents of fallen or injured soldiers.
For a six week period, customers are given an opportunity to purchase a $1.00 or $5.00 paper dog tag to be personally customized and displayed on the pub walls.
Additionally, guests visiting a Tilted Kilt pub during this time period may text-to-win for an opportunity to either bring a U.S. soldier home with all expenses paid or have a $25.00 donation made in their name to the Folds of Honor Foundation. Last year, Tilted Kilt independently raised more than $17,000 and has set an astounding goal of $30,000 for 2013.
While troops begin to make their way home, it is expected that 34,000 troops will remain in combat a year from now.  As stories of fallen and injured soldiers continue to make headlines, this opportunity allows for pubs and guests to give back to men and women who continue to serve our country while dining at the Tilted Kilt.
"We are thrilled to be involved in such an honorable event to give back to the service men and women and their families who have sacrificed so much so that we can enjoy our freedom," said Ron Lynch, President of Tilted Kilt.  "Our pubs are the perfect atmosphere for this charity fundraiser because it is truly a cause that our team and customers believe in."
Local Clarksville Tilted Kilt Owner Jamie Daniel added "This fundraiser could not be more fitting for our location here with Fort Campbell.  Patriotic spirit runs high and have already seen great support of this wonderful cause just a week after launch."
With much success in the past and a strengthened partnership with Anheuser-Busch and the Folds of Honor Foundation, Titled Kilt has high hopes for its 2013 fundraising efforts. The company continues to redefine the notion of a modern sports pub as one that cares about foundations that affect its valued customers.
"We anticipate remarkable support from our franchisees and customers and are excited to make this year's fundraising efforts our biggest ever," said Lynch.
The "Here's to Heroes" fundraiser is active through July 7th, 2013.
About Tilted Kilt

Currently with 80 open units in the US and Canada and 20 in development, the Tilted Kilt is known as "The Best Looking Sports Pub You've Ever Seen." It is uniquely different than other sports bars because of its theme that combines Celtic décor, humorous and slightly bawdy limericks and sexy cast members with great food, drinks and a fun entertaining atmosphere. The original restaurant concept was developed in the Rio Hotel in Las Vegas in 2003. The local Tilted Kilt is at 2790 Wilma Rudolph Boulevard in Clarksville.
For more information, go to www.tiltedkiltclarksville.com.
About the Folds of Honor Foundation
The Folds of Honor Foundation is a non-profit organization that provides post-secondary educational scholarships for children and spouses of military service men and women killed or disabled while serving our great nation. Folds of Honor salutes the sacrifice of fallen and disabled service members by ensuring their families are not left behind.  They seek to brighten their futures and help them achieve their dreams. Through scholarships and other assistance, they provide healing and hope to these families and seek to rally the nation in support of those who have served and sacrificed for our country.
Since being founded in 2007 by Major Dan Rooney, the foundation has awarded over 1,600 educational scholarships.
For more information on the Folds of Honor Foundation, visit www.foldsofhonor.org.