Before you read this, let's get one thing straight. This article is not hype. It's not a sales pitch. This is my story. I needed to do something so that I would be able to play with my kids from now until I'm old, as they are growing. I want to be able to enjoy life with them. So whatever excuse you come up with while you read this, that's ok. Again, this is about my venture into the Crossfit world, community and lifestyle. No more excuses for me.  -Mat"Your workout is my warmup." 
The first time I hadheard about Crossfit was when one of our LASATERS® franchisees told me about it.  Zack & Heather Gates had said they had just started Crossfit probably over a year ago at a place called Crossfit Gryphon.  They were excited about it as I could see from the ongoing posts on facebook about Crossfit this – Crossfit that – Crossfit food – Crossfit breathing – Crossfit everything.  At first it was annoying.  Seriously!  Who wants to read about you deadlifting a tire, snatching a kettle bell or seeing a picture of your calluses ripped off your hands? Or, what about your busted shin from trying to jump on a box? Or, seeing everyone's long, funky socks up to their knees? And, then, my wife said, "hey, we should try it!" Great … :)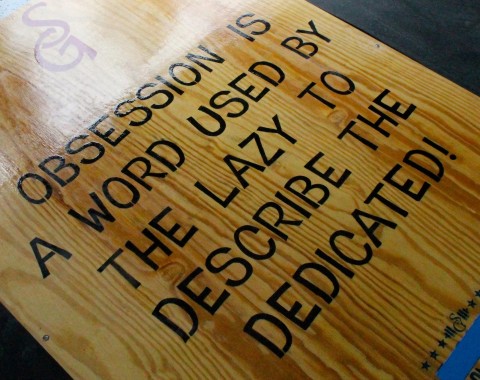 We decided to 'check it out' and went to an Open Gym class at Crossfit Sola Fide. What I quickly learned is that it's not just a place where you can go and work out at your leisure like a regular, boring ol' gym.  And, it's not like a typical gym at all… There are certified coaches that teach and train those who are in each class, making sure their form is correct and that the "athletes", as they are called, are not going to hurt themselves. Our coach for our first WOD (Workout Of the Day) was Christy Roland. What amazed me most about Christy was a couple of things… First, I hadn't seen her in at least over a year. She was in great shape! Secondly, she taught like I was in preschool – which is exactly what I needed! I was really tired of trying to workout on my own, hoping to get good results, yet always dropping out of the gym because it was really boring and my results sucked.  As a coach, Christy explained things so they were easy to understand and took time with each of us to make sure we knew why we were doing what we were doing. She gave an example of grocery shopping and lifting things from the bottom of the shopping cart and putting it away in a high cabinet – functional movements! That's what I needed!
After our first class we registered for an On Ramp Class.  This class taught most major movements so that when we started WOD-ing we would know what to do (even though, each coach helps at each class with all movements). This class is like your pass to start WOD-ing with other classes (whether it's an all-girls class or co-ed). Annie and I were not able to join Crossfit Sola Fide because their memberships were full so our membership would start at Screaming Eagle Crossfit [SECF] just down the road.  Dave Hippensteel, the owner of SECF, competed in the Crossfit Open and actually took 1st place in his age bracket (Masters Men 55-59) worldwide! We knew we were in good hands. Dave has been great to learn from and we've enjoyed getting to know him and his family.
The language.  WOD, Wallballs, AMRAP, RFT, Muscle-up, DU, etc… Don't worry, you'll get this in time.  :)
Where do you begin? 
SECF has a Grand Opening this coming Saturday (June 15) and they are having a Daggered Dozen Competition. All donated registration funds will go to benefit Task Force Dagger Foundation – a Wounded Warrior Foundation that supports the US Military Special Operations Command.
YOU DON'T HAVE TO BE IN SHAPE TO START!
This coming weekend's Grand Opening is going to be AWESOME! Check out the FREE stuff here. They're at 1400 Corporate Parkway (take Alfred Thun Rd just before Sam's Club – you can't miss it). They have A LOT going on, especially Grand Opening weekend, so bring some friends with you, even if it's for the BBQ!  Check out their facebook page for more info.  Make plans to attend this weekend – YOU WILL BE GLAD YOU DID!