Nashville Records Fourth Win In Last Five Games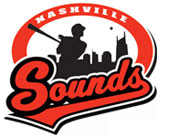 Nashville, TN – The Nashville Sounds continued their recent winning ways on Wednesday evening at Greer Stadium, hanging a 5-4 defeat on the division-rival Omaha Storm Chasers.
Nashville (23-41) recorded its fourth win in the past five contests and its sixth victory in the last nine.
Jimmy Nelson made his second Triple-A start for the Sounds and battled with control issues, walking six batters and striking out five in 3 2/3 innings while throwing only 40 of his 84 pitches for strikes. He allowed three runs on five hits and took a no-decision.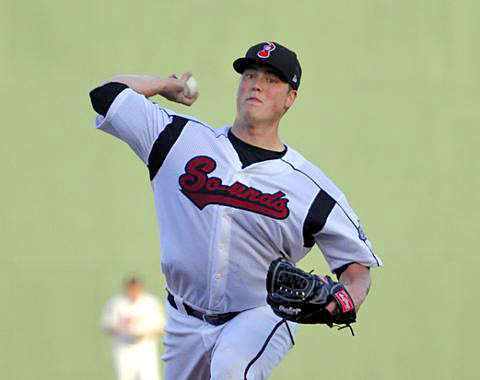 Nashville jumped out to an early lead with a four-run outburst in the second against Omaha starter Justin Marks (1-6).
After three batters drew walks from the left-hander to fill the bags, third baseman Ozzie Chavez put the Sounds on the board with a bases-loaded, two-run double down the left field line. Blake Davis added a third tally on a groundout before Hainley Statia plated Chavez with a one-out single to left.
The Sounds tacked on a run in the third when Sean Halton's two-out double to right plated Josh Prince (2-for-3), who had singled. The two-bagger extended the Halton's longest hitting streak of the year to eight games.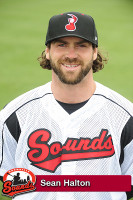 Omaha jumped onto the board with three runs off Nelson in the fourth. After Adam Moore and Chad Tracy drew consecutive one-out free passes from the right-hander and Willy Taveras singled to load the bases, Jarrod Dyson put the visitors on the board with a run-scoring fielder's choice. Christian Colon and Johnny Giavotella followed with back-to-back RBI singles that cut the Sounds' lead to 5-3.
Later in the frame, Kyle Heckathorn (3-1) inherited a two-out, bases-loaded jam from Nelson but escaped without further damage as he induced an inning-ending grounder from Anthony Seratelli.
The Storm Chasers pulled within a run at 5-4 in the sixth against left-hander Zach Kroenke. Taveras led off with a double off the left-center wall and scored on a one-out Colon single. Omaha had the potential tying run in scoring position with only one out but Kroenke worked through the frame with no further damage.
Omaha again put the tying run into scoring position at second with one out in the eighth but Jesus Sanchez induced a groundout and flyout to keep the one-run lead intact.
Rob Wooten, the fifth Sounds reliever of the night, took over in the ninth and allowed a pair of singles before striking out Dyson to end the contest and nail down his 12th save of the year.
The Sounds look to nail down their third winning series in the club's last four when the teams wrap up the series with a 7:05pm finale on Thursday evening. Right-hander Tyler Thornburg (0-7, 6.75) will man the bump for the Sounds on Burger King Throwback Thursday and face Omaha southpaw Chris Dwyer (4-4, 3.58).
Box Score
Nashville Sounds (23-41) 5, Omaha Storm Chasers (28-35) 4
June 12th, 2013
1
2
3
4
5
6
7
8
9
R
H
E
Omaha Storm Chasers
0
0
0
3
0
1
0
0
0
4
10
1
Nashville Sounds
0
4
1
0
0
0
0
0
x
5
7
0
1-Ran for Ramirez, M in the 9th.
BATTING
2B: Taveras, W (5, Kroenke).
TB: Moore, A; Taveras, W 4; Giavotella; Colon, C 3; Ramirez, M; Tracy.
RBI: Dyson, J (1), Colon, C 2 (25), Giavotella (34).
2-out RBI: Colon, C; Giavotella.
Runners left in scoring position, 2 out: Ramirez, M 2; Colon, C; Seratelli 4; Dyson, J.
Team RISP: 4-for-16.
Team LOB: 15.FIELDING
E: Seratelli (5, throw).
Outfield assists: Dyson, J (Davis, B at 3rd base).
DP: 2 (Dyson, J-Colon, C-Giavotella, Smith, W-Seratelli-Tracy).
BATTING
2B: Chavez, O (2, Marks), Halton (14, Marks), Davis, B (8, Bueno).
TB: Chavez, O 2; Prince 2; Halton 2; Davis, B 2; Morris, H; Statia.
RBI: Chavez, O 2 (5), Davis, B (15), Statia (7), Halton (22).
2-out RBI: Halton.
Runners left in scoring position, 2 out: Chavez, O 2; Statia; Lalli.
GIDP: Davis, B.
Team RISP: 3-for-8.
Team LOB: 7.
Omaha Storm Chasers
Player
IP
H
R
ER
BB
SO
HR
ERA
Justin Marks (L, 1-6)
5.0
4
5
5
5
2
0
7.04
Francisley Bueno
2.0
3
0
0
0
4
0
3.29
Will Smith
1.0
0
0
0
1
0
0
3.06
Totals
8.0
7
5
5
6
6
0
4.22
WP: Nelson, Kroenke, Sanchez, Je.
Pitches-strikes: Marks 98-50, Bueno 36-26, Smith, W 10-5, Nelson 84-40, Heckathorn 12-8, Kroenke 25-12, Olmsted 14-8, Sanchez, Je 15-7, Wooten 22-16.
Groundouts-flyouts: Marks 6-5, Bueno 1-0, Smith, W 1-0, Nelson 4-1, Heckathorn 3-0, Kroenke 1-1, Olmsted 2-1, Sanchez, Je 2-0, Wooten 0-0.
Batters faced: Marks 24, Bueno 9, Smith, W 3, Nelson 22, Heckathorn 4, Kroenke 6, Olmsted 4, Sanchez, Je 5, Wooten 5.
Inherited runners-scored: Heckathorn 3-0.
Umpires: HP: Alex Ortiz. 1B: Mark Ripperger. 3B: Marcus Pattillo.
Weather: 88 degrees, clear.
Wind: 6 mph, R to L.
T: 3:07.
Att: 2,881.
Venue: Herschel Greer Stadium.
June 12, 2013