Nashville's Tyler Thornburg Delivers First Quality Start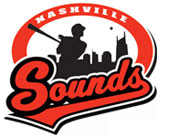 Nashville, TN – The Nashville Sounds were bested by the Omaha Storm Chasers, who served up two home runs Thursday night at Greer Stadium to defeat the home team 4-2. The teams split the series, 2-2.
The Storm Chasers picked up two runs off Sounds starting pitcher Tyler Thornburg (0-8) in the first inning when infielder Xavier Nady lifted a two-out, two-run home run over the centerfield wall.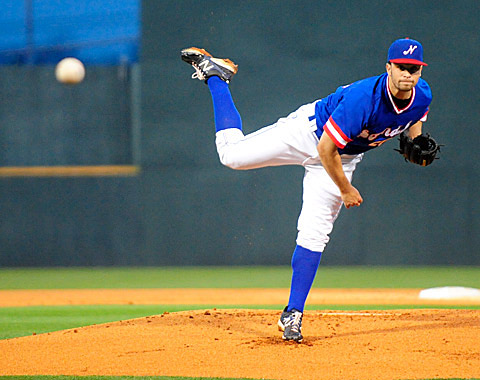 After the first, Thornburg settled in to turn in his first quality start of the season, logging seven innings for Nashville in the losing effort. He fanned six batters and walked one, limiting Omaha to four hits.
The seven-inning outing matches the longest start by a Sound this season and seventh occurrence.
Nashville quickly took one run back in the home half of the first inning as outfielder Sean Halton hit an RBI-single to score Josh Prince, 2-for-5, who doubled earlier in the frame. Halton, 3-for-4, extended his hit streak to a season-best nine games.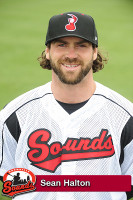 Lefty Chris Dwyer (5-4) picked up the win for Omaha, scattering nine of Nashville's hits across seven innings of work to allow one run. Reliever Louis Coleman pitched two innings for Omaha to pick up his fourth save of the year.
Omaha added to their lead with two runs in the eighth inning against Sounds reliever Travis Webb. After Willy Taveras led-off with a single into right field, nine-hole hitter Quentin Berry connected for a homer just left of dead center, his first of the year.
Webb recorded one out before Johnnie Lowe came in to finish the inning. Lowe stayed in for the ninth to close out the game for Nashville, allowing two hits in 1 2/3 innings.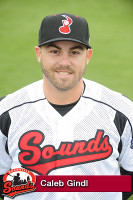 The Sounds plated their final run in the ninth on Prince's double to centerfield. The hit scored Stephen Parker, who reached base on an Omaha throwing error.
Other offensive highlights include Caleb Gindl, 2-for-3, and Khris Davis, who snapped his 0-for-24 slump with two hits.
The Sounds welcome the New Orleans Zephyrs (AAA-Marlins) to Greer Stadium Friday night at Greer Stadium for the first of a four-game set. Throwing for Nashville in the 7:05pm game will be LHP Chris Narveson (0-1, 9.73) opposite the Z's RHP Matt Neil (1-2, 7.66). The game will be followed by a fireworks extravaganza.
Box Score
Omaha Storm Chasers (29-35) 4, Nashville Sounds (23-42) 2
June 13th, 2013
1
2
3
4
5
6
7
8
9
R
H
E
Omaha Storm Chasers
2
0
0
0
0
0
0
2
0
4
8
1
Nashville Sounds
1
0
0
0
0
0
0
0
1
2
11
1
BATTING
2B: Dyson, J (2, Thornburg).
3B: Seratelli (3, Lowe).
HR: Nady (11, 1st inning off Thornburg, 1 on, 2 out), Berry (1, 8th inning off Webb, 1 on, 0 out).
TB: Dyson, J 2; Taveras, W; Falu 2; Seratelli 3; Nady 5; Berry 4.
RBI: Nady 2 (37), Berry 2 (2).
2-out RBI: Nady 2.
Runners left in scoring position, 2 out: Moore, A; Nady; Taveras, W.
GIDP: Nady.
Team RISP: 2-for-9.
Team LOB: 4.BASERUNNING
SB: Falu (7, 2nd base off Lowe/Lalli).
CS: Falu (4, 2nd base by Thornburg/Lalli).FIELDING
E: Seratelli (6, throw).
DP: 3 (Colon, C-Falu-Nady, Seratelli-Moore, A-Nady, Dwyer-Falu-Nady).
BATTING
2B: Prince 2 (15, Dwyer, Coleman), Davis, K (6, Dwyer), Halton (15, Coleman).
TB: Prince 4; Lalli; Halton 4; Parker, S; Davis, K 3; Gindl 2.
RBI: Halton (23), Prince (26).
2-out RBI: Prince.
Runners left in scoring position, 2 out: Davis, B 2; Parker, S; Gindl 2; Lalli.
GIDP: Morris, H 2, Chavez, O.
Team RISP: 3-for-13.
Team LOB: 10.FIELDING
E: Davis, K (4, throw).
DP: (Chavez, O-Davis, B-Morris, H).
Omaha Storm Chasers
Player
IP
H
R
ER
BB
SO
HR
ERA
Chris Dwyer (W, 5-4)
7.0
9
1
1
0
7
0
3.36
Louis Coleman (S, 4)
2.0
2
1
0
1
4
0
1.15
Totals
9.0
11
2
1
1
11
0
4.17
WP: Dwyer, Coleman, Webb.
HBP: Tracy (by Thornburg), Gindl (by Dwyer).
Pitches-strikes: Dwyer 107-70, Coleman 36-26, Thornburg 89-61, Webb 14-6, Lowe 27-14.
Groundouts-flyouts: Dwyer 7-2, Coleman 2-0, Thornburg 4-4, Webb 0-0, Lowe 3-1.
Batters faced: Dwyer 29, Coleman 10, Thornburg 25, Webb 3, Lowe 7.
Umpires: HP: Mark Ripperger. 1B: Marcus Pattillo. 3B: Alex Ortiz.
Weather: 82 degrees, partly cloudy.
Wind: 8 mph, L to R.
T: 2:41.
Att: 6,236.
Venue: Herschel Greer Stadium.
June 13, 2013