Clarksville, TN – Austin Peay State University women's basketball head coach Carrie Daniels has announced the addition of Dean Walsh to her coaching staff for the 2013-14 season, effective Monday.
Walsh, who was an associate head coach at Gardner-Webb last season, fills the position left vacant by the departure of Jessica Grayson last fall and joins assistant coaches Brooke Armistead and Jerome Jackson on Daniels' staff.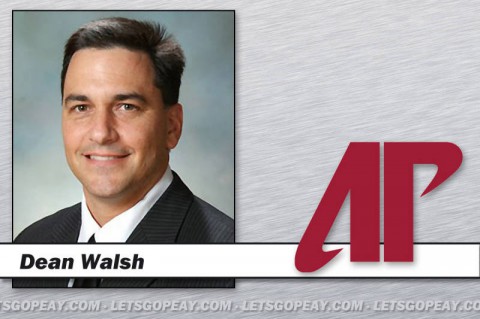 "I feel fortunate and blessed to have someone of Dean's caliber to join our program," said Daniels. "I believe he is exactly what we need. With his experience and everything he can add to what we have, I believe Dean is the final piece we need to get where we want to go."
Walsh rejoined the coaching profession last season as the associate head coach at Gardner-Webb and was the program's recruiting coordinator. He also directed the development of the Bulldogs' post players and the program's day-to-day operations. Walsh will be given a similar charge by Daniels this upcoming season.
"I think one thing we have to look at is a large part of a program's success is about recruiting," Daniels said. "When I looked at his experience and connections in the recruiting world I saw it as nothing but a positive for us. The other part of a program's ability to succeed is player development once you get them on campus. Dean is going to work along with Jerome to develop our post players and I believe they will work well together."
Prior to his stint with Gardner-Webb, Walsh compiled 19 years of coaching experience, including 16 seasons as head coach at three Tennessee programs: Carson-Newman, Maryville (Tennessee) and Hiwassee Colleges. During his head coaching career he amassed a 299-164 record and made 10 national tournament appearances.
"Getting back to the state of Tennessee was a huge draw," said Walsh. "But it was Carrie and her staff that drew me here. They fit my goals and values of being a family atmosphere but work hard and get along. I felt so comfortable here; coach Daniels and her staff made me feel right at home.
"There is a familiarity with Middle Tennessee, East Tennessee and even West Tennessee with recruiting ties. Recruiting is my passion; I absolutely love recruiting and developing players. I'm thankful to Carrie for giving me the opportunity to be a part of her program. "
In 10 seasons at Carson-Newman Walsh's teams qualified for the NCAA Division II Tournament four times and reached the Sweet 16 in 2005 and the second round in 2010. He was named the NCAA Division II Region 3 Coach of the Year in 2005 and 2007 and led his team to nine finishes of fourth or better in South Atlantic Conference play.
Walsh posted a 61-17 record in three seasons at Maryville College and led the program to the NCAA Division III Tournament in consecutive seasons (2000 and 2001) after the program suffered a four-year drought. The 2001 team reached the second round and was ranked as high as 16th nationally.
Walsh's head coaching career began at Hiwassee College and led that program to consecutive NJCAA National Tournament appearances (1996 and 1997). The 1995-96 team reached the NJCAA Sweet 16 and the 1996-97 team posted a school record 30 wins and was ranked No. 9 nationally. He was the NJCAA Regional Coach of the Year in both 1996 and 1996 and was a finalist for the Women's Basketball Coaches Association's District IX Coach of the Year in 1997.
Walsh has served on many NCAA and WBCA committees, including as a representative for the NCAA Division II Male Coaches for Women's Basketball Committee. He also served as the Southeast Regional Ranking Selection Committee Chairman, the Southeast Regional representative for the WBCA NCAA Division II National Coach of the Year, and has been a member of both the NCAA Division II and the NCAA Division III Conference Captains Legislative Committee.
Walsh has coached in the USA Athletics International organization during the summer months, including stints in Australia, Barbados, Belgium, Germany, Holland and Italy, winning four championships and compiling a 33-1 (.971) overall record.
Walsh, who received his Bachelor of Arts degree from Maryville College in 1989, was a four-year letter winner on the men's basketball team. He currently holds two school records at Maryville single-season field-goal percentage (65.8 percent) and career field-goal percentage (60.1 percent).
The Walsh File
Coaching Experience
Gardner-Webb, Associate Head Coach, 2012-13
Carson-Newman, Head Coach, 2001-11 (172-124 record)
Maryville (Tennessee), Head Coach, 1998-2001 (61-17 record)
Hiwassee, Head Coach, 1994-98 (66-23 record)
Playing Experience
Maryville (Tennessee), 1985-89
Education
Maryville (Tennessee) [B.A., Political Science], 1989
Family
Wife: Courtney
Children: Courtlyn-Olivia and Dayden-Henry