Clarksville, TN – If you haven't read Rheta Grimsley Johnson's books, you're missing several great reads. Her latest, Hank Hung the Moon (NewSouth Books, Montgomery, Alabama: 2012), is a description of the influence of Hank Williams on Southern life and Southerners in particular
A finalist for the Pulitzer Prize for commentary, Johnson writes a column that appears in about 50 newspapers throughout the U.S. She has reported for United Press International, the Memphis Commercial Appeal, and the Atlanta Journal-Constitution.
Some of her other awards include the Ernie Pyle Memorial Award for human interest writing, the Headliner Award for commentary, and the American Society of Newspaper Editors' Distinguished Writing Award for commentary.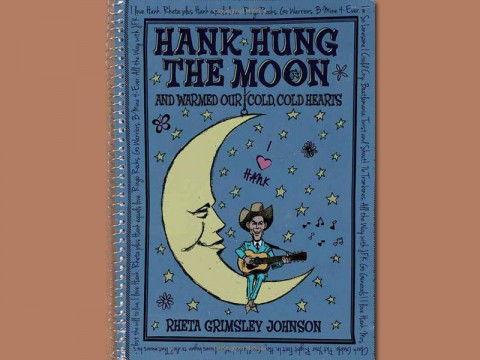 You may know Rheta Grimsley Johnson as the authorized biographer of Charles Schultz, the creator of Peanuts, in her book,
Good Grief: The Story of Charles M. Schulz
(1989). Her other books are
America's Faces
(1987)
,
Poor Man's Provence: Finding Myself in Cajun Louisiana
(2008), and
Enchanted Evening Barbie and the Second Coming
(2010).
Rheta has spoken three different years at the Clarksville Writers' Conference at Austin Peay State University. A all-time favorite, she insists that public speaking is not where she is most comfortable and that the interviewing for articles when she worked full time as a reporter was not the part she liked best. Her favorite activity in that arena was writing—and still is.
Hank Hung the Moon is like sitting down next to Rheta and hearing her tell of how music, especially that of Hank Williams, has been a mainstay in her life. Gentle, soft-spoken, tender-hearted, Rheta has expeienced the not only the joys but the sorrows of life. As a young reporter scrambling for every dollar, she lived in various small towns in the South and learned to see not only the heart-breaking events as told through country music but through the blues as well. She talks in her book about how a phrase in one is echoed in the other.
When her beloved husband, Don Grierson, died in 2009, Rheta had only Hank Williams' music played at Don's memorial service. Worrying that these meaningful songs might become only a reminder of the pain, she happily learned that they became a type of solace that she needed. She insists that "Hank absorbed part of the blow for me. It was as if he articulated the grief that for me was unspeakable. He not only spoke of it, he made it somehow beautiful."
Music, for Rheta, as it does for so many others, became medicine for the soul. After all, Don had captured Rheta's heart the night he had sung some of Hank Williams' music. Don had sung several verses of "Cold, Cold Heart" "not in Hank's voice, but in a voice influenced by Hank, that harkened Hank, revered Hank, and knew something of the tribulation and sorrow that had gone into those words."
Rheta Grimsley Johnson has written about ordinary people in most of her columns, but as a newspaper reporter, she covered events where the famous appeared too. When she talked to Willie Nelson once on the phone, she found him to be so genuine and a person who put her at her ease as he answered question after question. She quotes Willie in Hank Hung the Moon, "Ninety-nine percent of the world's lovers are not with their first choice. That' s what makes the jukebox play."
Hank Williams, a man who had very limited formal education, nevertheless, knew how to write the human heart into a song. In 2010, Hank Williams was awarded a special Pulitzer Prize for his lifetime achievement as a musician.
Rheta doesn't glamourize Hank. She tells of his illegitimate child who had to fight through nine years of litigation to prove her own parenthood. Rheta gives Hank the credit for claiming the child (who finally became known as Jett Williams after a series of name changes by her grandmother, foster parents and divorce) as his own and providing for her in a contract with the only known notarized signature he left behind. The story of this child and her struggle to claim her name alone is enough to make you read this book.
Rheta is now married to Hines Holt Hall, professor emeritus from the English Department at Auburn University. Hines' wife had died of a pulmonary aneurism eight years before he met Rheta. They are two happy people who found each other after great sadness had ruled their lives.
Hank Hung the Moon talks about scores of people whose lives have been influenced by the life of Hank Williams and by his music—from Grand Ole Opry stars to people living on the backroads of the South and even to people in prison. Every aspect of Hank's life has been discussed from every angle. Hank's death on January 1, 1953, brought about a sad ending to his ups and downs with alcohol and pills. Having been thrown out of the Grand Ole Opry for showing up drunk one too many times, Hank still influences every one who ever stands on its stage—and they will all admit to that.
Rheta writes, "He was brave. He was in pain most of his life, but he soldiered on….It's hard in this life to recognize your true talents, to stick to task, to let all the rest go. Hank knew how to do that, spent his short time alive making hay."
And ultimately, she concludes, after having interviewed hundreds of Southerners who all eventually seem to have a Hank story, "All roads lead back to Hank."