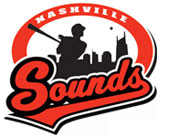 Des Moines, IA – The Nashville Sounds twice pulled to within one run of the Iowa Cubs Thursday night at Principal Park, but never got over the hump, losing by the final score of 6-4.
Sounds pitcher Frankie De La Cruz (1-7), in his first start since May 24th, allowed a quick 3-0 lead to the Cubs in the first inning. With runners on first and second, infielder Junior Lake pushed a single past a diving Blake Davis to score Iowa's first run. Shortstop Donnie Murphy, 3-for-3, followed with a double down the right-field line to plate two more runs.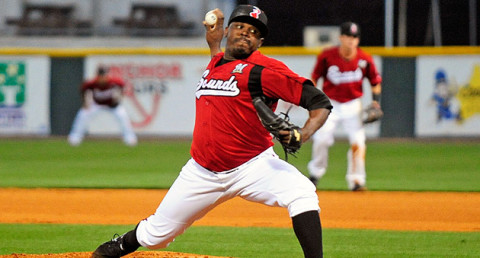 Nashville scored its first two runs in the fourth inning. Sean Halton hit a towering RBI triple off the centerfield wall to bring home Blake Lalli, who singled, before scoring on the next ball put in play: a ground out by outfielder Cole Garner.
The I-Cubs got one run back in the home half of the inning with a two-out RBI-double from right fielder Brian Bogusevic, 4-for-4.
Bogusevic's extra-base knock ended De La Cruz's night. The starter took the loss, his seventh, finishing with four runs on seven hits and three walks across 3 2/3 innings of work. De La Cruz fanned five Cubs, before being relieved by Travis Webb.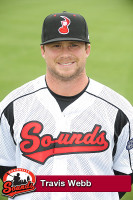 Webb entered with one runner on base and got out of the inning with a fly out to snap a stretch of five games in which Sounds relievers had let in their last nine inherited runners. The lefty worked 2 1/3 scoreless innings for the Sounds, retiring seven of his eight batters.
Blake Davis, 2-for-4, led off the fifth with a double to right field, moved to third on Webb's sacrifice bunt, and scored on a single from Hainley Statia to pull Nashville to within one for the second time.
But once again the Cubs pulled away, scratching two runs on four hits against Sounds reliever Michael Olmsted in the seventh.
Outfielder Khris Davis scored Nashville's final run in the eighth, driven home on a Hunter Morris groundout. Davis reached base on a lead-off single to right field and moved to third with Blake Lalli's double.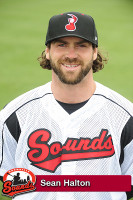 Sounds reliever Greg Holle made his Triple-A debut in the eighth inning, joining Nashville after 26 relief appearances in Double-A Huntsville. The 24-year-old fanned pinch-hitter Brent Lillibridge and walked Bogusevic before retiring the side in his hitless debut appearance.
Halton, 2-for-4, helped keep the Cubs off the board in the second inning by gunning down Iowa catcher Luis Flores at home plate on Bogusevic's second single of the game. Cubs starting pitcher Yoanner Negrin (2-2) picked up the win for Iowa, allowing four runs to Nashville on nine hits over eight innings. Brian Schlitter netted the save, his fifth.
The Sounds conclude their Iowa six-pack with a doubleheader Friday night at Principal Park. Throwing for Nashville in game one will be RHP R.J. Seidel (1-3, 5.45) opposite Iowa's RHP Guillermo Moscoso (2-5, 4.88). The nightcap will feature RHP Johnnie Lowe (0-1, 3.72) against a Cubs' pitcher still to be announced.
Baseball returns to Greer Stadium Thursday, June 27th.
Box Score
Iowa Cubs (36-38) 6, Nashville Sounds (25-48) 4
June 20th, 2013
1
2
3
4
5
6
7
8
9
R
H
E
Nashville Sounds
0
0
0
2
1
0
0
1
0
4
10
0
Iowa Cubs
3
0
0
1
0
0
2
0
x
6
11
0
a-Struck out for Webb in the 7th. b-Singled for Holle in the 9th.
BATTING
2B: Davis, B (9, Negrin), Lalli (5, Negrin).
3B: Halton (2, Negrin).
TB: Lalli 3; De La Rosa, A; Halton 4; Davis, B 3; Davis, K; Statia; Morris, H.
RBI: Halton (31), Garner (19), Statia (9), Morris, H (34).
Runners left in scoring position, 2 out: Garner.
SAC: Webb.
Team RISP: 1-for-6.
Team LOB: 6.FIELDING
Outfield assists: Halton (Flores, L at home).
a-Struck out for Negrin in the 8th.
BATTING
2B: Murphy (9, De La Cruz, F), Bogusevic (14, De La Cruz, F).
3B: Sappelt (2, Olmsted).
TB: Murphy 4; Lake 3; Bogusevic 5; Sappelt 3.
RBI: Lake 2 (7), Murphy 2 (25), Bogusevic (31), Sappelt (26).
2-out RBI: Lake; Murphy 2; Bogusevic.
Runners left in scoring position, 2 out: Jackson, B 2; Clevenger; Flores, L.
Team RISP: 4-for-10.
Team LOB: 9.FIELDING
Outfield assists: Jackson, B (Statia at 2nd base).
DP: (Lake-Watkins).
Iowa Cubs
Player
IP
H
R
ER
BB
SO
HR
ERA
Yoanner Negrin (W, 2-2)
8.0
9
4
4
2
7
0
3.79
Brian Schlitter (S, 5)
1.0
1
0
0
0
0
0
1.54
Totals
9.0
10
4
4
2
7
0
4.62
HBP: Murphy (by Webb).
Pitches-strikes: De La Cruz, F 78-44, Webb 30-17, Olmsted 28-20, Holle 19-9, Negrin 97-63, Schlitter 14-10.
Groundouts-flyouts: De La Cruz, F 2-1, Webb 4-2, Olmsted 0-1, Holle 1-0, Negrin 9-5, Schlitter 1-1.
Batters faced: De La Cruz, F 20, Webb 8, Olmsted 7, Holle 4, Negrin 33, Schlitter 4.
Inherited runners-scored: Webb 1-0.
Umpires: HP: Stephen Barga. 1B: Alex Ortiz. 2B: Scott Mahoney. 3B: Blake Davis.
Weather: 88 degrees, partly cloudy.
Wind: 21 mph, Out to LF.
T: 2:58.
Att: 7,206.
Venue: Principal Park.
June 20, 2013