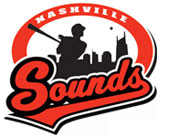 Des Moines, IA – After rallying to tie both contests of Friday's doubleheader at Principal Park, the Nashville Sounds could not keep pace with the Iowa Cubs, who delivered seven home runs on the night to defeat Nashville 5-4 and 8-6.
In game one, the Sounds cracked two home runs, but lost the seven-inning affair, 5-4.
After Sounds outfielder Khris Davis knotted the game in the fifth with his seventh home run of the year, the Cubs pulled back out to a one-run lead with their third homer of the game. Infielder Brad Nelson knocked a deep shot to right field off of reliever Jesus Sanchez (3-1).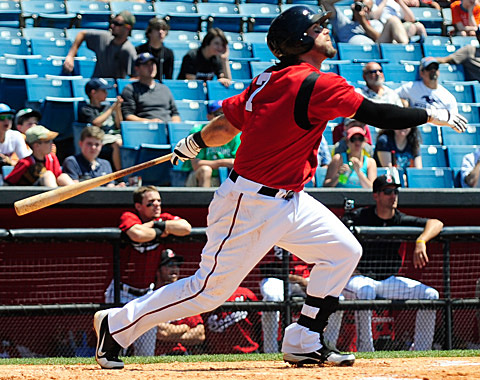 Sanchez took the loss, his first, allowing just one run on one hit over 1 1/3 innings. Reliever Greg Holle also saw work on the hill for Nashville and served up a scoreless sixth, allowing two hits.
Offensively, the Cubs got on the board first when infielder Logan Watkins opened the game with a solo home run. It is the second game-opening home run the Sounds have allowed this season and second in June, having also suffered an opening blast from Round Rock Express' Engle Beltre on June 1st.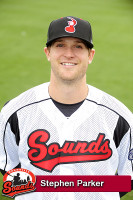 The Sounds leveled the game in the second on Stephen Parker's RBI-single, which scored Sean Halton from second. Halton singled to reach base and advanced on a walk delivered to Hunter Morris.
In the third inning, Nashville took the lead on Halton's two-run homer to right field. The blast, Halton's ninth of the season, scored Khris Davis, who singled to reach base.
Halton finished the game two-for-three with two runs and two RBIs. Sounds catcher Blake Lalli also singled prior to Halton's homer, but was picked off at first base by Iowa's catcher.
The I-Cubs pulled to within one run in the home half of the third inning when left fielder Dave Sappelt lodged a sharp grounder up the right-field line into the Sounds bullpen for a stand-up triple. The hit scored Logan Watkins to make it 3-2.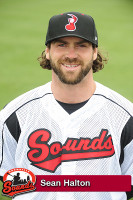 Iowa tied the game with their second home run of the night: a lead-off dinger off the left-field wall from Junior Lake. The shot came against Sounds starter R.J. Seidel and was the first of Lake's Triple-A career.
Donnie Murphy drew a walk off Seidel following the home run, before Iowa outfielder Brett Jackson drove in Murphy with his double to right field to give Iowa the 4-3 advantage. Murphy had reached scoring position on a steal.
Seidel allowed four runs on seven hits and one walk across 3 2/3 innings of work. He fanned three Cubs before being relieved by Sanchez.
Iowa starting pitcher Guillermo Moscoso (3-5) logged six innings to pick up the win, his third, while reliever Michael Bowden notched his second save.
In the nightcap, Nashville erased a four-run deficit, but the Iowa Cubs prevailed, defeating the Sounds 8-6 to sweep the twin billing.
The Sounds worked back in the top of the fifth inning with two runs to tie the game at six apiece, using catcher Anderson De La Rosa's RBI double and Sean Halton's sacrifice fly, but much like in game one, the Cubs pulled away to secure the win.
Iowa's game-winning blow was delivered by infielder Junior Lake, who lifted Kyle Heckathorn's pitch over the outfield wall for his second home run in as many games.
Heckathorn (3-2) took the loss, his second, after allowing one run on two hits over 1 2/3 innings. Reliever Michael Olmsted entered in the sixth to allow a home run to his first batter, Logan Watkins, before retiring the side.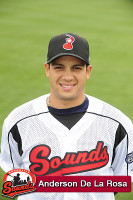 The I-Cubs batted around in the first inning for an early 4-0 lead on Nashville. With one out and the bases loaded, Lake hit a single to centerfield to score two for Iowa. A fielding error from Cole Garner on the play allowed Brad Nelson to reach third and Lake to take second. Donnie Murphy recorded a sacrifice fly to score Nelson and make it 3-0 before Tim Torres brought home Lake with a base knock to left field.
The runs all came against Sounds starter Johnnie Lowe, but only the first was earned, as a Hainley Statia fielding error put the third runner on base before Iowa had scored a run.
Lowe surrendered six runs, three earned, on nine hits in his 3 1/3 innings of work. The right-handed pitcher allowed Donnie Murphy a solo home run in the third inning, while Bogusevic legged out an inside-the-park home run in the fourth to end Lowe's night.
Bogusevic's homer was knocked into centerfield and bounced over a sliding Garner, buying Bogusevic enough time to circle the bases. It is the first time the Sounds have had an inside-the-park homer scored against them since Las Vegas' David Cooper did so on May 21st, 2012, at Cashman Field.
The Sounds, having 10 batters retired in order to open the game, finally connected for hits in the fourth inning. Khris Davis broke up the stretch with a home run to center field, giving him a homer in both games of the doubleheader.
Later in the inning with two runners on base, outfielder Cole Garner, 2-for-3, hit a home run to left-center field to pull within one. The shot, Garner's seventh of the year, scored Sean Halton, who reached base on balls, and Hunter Morris, who singled.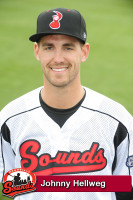 Marcus Hatley was awarded the win for Iowa, limiting the Sounds to two runs on three hits in 1 1/3 innings of work. Casey Coleman picked up his third save for closing out the game with two scoreless innings.
As a result, the Sounds drop their six-game series with the Iowa Cubs by a 5-1 mark. In the 35 innings across the series, Iowa batters were retired 1-2-3 just six times, including just once in the final three games.
Nashville continues its road trip on Saturday, traveling to New Orleans to take on the Zephyrs (Marlins affiliate). RHP Johnny Hellweg (6-4, 3.06) will make the start for Nashville against the Z's RHP Doug Mathis (2-5, 3.90).
Baseball returns to Greer Stadium Thursday, June 27th.
Box Score – Game 1
Iowa Cubs 5, Nashville Sounds 4
June 21st, 2013
1
2
3
4
5
6
7
8
9
R
H
E
Nashville Sounds
0
1
2
0
1
0
0
x
x
4
7
0
Iowa Cubs
1
0
1
2
1
0
x
x
x
5
10
1
a-Flied out for Sanchez, Je in the 6th.
BATTING
2B: Morris, H (13, Moscoso).
HR: Halton (9, 3rd inning off Moscoso, 1 on, 2 out), Davis, K (7, 5th inning off Moscoso, 0 on, 0 out).
TB: Lalli; Halton 5; Parker, S; Davis, K 5; Morris, H 2.
RBI: Parker, S (21), Halton 2 (33), Davis, K (21).
2-out RBI: Halton 2.
Runners left in scoring position, 2 out: Seidel; Garner 2.
Team RISP: 2-for-7.
Team LOB: 5.BASERUNNING
SB: Halton (4, 2nd base off Moscoso/Boscan).
PO: Lalli (1st base by Boscan).FIELDING
DP: (Davis, B-Morris, H).
a-Grounded into a double play for Moscoso in the 6th.
BATTING
2B: Sappelt (9, Seidel), Watkins (12, Seidel), Jackson, B (7, Seidel).
3B: Sappelt (3, Seidel).
HR: Watkins (6, 1st inning off Seidel, 0 on, 0 out), Lake (1, 4th inning off Seidel, 0 on, 0 out), Nelson (13, 5th inning off Sanchez, Je, 0 on, 2 out).
TB: Boscan 2; Lake 4; Jackson, B 3; Watkins 6; Sappelt 5; Nelson 4.
RBI: Watkins (19), Sappelt (27), Lake (8), Jackson, B (23), Nelson (45).
2-out RBI: Sappelt; Nelson.
Runners left in scoring position, 2 out: Lake; Nelson; Watkins.
SAC: Moscoso.
GIDP: McDonald.
Team RISP: 2-for-8.
Team LOB: 4.BASERUNNING
SB: Murphy (5, 2nd base off Seidel/Lalli).
CS: Jackson, B (5, 3rd base by Seidel/Lalli).FIELDING
E: Lake (7, throw).
Pickoffs: Boscan (Lalli at 1st base).
Nashville Sounds
Player
IP
H
R
ER
BB
SO
HR
ERA
R.J. Seidel
3.2
7
4
4
1
3
2
5.85
Jesus Sanchez (L, 3-1)
1.1
1
1
1
0
1
1
2.50
Greg Holle
1.0
2
0
0
0
0
0
0.00
Totals
6.0
10
5
5
1
4
3
4.47
Iowa Cubs
Player
IP
H
R
ER
BB
SO
HR
ERA
Guillermo Moscoso (W, 3-5)
6.0
7
4
4
2
5
2
4.99
Michael Bowden (S, 2)
1.0
0
0
0
0
1
0
4.22
Totals
7.0
7
4
4
2
6
2
4.62
Pitches-strikes: Seidel 66-38, Sanchez, Je 15-8, Holle 5-5, Moscoso 106-66, Bowden 11-9.
Groundouts-flyouts: Seidel 3-3, Sanchez, Je 1-1, Holle 2-0, Moscoso 9-2, Bowden 1-1.
Batters faced: Seidel 18, Sanchez, Je 5, Holle 4, Moscoso 27, Bowden 3.
Inherited runners-scored: Sanchez, Je 1-0.
Umpires: HP: Alex Ortiz. 1B: Scott Mahoney. 2B: Blake Davis. 3B: Stephen Barga.
Weather: 81 degrees, overcast.
Wind: 14 mph, Out to CF.
T: 2:19.
Venue: Principal Park.
June 21, 2013
Box Score – Game 2
Iowa Cubs (38-38) 8, Nashville Sounds (25-50) 6
June 21st, 2013
1
2
3
4
5
6
7
8
9
R
H
E
Nashville Sounds
0
0
0
4
2
0
0
x
x
6
8
2
Iowa Cubs
4
0
1
1
1
1
x
x
x
8
12
0
a-Struck out for Heckathorn in the 6th.
BATTING
2B: De La Rosa, A (12, Hatley), Garner (6, Coleman, C).
HR: Davis, K (8, 4th inning off Antigua, 0 on, 1 out), Garner (7, 4th inning off Antigua, 2 on, 2 out).
TB: Garner 6; De La Rosa, A 2; Parker, S; Davis, B; Davis, K 4; Statia; Morris, H.
RBI: Davis, K (22), Garner 3 (22), De La Rosa, A (15), Halton (34).
2-out RBI: Garner 3.
Runners left in scoring position, 2 out: Lalli; De La Rosa, A.
SF: Halton.
Team RISP: 2-for-7.
Team LOB: 3.FIELDING
E: Statia (4, fielding), Garner (3, fielding).
a-Grounded out for Hatley in the 5th.
BATTING
2B: Watkins (13, Lowe), Lake (6, Lowe).
3B: Torres, T (1, Heckathorn).
HR: Murphy (7, 3rd inning off Lowe, 0 on, 1 out), Bogusevic (10, 4th inning off Lowe, 0 on, 1 out), Lake (2, 5th inning off Heckathorn, 0 on, 0 out), Watkins (7, 6th inning off Olmsted, 0 on, 0 out).
TB: Lake 7; Torres, T 5; Murphy 4; McDonald; Bogusevic 5; Watkins 6.
RBI: Lake 3 (11), Murphy 2 (27), Torres, T (2), Bogusevic (32), Watkins (20).
2-out RBI: Torres, T.
Runners left in scoring position, 2 out: Antigua; Nelson; Sappelt.
SF: Murphy.
Team RISP: 3-for-9.
Team LOB: 6.BASERUNNING
CS: Lake (2, 3rd base by Lowe/De La Rosa, A).FIELDING
Outfield assists: Bogusevic (De La Rosa, A at 3rd base).
DP: (Bogusevic-Lake-Watkins).
WP: Coleman, C.
Pitches-strikes: Lowe 72-43, Heckathorn 30-20, Olmsted 21-9, Antigua 60-37, Hatley 23-15, Coleman, C 37-25.
Groundouts-flyouts: Lowe 3-3, Heckathorn 2-2, Olmsted 1-1, Antigua 3-3, Hatley 0-2, Coleman, C 2-1.
Batters faced: Lowe 20, Heckathorn 7, Olmsted 5, Antigua 15, Hatley 7, Coleman, C 8.
Umpires: HP: Scott Mahoney. 1B: Blake Davis. 2B: Stephen Barga. 3B: Alex Ortiz.
Weather: 89 degrees, partly cloudy.
Wind: 13 mph, Out to CF.
T: 2:28.
Att: 9,044.
Venue: Principal Park.
June 21, 2013