Clarksville, TN – A two-round total of 26-under par 116 wasn't good enough to win in regulation, Sunday, June 23rd at Swan Lake Golf Course in the Bud Light/Clarksville Golf Association Two-Man Scramble, as the team of Clev Guinn and Tyler Guy needed a short birdie putt on the first playoff hole to defeat the duo of Tyler Phillips and Steven Williams to take the title.
Guinn and Guy (57-59—116) opened the playoff hole with a great drive, just short of the greenside bunker, with Guy following that with a great chip to leave Guinn a short kick-in putt for birdie.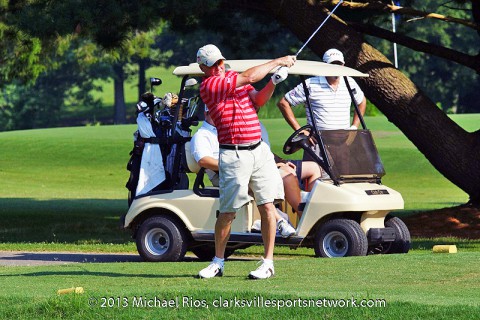 "A shot like that in that situation is why you practice," Guy said. "You practice every day and you practice that shot every day, so when the pressure is on you just say to yourself 'I've done this a million times and it's nothing different than coming out here last night and chipping'."
The team of Phillips and Williams, had a chance to force the playoff into a second hole, but missed a long birdie chance to finish in second place.
The playoff on hole number one was a little déjà vu for Guinn and Guy, who two years ago had to square off against each other for the Hank Miles Junior City Am title on the same hole.
"The last time we have a playoff on this hole we were playing against each other," Guinn said. "But I told him before we started it was going to be a lot of fun because the last time we were playing against each other, but this time we're playing together and we could both come away with a win."
The team of Brian Balthrop and Josh Black (59-63—122) finished in third place, at 20-under par.
In the Senior Division, the team of Griff Rudolph and Brad VanKirk (58-60—118) led wire-to-wire, as they finished the two-day event at 24-under par – four shots ahead of runner-ups Tommy Shearon and Jeff Whitlow (61-61—122) at 20-under par.
"We both played really well this weekend," Rudolph said. "It was just a complete team effort out there and we're thrilled to come away with a victory — especially by winning by first tournament back in Clarksville in 30 years.
"There were a lot of very good players in the tournament and to be able to come away with a four-shot victory I really don't know what to say about that, other that we're happy with the way we played."
Both VanKirk and Rudolph added in a little bit of lighthearted trash talk to runner-up (Tommy) Shearon saying "Even better than winning the tournament, we took $20 off of Tommy."
Barker Seay and Bruce Walker (60-63–123/19-under) took third place.
In the other Open Division flights, the team of Nathan Hunt and Wes Stamey (66-62—128/14-under) won the First Flight by two shots over Steven Reigle and Jack Estes (66-64—130/12-under), with Chip and Jeff Miles coming in third (66-67—133/9-under).
In the Second Flight, Craig O'Shoney and Mican Harris took first place with a 72-66—138 4-under total – two shots better than John Sheffield and Brent Miller (70-70—140/2-under).
John and Ben McIntosh (72-69-141/1-under) finished third.