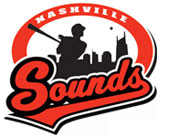 Metairie, LA – The Nashville Sounds rallied to overcome five home runs delivered by the New Orleans Zephyrs Tuesday afternoon at Zephyr Field to win the series finale 7-5.
Down 4-2 in the eighth, the Sounds worked the bases loaded with no outs to spark the beginning of their late-game rally. Catcher Anderson De La Rosa cut the Z's lead to one by nubbing an RBI ground out to first base, scoring Hainley Statia, who singled to lead off the frame.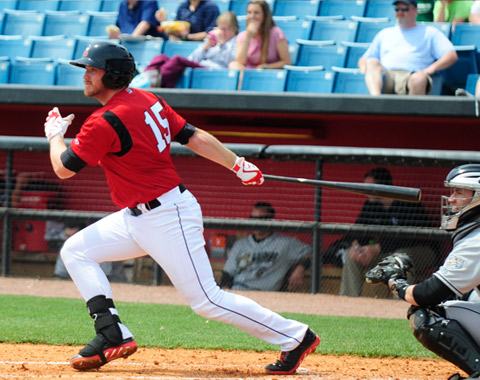 Stephen Parker followed with a game-tying RBI single into right field. Cole Garner, 2-for-4, knocked a single into right to load the bases again and shortstop Blake Davis, 2-for-4, belted a double off the centerfield wall to put the Sounds ahead 6-4. The team batted around in the inning, and picked up their final run on Josh Prince's sacrifice fly.
Despite allowing the Zephyrs their fifth solo home run in the 8th inning, the Sounds held on for their first win of the season when trailing after six innings, having gone 0-for-their-first-44 chances.
Sounds first baseman Hunter Morris put the Sounds on the board in the first inning with an RBI double off the left-field wall. The hit scored Statia, 2-for-4, who singled on a ball deflected by the pitcher.
Starting pitcher Tyler Thornburg helped his own cause in the second inning with an extra-base knock into centerfield that scored Garner. Outfielder Gorkys Hernandez tried to make a diving catch on the play, but the ball got by him to give Thornburg a double and the Sounds a 2-0 lead. All nine of Nashville's starters recorded a hit on the day, combining for 13.
With the game tied 2-2 in the fifth inning, Thornburg delivered his 10th strikeout of the day, fanning Hernandez. Thornburg's 10 strikeouts match the most recorded by a Sounds starter this season, tying Thornburg's May 11th effort against Sacramento.
Despite his career day, the Zephyrs touched Thornburg for four solo home runs to allow the Z's back in the ball game. Matt Downs hit one to left field in the second inning and Kyle Skipworth lifted the game-tying shot in the fifth.
New Orleans outfielder Kyle Jensen, in the second PCL contest of his career, hit the go-ahead home run in the sixth. The blast was followed by another from Downs to put the Z's up 4-2.
The four home runs allowed by Thornburg is the most allowed by a Sounds starter this season, surpassing R.J. Seidel's three-homer allowance from June 10th against Omaha. Downs' two-homer game is the first against the Sounds since Omaha's Brett Hayes got two on June 10th.
Picking up the win for Nashville was reliever Kyle Heckathorn (4-2), who pitched a scoreless seventh. Closer Rob Wooten netted his 16th save for two innings of work on the hill for Nashville. He allowed one run on two hits with one walk and two strikeouts.
After joining the entire Pacific Coast League for an off day tomorrow, the Sounds open a seven-day, eight-game homestand on Thursday against Oklahoma City and Round Rock that includes a Friday doubleheader. The Sounds will be wearing retro blue uniforms for BURGER KING Throwback Thursday, where fans can enjoys $2.00 beer and select concession items.
Box Score
Nashville Sounds (27-52) 7, New Orleans Zephyrs (40-40) 5
June 25th, 2013
1
2
3
4
5
6
7
8
9
R
H
E
Nashville Sounds
1
1
0
0
0
0
0
5
0
7
13
1
New Orleans Zephyrs
0
1
0
0
1
2
0
1
0
5
8
0
a-Flied out for Webb in the 7th. b-Intentionally walked for Heckathorn in the 8th.
BATTING
2B: Morris, H (14, Neil), Thornburg (1, Neil), Halton (18, Albaladejo), Davis, B (10, Hatcher).
TB: Prince; Garner 2; De La Rosa, A; Halton 3; Davis, B 3; Parker, S; Thornburg 2; Morris, H 2; Statia 2.
RBI: Morris, H (36), Thornburg (1), De La Rosa, A (16), Parker, S (22), Davis, B 2 (17), Prince (28).
2-out RBI: Morris, H; Thornburg.
Runners left in scoring position, 2 out: De La Rosa, A; Prince; Parker, S; Statia.
SF: Prince.
GIDP: Statia.
Team RISP: 3-for-8.
Team LOB: 8.FIELDING
E: De La Rosa, A (5, throw).
Pickoffs: Thornburg (Green, N at 1st base).
a-Walked for Smith, J in the 7th. b-Struck out for Hatcher in the 9th.
BATTING
HR
: Downs 2 (8, 2nd inning off Thornburg, 0 on, 1 out; 6th inning off Thornburg, 0 on, 2 out), Skipworth (3, 5th inning off Thornburg, 0 on, 0 out), Jensen (1, 6th inning off Thornburg, 0 on, 1 out), Petersen (5, 8th inning off Wooten, 0 on, 0 out).
TB
: Jensen 5; Velazquez, G 2; Downs 8; Skipworth 4; Petersen 4.
RBI
: Downs 2 (28), Skipworth (14), Jensen (1), Petersen (35).
2-out RBI
: Downs.
Runners left in scoring position, 2 out
: Jensen; Skipworth.
Team RISP
: 0-for-4.
Team LOB
: 6.
BASERUNNING
SB
: Mattison (12, 2nd base off Heckathorn/De La Rosa, A).
CS
: Green, N (2, 2nd base by Thornburg/De La Rosa, A), Velazquez, G (4, 2nd base by Heckathorn/De La Rosa, A).
PO
: Green, N (1st base by Thornburg).
FIELDING
DP: (Green, N-Velazquez, G-Mahoney).
IBB: Lalli (by Hatcher).
Pitches-strikes: Thornburg 100-58, Webb 3-2, Heckathorn 19-11, Wooten 33-21, Neil 78-51, Smith, J 9-6, Albaladejo 19-11, Hatcher 28-19.
Groundouts-flyouts: Thornburg 1-3, Webb 1-0, Heckathorn 1-0, Wooten 2-0, Neil 6-5, Smith, J 0-2, Albaladejo 1-0, Hatcher 1-2.
Batters faced: Thornburg 25, Webb 1, Heckathorn 3, Wooten 9, Neil 24, Smith, J 4, Albaladejo 5, Hatcher 9.
Inherited runners-scored: Hatcher 2-2.
Umpires: HP: Kellen Levy. 1B: Stu Scheurwater. 3B: Jordan Baker.
Weather: 86 degrees, cloudy.
Wind: 10 mph, Out to CF.
T: 2:58.
Att: 4,388.
Venue: Zephyr Field.
June 25, 2013