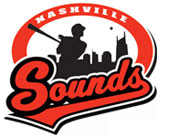 Nashville, TN – The Nashville Sounds dropped their third straight game to the Oklahoma City RedHawks, falling 6-4 in front of 8,889 fans on Saturday evening at Greer Stadium.
Oklahoma City took a 1-0 lead in the top of the first inning when Jimmy Paredes grounded into a rare 6-4-6-8 double play with runners on second and third. On the twin-killing, Jonathan Villar, who had opened the game a double, scored the night's first run.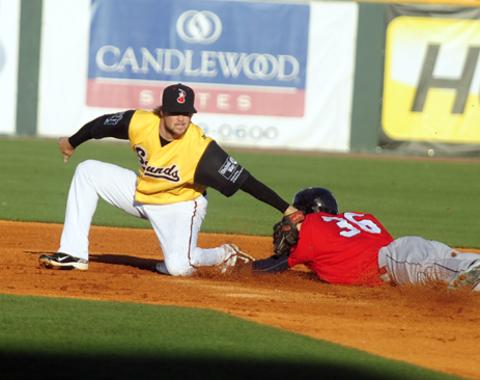 The Sounds answered with a pair of runs in the home half of the opening frame to grab a 2-1 lead against Brad Peacock. Scooter Gennett reached on a throwing error by third baseman Jose Martinez and Josh Prince followed with a bunt single before Caleb Gindl, in his first at-bat after returning to Nashville from the Milwaukee Brewers, ripped a game-tying RBI single to right. Blake Lalli gave the home team the lead with a sacrifice fly to left that plated Prince.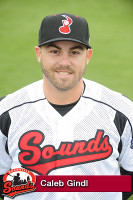 Following the first-inning scoring for Nashville, Peacock (3-2) calmed down and retired 13 of his next 14 batters faced, including a string of 10 in a row. The right-hander picked up the victory with his quality start, holding the Sounds to two runs (one earned) on five hits while striking out nine batters in his seven innings of work.
The RedHawks rallied back into the lead in the fourth when Che-Hsuan Lin laced a two-out, two-run single to right off Chris Narveson.
Oklahoma City added a pair of runs in the sixth against Narveson to extend its lead to 5-2. Marwin Gonzalez led off with a single and scored on a subsequent Paredes single combined with a fielding error by Gindl in right. Brandon Laird followed with an RBI double to right-center to plate Paredes.
Narveson (1-4) took the loss for Nashville after giving up five runs (four earned) on eight hits in six innings of work.
The RedHawks made it a 6-2 game in the seventh with a run off Kyle Heckathorn. Martinez led off with a single and later scored on a groundout.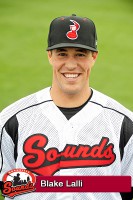 Nashville didn't go down without a fight in the ninth, plating two runs against RedHawks closer Jose Valdez on Hainley Statia's two-out single to center. Catcher Robinson Diaz, who went 2-for-4 in his Sounds debut, and Stephen Parker (walk) scored on the knock. Left-hander Wade LeBlanc was summoned from the bullpen to face pinch-hitter Hunter Morris, the potential tying run, and retired the slugger on a game-ending groundout.
The teams wrap up the five-game series with a 6:35pm finale on Sunday. Right-hander Johnnie Lowe (0-1, 4.07) will make the start for the Sounds and face Oklahoma City right-hander Philip Humber (0-3, 4.66).
It will be the team's fourth Faith Night of the year, featuring a pregame concert by World Outreach Church and a special bobblehead giveaway of biblical figure David to the first 1,000 fans. Gates open at 5:05pm.
Box Score
Oklahoma City RedHawks (44-38) 6, Nashville Sounds (28-55) 4
June 29th, 2013
1
2
3
4
5
6
7
8
9
R
H
E
Oklahoma City RedHawks
1
0
0
2
0
2
1
0
0
6
9
1
Nashville Sounds
2
0
0
0
0
0
0
0
2
4
7
2
BATTING
2B: Villar (14, Narveson), Laird 2 (18, Narveson, Narveson).
TB: Laird 4; Lin; Villar 2; Gonzalez, M 2; Martinez, Jo; Springer; Paredes.
RBI: Paredes (22), Lin 2 (27), Laird (35), Villar (38).
2-out RBI: Lin 2.
Runners left in scoring position, 2 out: Martinez, Jo; Lin; Laird.
Team RISP: 3-for-13.
Team LOB: 4.BASERUNNING
SB: Springer (1, 2nd base off Narveson/Diaz, R), Villar (27, 2nd base off Heckathorn/Diaz, R).
CS: Lin (6, 2nd base by Narveson/Diaz, R).
PO: Lin (1st base by Narveson).FIELDING
E: Martinez, Jo (5, throw).
Pickoffs: Peacock (Gennett at 1st base).
a-Grounded out for Davis, B in the 9th.
BATTING
2B: Statia (5, Peacock).
TB: Prince; Diaz, R 2; Gennett; Statia 3; Gindl.
RBI: Gindl (39), Lalli (15), Statia 2 (12).
2-out RBI: Statia 2.
Runners left in scoring position, 2 out: Davis, B.
SF: Lalli.
Team RISP: 2-for-3.
Team LOB: 5.BASERUNNING
CS: Gindl (2, 2nd base by Peacock/Perez, C), Gennett (4, 2nd base by Peacock/Perez, C).
PO: Gennett (1st base by Peacock).FIELDING
E: Gindl (1, fielding), Heckathorn (3, throw).
DP: (Davis, B-Gennett-Prince).
Pickoffs: Narveson (Lin at 1st base).
Nashville Sounds
Player
IP
H
R
ER
BB
SO
HR
ERA
Chris Narveson (L, 1-4)
6.0
8
5
4
0
3
0
6.83
Kyle Heckathorn
3.0
1
1
1
0
4
0
3.93
Totals
9.0
9
6
5
0
7
0
4.41
WP: Valdez, J, Narveson.
HBP: Springer (by Narveson), Paredes (by Heckathorn).
Pitches-strikes: Peacock 96-65, Chapman, K 26-14, Valdez, J 25-13, LeBlanc 6-3, Narveson 90-59, Heckathorn 43-31.
Groundouts-flyouts: Peacock 4-5, Chapman, K 2-0, Valdez, J 0-0, LeBlanc 1-0, Narveson 7-2, Heckathorn 6-0.
Batters faced: Peacock 26, Chapman, K 5, Valdez, J 4, LeBlanc 1, Narveson 25, Heckathorn 12.
Inherited runners-scored: LeBlanc 1-0.
Umpires: HP: Blake Davis. 1B: Ryan Blakney. 2B: Scott Mahoney. 3B: Jordan Baker.
Weather: 86 degrees, partly cloudy.
Wind: 8 mph, R to L.
T: 2:48.
Att: 8,889.
Venue: Herschel Greer Stadium.
June 29, 2013