Clarksville, TN – EMI Nashville recording artist Beau Braswell will perform live at The Tilted Kilt Pub & Eatery on July 4th, 2013 at 8:00pm, with Ken Mellons of "Jukebox Junkie" fame opening.
Beau was born with a passion for two wheels, learning how to ride a motorcycle at age three, and growing up to become a world champion motorcycle racer with two AMRA world championships and six AMA national titles.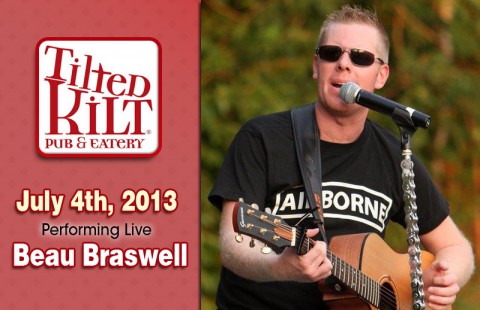 As a teenager he started exploring his other passion – music – and spent the better part of seven years paying his dues and trying to find his musical identity. It was rock producer Leon Medica that suggested Beau combine his two loves to write and record an album of motorcycle songs.
The album "Time To Ride" was cut in late 2006 and packed with twelve hard-riding biker anthems. In grassroots approach, Beau started his own label with Biker Music Records with distribution for the CD to Harley-Davidson stores nationwide.
He then moved on to live performances at biker rallies and festivals, selling out shows across the US and opening for legends such as David Allen Coe and Montgomery Gentry, and snagging endorsements from Anheuser-Busch, Harley-Davidson Motor Corporation and more.
2011 and 2012 proved to be his most successful years yet, with Braswell headlining major motorcycle festivals including Daytona, 22 consecutive sold-out shows on his 2012 tour, and "Time To Ride" selling over 100,000 copies worldwide.
He has recently signed with EMI Nashville and his new song "Whiskey I.V." written by Luke Bryan is set to debut summer 2013 along with his first ever country music video.
Beau performs at 8:00pm July 4th at The Tilted Kilt, 2790B Wilma Rudolph Boulevard in Clarksville. Opening will be Ken Mellons, best known for the country classics "Jukebox Junkie" and "Paint Me a Birmingham".
For more information, visit www.tiltedkiltclarksville.com or www.facebook.com/tiltedkiltclarksville.