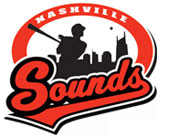 Nashville, TN – Nashville Sounds' Jimmy Nelson turned in an outstanding start and the Sounds belted three home runs in a 10-1 victory over the Round Rock Express on Wednesday evening at Greer Stadium in front of 9,104 fans in the finale of a three-game series.
With the victory, Nashville (31-56) secured its third winning series of the year. The 10 runs scored were the most for the Sounds since May 23rd and the club's fifth double-digit output of the year.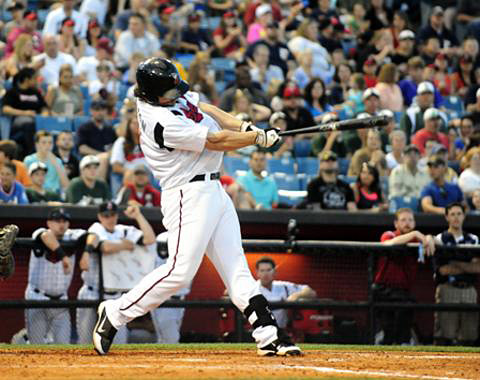 Nelson (1-2) earned his first Triple-A victory with a quality start for the Sounds, holding Round Rock to one run on three hits while fanning seven batters over seven innings. He has logged a 2.30 ERA in his five starts for Nashville.
Michael Olmsted closed out the win with a pair of scoreless frames as the two Nashville hurlers combined to hold Round Rock to only three hits on the night.
Scooter Gennett led off the bottom of the first with his second home run in the past three games, a solo shot to right off Brad Mills. The blast was Nashville's first game-opening homer since Eric Farris hit a leadoff shot on July 25, 2012 against Memphis.
Gennett continued his torrid hitting since rejoining the Sounds with a 3-for-4 night that included a walk and two runs scored. The second sacker has hit safely in his last eight games at a .414 clip (12-for-29).
Nelson opened the game with four hitless frames before Round Rock rallied to tie the contest in the fifth. Mike Bianucci singled to open the frame, moved to second when Jim Adduci drew a walk, and scored on Jared Hoying's RBI single to left.
Shortstop Blake Davis kept the scored knotted in the sixth when he gunned down Leury Garcia at the plate as he attempted to score from third on Joey Butler's groundout.
Nashville broke the 1-1 deadlock with four two-out runs off Mills in the bottom of the sixth. Caleb Gindl provided the big blow with a bases-loaded, three-run double to left that was just out of the reach of a lunging Yangervis Solarte. The two-bagger extended Gindl's hitting streak to six games, matching his best effort of the year. Josh Prince followed with an RBI single to plate Gindl and make it a 5-1 game.
Mills (7-3) took the loss for the Express after giving up five runs on six hits over 5 2/3 innings of work.
The Sounds exploded for five more runs in the seventh against Ryan Rodebaugh to make it a 10-1 contest. Gennett led off with a single and later scored on Robinzon Diaz's RBI single to left. Diaz went 2-for-4 on the evening and has hit safely in nine of his last 10 games between Huntsville and Nashville (13-for-37, .351).
Hunter Morris and Khris Davis followed with Nashville's third set of back-to-back home runs of the year. Morris' three-run shot was his team-leading 16th of the year and Davis' solo shot was his 10th on the year. Both taters went to left field.
Davis put an accent on the Sounds' win with a game-ending diving catch of an Adduci liner in left field.
The Sounds travel to Memphis tomorrow to open a seven-game road trip that includes a four-game series against the cross-state rival Redbirds following by a three-game stop in Albuquerque. Left-hander Chris Narveson (1-4, 6.83) will man the bump for the Sounds in tomorrow's 6:05pm Independence Day contest. Memphis will counter with right-hander Scott McGregor (2-4, 6.03).
Box Score
Nashville Sounds (31-56) 10, Round Rock Express (49-38) 1
July 3rd, 2013
1
2
3
4
5
6
7
8
9
R
H
E
Round Rock Express
0
0
0
0
1
0
0
0
0
1
3
0
Nashville Sounds
1
0
0
0
0
4
5
0
x
10
11
1
BATTING
2B
: Garcia, L (5, Nelson).
TB
: Bianucci; Garcia, L 2; Hoying.
RBI
: Hoying (14).
Runners left in scoring position, 2 out
: Solarte.
SAC
: Miclat.
GIDP
: Whiteside.
Team RISP
: 1-for-6.
Team LOB
: 5.
BASERUNNING
SB
: Garcia, L (5, 2nd base off Nelson/Lalli).
FIELDING
Pickoffs: Mills (Davis, Kh at 1st base).
BATTING
2B
: Davis, Kh (11, Mills), Gindl (17, Mills).
HR
: Gennett (3, 1st inning off Mills, 0 on, 0 out), Morris, H (16, 7th inning off Rodebaugh, 2 on, 0 out), Davis, Kh (10, 7th inning off Rodebaugh, 0 on, 0 out).
TB
: Prince; Diaz, R 2; Gennett 6; Davis, Kh 6; Gindl 3; Morris, H 4.
RBI
: Gennett (15), Gindl 3 (43), Prince (32), Diaz, R (1), Morris, H 3 (42), Davis, Kh (27).
2-out RBI
: Gindl 3; Prince.
Runners left in scoring position, 2 out
: Gennett; Davis, B; Morris, H.
SAC
: Prince.
Team RISP
: 4-for-8.
Team LOB
: 6.
BASERUNNING
SB
: Prince (9, 3rd base off Rodebaugh/Whiteside).
CS
: Davis, Kh (4, 2nd base by Mills/Whiteside).
PO
: Davis, Kh (1st base by Mills).
FIELDING
E: Nelson (1, pickoff).
DP: (Davis, B-Morris, H).
Round Rock Express
Player
IP
H
R
ER
BB
SO
HR
ERA
Brad Mills (L, 7-3)
5.2
6
5
5
3
7
1
4.05
Ryan Rodebaugh
1.1
4
5
5
1
1
2
8.71
Wilmer Font
1.0
1
0
0
1
0
0
0.00
Totals
8.0
11
10
10
5
8
3
4.07
Nashville Sounds
Player
IP
H
R
ER
BB
SO
HR
ERA
Jimmy Nelson (W, 1-2)
7.0
3
1
1
3
7
0
2.30
Michael Olmsted
2.0
0
0
0
1
1
0
5.21
Totals
9.0
3
1
1
4
8
0
4.34
HBP: Davis, Kh (by Mills).
Pitches-strikes: Mills 105-66, Rodebaugh 30-18, Font 23-16, Nelson 94-57, Olmsted 31-20.
Groundouts-flyouts: Mills 3-3, Rodebaugh 1-1, Font 1-0, Nelson 10-2, Olmsted 1-0.
Batters faced: Mills 26, Rodebaugh 9, Font 5, Nelson 26, Olmsted 7.
Inherited runners-scored: Rodebaugh 1-0.
Umpires: HP: Stu Scheurwater. 1B: Kellen Levy. 2B: D.J. Reyburn. 3B: Shaun Lampe.
Weather: 83 degrees, overcast.
Wind: 4 mph, L to R.
T: 2:59.
Att: 9,104.
Venue: Herschel Greer Stadium.
July 3, 2013