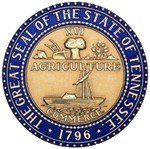 Nashville, TN – Tennessee State Representative Curtis Johnson (R–Clarksville) announced he has partnered with the Tennessee Department of Labor, and the City of Clarksville, to host a job fair for the people of Montgomery County and surrounding areas.
The fair, which will include over 40 employers looking to hire, is scheduled for July 9th at the Wilma Rudolph Event Center in Liberty Park from 10:00am until 2:00pm.
Job seekers who participate in the fair are automatically placed on the Department of Labor's Management Activity Tracking System (eCMATS).
The eCMATS system assists job seekers with workforce training, job services, and job referrals through the Department's Workforce Development Career Centers.
"I am truly excited to help coordinate this job fair and am grateful to all of the wonderful organizations and employers who have agreed to come together for the good of our community," said State Representative Curtis Johnson. "This event will help those who are currently unemployed find work, and I encourage as many people as possible to attend."
Interested job-seekers are not required to RSVP for this event. Formal resumes and other job experience paperwork are strongly encouraged.
Employers participating in the fair include: Aflac, Aid & Assist at Home, the Army & Air Force Exchange Service, Bankers Life & Casualty Company, Bravo Marketing Group, Bridgestone Metalpha U.S.A., Bridgestone Retail Operations, Caris Healthcare, the Clarksville-Montgomery County School System, Colonial Life, Daymar Institute, the Tennessee Department of Veterans Affairs, Enterprise Holdings, Five Star Food Service, Frontier Basement Systems, Ingram Barge Company, Job Corps, Macys Logistics and Operations, Mapco Express, the Metro Nashville Police Department, the Montgomery County Sheriff's Office, Potato Bowl, Rainbow, Inc., Sam's Club, Sharp Transport, Inc., Sherri Wright, Shoney's, Speedway, the Tennessee Department of Human Resources, the Tennessee Department of Correction, the Tennessee Department of Labor, Transamerica Agency Network, Transcor America, Trinity Marine, and others.
Other interested employers are invited to attend by contacting Ron Hammontree, Jr. with the Tennessee Department of Labor and Workforce Development at 615.741.8892.
Curtis Johnson lives in Clarksville and serves as House Speaker Pro Tempore in the Tennessee General Assembly. He represents District 68, which includes a portion of Montgomery County.