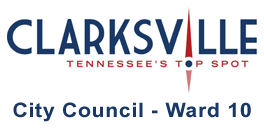 Clarksville, TN – Here are some additional items that the Clarksville City Council looked at during the work on the 2014 budget.
Clarksville Flood/Hazard Mitigation Program – Clarksville has homes that, for various reasons, are in drainage corridors, newly defined floodways or are low-level properties that due to development (or other factors) are now flooding.
The city is spending hundreds of thousands of dollars to fix the flooding issues in the Woodstock neighborhood (Exit 1 area). The issue is, while Woodstock has a number of homeowners in the same neighborhood to bring pressure against the city to address the problem, there are single or pairs of homeowners in many other neighborhoods that are fighting the exact same problem.
However, the possible costs of fixing the drainage problems in these separate cases are likely far more expensive per home than what is being anticipated with Woodstock.
In addition, being separate homes in various neighborhoods lessens their ability to present the united approach that the Woodstock citizens have developed to bring attention to their plight. The city expends manpower, supplies to sandbag, continually reworks available drainage options and monitors flooding situations as they occur. All of which costs taxpayers money for the city to perform.
It would appear the cheaper long-term fix may be to buy the properties outright and level the structures. The city has not been, nor seems willing, to address and provide solutions to these individual/neighborhood problems. Since this problem resides in several wards, to include Ward 10, I took it upon myself to provide a concept for a potential long-term solution.
Homeowners can get relief through the Federal Emergency Management Agency (FEMA) in terms of possibly having their properties bought out. However, the requirements are set at a high level, which is understandable.
However, there are properties that have major issues and for one reason or another may not meet standards of the federal government for buyout. Thus, there is that middle ground or gray zone where a city and the property owners spend a lot of money to fix a problem that really can't be fixed in all situations, but yet can not qualify for a federal buyout.
The City of Nashville operates a small, but similar, program to buy out those problem properties that have a constant flooding issue, but can't meet FEMA requirements. These properties are a source of continued flooding problems, financial drain and political upheaval upon the city as well as the property owners.
I had conferred with the Nashville office on the concepts they use. I patterned a proposal with some concepts or guidelines that would need to be refined and formalized to start such a program in Clarksville. I proposed funding the initial program with $300K to start buying properties that would meet our flooding guidelines. I had offered a funding source within budget capabilities to start the program.
The vote for my budget proposal was a 6-6 tie with the council. The mayor voted "no" to kill the proposal.
Two Rivers Company (TRC)
I provided information on budget funding concerning the TRC in my June 9th, 2013 report. I went into detail about the TRC and funding needs to accomplish the mission the city has set for it. The mayor had proposed almost $99,000 to pay for a fulltime director of the Two Rivers Company.
However, with the TRC looking to start its third year of operation, there was still no sizable funding to actually operate and carry out initiatives even with a new director. If the city really expected to see any long-term concrete action that citizens could identify with, it was time to show some leadership and propose some funding options and stop the lip service. Since the administration was not providing any ideas, I had proposed an assessment on properties within the TRC zone of responsibility to provide such funding.
That concept was defeated in 6-yes & 7-no vote, where Mayor McMillan voted no to kill the idea.
A couple of weeks after that initial budget vote and defeat of my proposal, there was a briefing held by a hired consultant that was looking at the TRC and the areas and projects that should be aimed for. I attended this briefing.
I asked the consultant and the current part-time director when would the TRC be coming forward to the council asking for some sizable amount of money (which will be needed) on which to operate and carry out the directives the city had placed upon it. This has been and would be the 800-pound gorilla in the room that no one was willing to jump on quickly.
It is also one the city has not been willing to bring to the surface either. The response was proper funding was needed sooner instead of later, if we want action to get underway. After talking and listening to some former and current members of the TRC board and other downtown business folks, I formulated another concept in which to provide funding to get some concrete actions and results started.
During the TRC consultant briefing and the second vote on the city budget, my assessment concept of funding the TRC was mentioned or alluded to. The basic facts were my assessment was an idea that had been considered some time ago and was considered a viable idea, but this was not the right time.
The facts appear to be that we have so many parking lots (interesting since the complaints are we have no where to park in downtown), government properties and church properties in the TRC district that any assessment on remaining properties would have to be set too high in order to generate money in the amount needed to fund the TRC.
Borrowing an idea from Councilwoman McLaughlin when she tried to pay down additional debt (the wording and politics of that effort failed to accomplish what she wanted, but that is another story for another time) I suggested the council take part of the personnel funding that does not get used during the budget year and transfer a portion to fund the TRC.
In the FY 2013 budget, basically ten months of unused personnel money equated to over $630,000. The term unused personnel money is sometimes known as lapse money. When a personnel slot is placed on the books to hire with, seldom is a worker ready to start on day one. So the money to pay that position/person is not needed until they report for actual work.
The unused pay money sits in the department personnel account to be siphoned off at a later date for the next yearly budget. The pay money also accrues when a person leaves a job and a vacancy period is experienced until the new replacement comes on board. Sometimes a new worker may also come in at a lower salary, which saves money.
I suggested that this lapse money be collected, in an amount not to exceed $350,000, and transferred in quarterly installments to the TRC. I selected this amount based on data presented by other cities that had viable and proven programs of redevelopment. This initial funding would provide needed working capital and not affect the projected FY 2014 budget balance at all.
A council member asked the Finance Department if this was doable and the response was yes, but some bookkeeping work would be involved. Already knowing the concept was doable and sensing some support for my idea, I recommended a change to a semi-annual payout to save some bookkeeping work. In addition, this would provide the new TRC director and Board six months to layout a long-term plan and likely (based on 2013 results) provide most, if not all the $350,000 in one payment around January 2014.
In discussions I reiterated that if the city wanted the TRC to get started with concrete actions that would make a difference, then we needed to step up now and fund the organization to succeed. For three years the city has talked and complained that we needed to address the redevelopment of downtown, but no one has been willing to step up to the plate and fund the organization that we developed to do that job. Continued shoestring budgets had not provided for major actions, nor would they ever.
I am pleased that my concept and amendment was approved by the council in a 9-yes & 3-no vote. Having provided the funding to get things going, the ball is now in the TRC court to take actions and show Clarksville the results it wants.
That is a wrap for now. More to come.