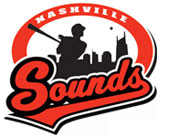 Albuquerque, NM – The Nashville Sounds allowed a season-high 18 hits in Tuesday night's 10-1 loss to the Albuquerque Isotopes. The loss gives the 'Topes the series win with still one game remaining in the three-game set at Isotopes Park.
Sounds starting pitcher Chris Narveson (2-5) had a rough night, allowing nine runs to the Isotopes over 4 1/3 innings. He allowed 12 hits to Albuquerque batters, the most surrendered by a Sounds pitcher this season, to take his fifth loss. He fanned one and walked one.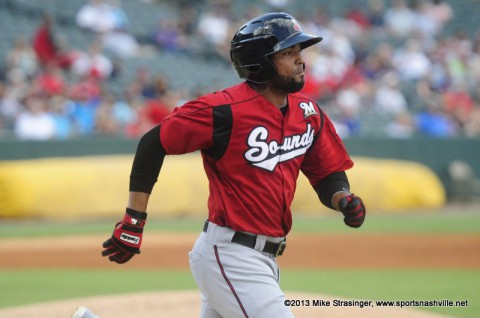 With two outs in the first inning, Rusty Ryal, 3-for-4, hit a ball into shallow right field. Hainley Statia called off second baseman Scooter Gennett and dove for the ball, but was unable to come up with the out. Instead Albuquerque had runners on the corners.
Narveson offered a walk to Chili Buss to load the bases, before Justin Sellers, 4-for-5, hit a bases-clearing double. Sellers scored on the next play: a single from Brian Barden that put Nashville in an early 4-0 hole.
The 'Topes added two more runs in the third inning on back-to-back home runs. Buss sent the first homer to dead centerfield and Sellers followed with his shot to left.
The Sounds last allowed back-to-back jacks on Friday against the Memphis Redbirds' Jamie Romak and Jermaine Curtis.
In the fourth inning, Ryal and Sellers both came up with RBI knocks to make it a 9-1 game. Ryal hit a single through the gap at second to score Matt Angle and Sellers' double past a diving Josh Prince scored two. Sellers finished with six RBIs.
Offensively, the Sounds scratched their lone run across in the top of the fourth inning courtesy of a solo home run by Hainley Statia. The utility player has four hits in his last 24 at-bats; each one has been a homer. He entered July having not hit a home run all season.
Caleb Gindl went 2-for-4 with two doubles, while Blake Davis finished 1-for-4. Prince picked up an infield single in the ninth inning to give Nashville five on the night.
Johnnie Lowe entered to record the final two outs of the fifth inning and returned in the sixth. He allowed the Isotopes their final run on Barden's RBI-single to right field. Relievers Michael Olmsted and Jesus Sanchez both pitched a scoreless inning for Nashville.
Matt Palmer (5-3) guided Albuquerque from the hill to pick up his fifth win. The right-handed pitcher held Nashville batters to one run on four hits across seven innings of work and struck out nine.
The 18 hits are the most allowed by Nashville since Albuquerque recorded 16 at Greer Stadium on May 24th.
The Sounds will look to avoid the three-game sweep against the Albuquerque Isotopes on Wednesday night at Isotopes Park. Throwing for Nashville will be LHP Zach Kroenke (4-11, 4.41) against Albuquerque's RHP Matt Magill.
Baseball returns to Greer Stadium on Thursday, July 11th for a BURGER KING Throwback Thursday, where fans can enjoy $2.00 beer and select concession items.
Box Score
Albuquerque Isotopes (52-41) 10, Nashville Sounds (32-61) 1
July 9th, 2013
1
2
3
4
5
6
7
8
9
R
H
E
Nashville Sounds
0
0
0
1
0
0
0
0
0
1
5
1
Albuquerque Isotopes
4
0
2
3
0
1
0
0
x
10
18
1
a-Struck out for Olmsted in the 8th.
BATTING
2B: Gindl 2 (21, Palmer, Palmer), Davis, B (13, Palmer).
HR: Statia (4, 4th inning off Palmer, 0 on, 0 out).
TB: Prince; Davis, B 2; Statia 4; Gindl 4.
RBI: Statia (18).
Runners left in scoring position, 2 out: Prince; Diaz, R; Garner; Morris, H; Davis, B.
Team RISP: 0-for-8.
Team LOB: 7.FIELDING
E: Davis, B (12, fielding).
a-Lined out for White in the 8th.
BATTING
2B: Sellers 2 (19, Narveson, Narveson), Angle (15, Narveson), Ryal (15, Lowe).
HR: Buss (12, 3rd inning off Narveson, 0 on, 1 out), Sellers (2, 3rd inning off Narveson, 0 on, 1 out).
TB: Angle 3; Castellanos, A; Barden 2; Palmer; Herrera, E; Espino 2; Sellers 9; Ryal 4; Buss 5.
RBI: Sellers 6 (38), Barden 2 (35), Buss (66), Ryal (40).
2-out RBI: Sellers 5; Barden 2; Ryal.
Runners left in scoring position, 2 out: Espino; Castellanos, A 2; Barden; Palmer; Moore, J 2.
Team RISP: 6-for-18.
Team LOB: 11.FIELDING
E: Gonzalez, E (3, throw).
Albuquerque Isotopes
Player
IP
H
R
ER
BB
SO
HR
ERA
Matt Palmer (W, 5-3)
7.0
4
1
1
2
9
1
3.86
Sean White
1.0
0
0
0
1
2
0
3.23
Javy Guerra
1.0
1
0
0
0
0
0
3.27
Totals
9.0
5
1
1
3
11
1
4.16
Pitches-strikes: Narveson 87-49, Lowe 31-20, Olmsted 11-7, Sanchez, Je 20-10, Palmer 102-64, White 13-8, Guerra, J 9-8.
Groundouts-flyouts: Narveson 4-7, Lowe 2-0, Olmsted 1-1, Sanchez, Je 0-1, Palmer 7-5, White 1-0, Guerra, J 3-0.
Batters faced: Narveson 28, Lowe 8, Olmsted 3, Sanchez, Je 6, Palmer 27, White 4, Guerra, J 4.
Inherited runners-scored: Lowe 1-0.
Umpires: HP: Kolin Kline. 1B: Jordan Ferrell. 3B: Chris Segal.
Weather: 84 degrees, overcast.
Wind: 29 mph, Out to RF.
T: 2:52 (:14 delay).
Att: 7,273.
Venue: Isotopes Park.
July 9, 2013