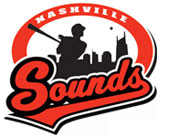 Albuquerque, NM – The Albuquerque Isotopes wrapped up a three-game sweep of the Nashville Sounds with a 9-2 victory on Wednesday evening at Isotopes Park.

Nashville (32-62), which committed a season-high four errors in the contest, suffered its sixth consecutive loss to conclude a 1-6 road trip.

Albuquerque grabbed a 2-0 lead against Zach Kroenke in the first inning.

Dee Gordon (2-for-4) led off with a single, stole his PCL-leading 33rd base of the year, and later scored the night's first run on a groundout. Later in the frame, Ian Stewart and Brian Barden ripped back-to-back two-out doubles to double the advantage.

Elian Herrera upped the Isotopes' lead to 4-0 in the home half of the second with a two-out, two-run single to right off Kroenke.

The Sounds halved the deficit to 4-2 in the fourth when Khris Davis and Blake Lalli contributed one-out RBI singles against Albuquerque starter Matt Magill. Davis' knock extended the outfielder's longest hitting streak of the year to six games.

Albuquerque answered the Sounds' pair of runs with two more two-out runs of their own in the bottom of the frame, when the Isotopes did not get a ball out of the infield. Gordon contributed an RBI infield single before Alex Castellanos later drew a catcher's interference call from Lalli to force home the Isotopes' second run of the inning to make it a 6-2 contest.

Kroenke (4-12) suffered a loss for his fourth straight outing after giving up six runs (five earned) on eight hits in his five innings of action.

Red Patterson (5-3) earned the win for Albuquerque with 3 2/3 innings of scoreless relief behind starter Matt Magill.

The Isotopes tacked on three final runs in the eighth against Rob Wooten on a rally aided by a blown strike three call.

With a pair of runners on board and one out, Gordon swung at a two-strike offering but the pitch was curiously ruled a check-swing ball, and the Albuquerque batter later drew a walk to load the bases. Wooten struck out Herrera for the next out, which should have gotten him out of the frame. However, Castellanos got a turn at the plate and, on a 3-2 offering with all runners moving, blooped a ball to left-center that emptied the bases with the aid of a Josh Prince throwing error.

Caleb Gindl went 2-for-4 to continue his hot hitting for the Sounds in the losing effort. He has hit safely in 11 of 12 games at a .400 clip (18-for-45) since rejoining Nashville.

The Sounds return to Music City tomorrow to host the cross-state rival Memphis Redbirds (AAA-Arizona Cardinals) in a four-game series. Right-hander R.J. Seidel (1-4, 5.94) will toe the slab for Nashville to face Memphis right-hander Carlos Martinez (3-2, 1.98).
Box Score
Albuquerque Isotopes (53-41) 9, Nashville Sounds (32-62) 2
July 10th, 2013
1
2
3
4
5
6
7
8
9
R
H
E
Nashville Sounds
0
0
0
2
0
0
0
0
0
2
9
4
Albuquerque Isotopes
2
2
0
2
0
0
0
3
x
9
11
1
BATTING
2B: Lalli (8, Patterson).
TB: Lalli 3; Prince; Diaz, R; Davis, B; Davis, Kh; Gindl 2; Morris, H.
RBI: Davis, Kh (29), Lalli (17).
Runners left in scoring position, 2 out: Gennett; Davis, B; Garner 2.
SAC: Kroenke.
Team RISP: 2-for-9.
Team LOB: 7.BASERUNNING
CS: Prince (6, 2nd base by Magill/Baker, Jo).
PO: Prince (1st base by Magill).FIELDING
E: Lalli 2 (5, throw, catcher interference), Prince 2 (5, fielding, throw).
PB: Lalli (6).
Pickoffs: Kroenke (Herrera, E at 1st base).
BATTING
2B: Stewart, I (8, Kroenke), Barden (19, Kroenke), Patterson (1, Dillard).
TB: Castellanos, A; Barden 2; Herrera, E; Sellers; Stewart, I 2; Buss; Gordon, D 2; Patterson 2; Baker, Jo 2.
RBI: Herrera, E 3 (34), Barden (36), Gordon, D (21), Castellanos, A 4 (43).
2-out RBI: Barden; Herrera, E 2; Gordon, D; Castellanos, A 4.
Runners left in scoring position, 2 out: Buss; Stewart, I 3; Castellanos, A.
SAC: Magill.
Team RISP: 4-for-15.
Team LOB: 7.BASERUNNING
SB: Gordon, D (33, 2nd base off Kroenke/Lalli).
CS: Herrera, E (2, 2nd base by Kroenke/Lalli).
PO: Herrera, E (1st base by Kroenke).FIELDING
E: Buss (2, fielding).
Pickoffs: Magill (Prince at 1st base).
Nashville Sounds
Player
IP
H
R
ER
BB
SO
HR
ERA
Zach Kroenke (L, 4-12)
5.0
8
6
5
2
5
0
4.67
Tim Dillard
2.0
1
0
0
1
0
0
2.77
Rob Wooten
1.0
2
3
3
2
2
0
2.87
Totals
8.0
11
9
8
5
7
0
4.60
Pitches-strikes: Kroenke 102-62, Dillard 27-16, Wooten 36-20, Magill 50-32, Patterson 45-32, De La Cruz, K 37-23.
Groundouts-flyouts: Kroenke 5-3, Dillard 3-1, Wooten 1-0, Magill 4-1, Patterson 3-2, De La Cruz, K 1-1.
Batters faced: Kroenke 25, Dillard 8, Wooten 7, Magill 15, Patterson 12, De La Cruz, K 9.
Inherited runners-scored: Patterson 2-0.
Umpires: HP: Jordan Ferrell. 1B: Chris Segal. 3B: Kolin Kline.
Weather: 96 degrees, cloudy.
Wind: 7 mph, Out to LF.
T: 3:01.
Att: 9,308.
Venue: Isotopes Park.
July 10, 2013
Sections
Sports
Topics
Albuquerque Isotopes, Albuquerque NM, Alex Castellanos, Arizona Cardinals, Blake Lalli, Brian Barden, Caleb Gindl, Carlos Martinez, Dee Gordon, Elian Herrera, Ian Stewart, Isotopes Park, Josh Prince, Khris Davis, Matt Magill, Memphis Redbirds, Music City, Nashville Sounds, Pacific Coast League, PCL, R.J. Seidel, Red Patterson, Rob Wooten, Sounds, Zach Kroenke