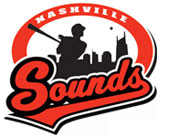 Metairie, LA – The Nashville Sounds powered past the New Orleans Zephyrs with a big first inning Sunday night at Zephyr Field to set up the 7-1 victory and the team's second road series win of the year: taking the four-game set three games to one.
Sounds outfielders Khris Davis and Cole Garner provided the two extra-base knocks that gave Nashville the early 6-0 advantage. With one out and the bases loaded, Davis hit a double off the right-field wall for the first three runs of the inning.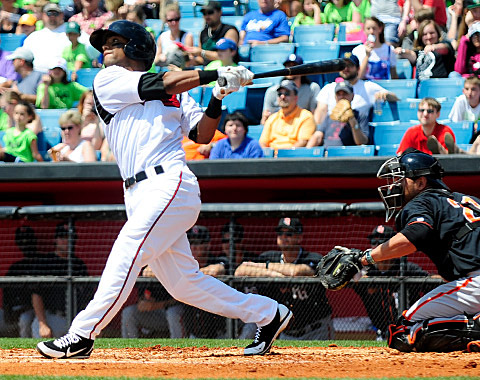 Batting eighth, Cole Garner stepped to the plate with two on and two outs and connected for his eighth home run of the season. The three-run jack scored Davis and Blake Lalli, who reached base on balls.
The six-spot matches the most runs scored in one inning by the Sounds this season, having also collected six runs in the 7th inning against Fresno on May 9th.
Khris Davis continued the action for Nashville in the third inning with a solo home run, his 12th, to lead-off the frame. He finished the night 2-for-4 and a season-best four RBIs.
In his seventh Triple-A start, right-handed pitcher Jimmy Nelson (2-3) kept the Zephyrs to just three hits over six innings of work to pick up his second win and quality start with Nashville.
The Z's worked one run off Nelson in the second without recording a hit. Nelson walked his first two batters and Matt Downs' groundout later in the inning got New Orleans on the board.
Nelson fanned seven Z's and walked three before giving way to reliever Kyle Heckathorn in the seventh inning. Heckathorn held New Orleans to two hits across 1 1/3 innings. Kroenke entered with one out and two on in the seventh and retired his two batters faced to avoid damage. Jesus Sanchez pitched a scoreless ninth.
New Orleans' pitcher Jay Jackson (1-1) was charged with the loss, after the Sounds touched the right-hander for seven runs across five innings.
Nashville batters finished with seven hits, as Robinson Diaz and Garner both extended their season-best hits streaks to seven and five games respectively.
The Sounds return to Greer Stadium Monday night to host the Albuquerque Isotopes (Dodger affiliate) to a four-game series. Throwing for Nashville in game one will be lefty Chris Narveson (2-6, 6.42) opposite the Isotopes' RHP Matt Palmer (5-3, 3.72).
The night will be Greer Stadium's first Peanut Free Night, presented by the Allergy, Asthma & Sinus Center.
Box Score
Nashville Sounds (36-66) 7, New Orleans Zephyrs (50-52) 1
July 21st, 2013
1
2
3
4
5
6
7
8
9
R
H
E
Nashville Sounds
6
0
1
0
0
0
0
0
0
7
7
0
New Orleans Zephyrs
0
1
0
0
0
0
0
0
0
1
6
0
a-Flied out for Kroenke in the 9th.
BATTING
2B: Davis, Kh (12, Jackson, J), Garner (7, Leverton), Morris, H (18, Leverton).
HR: Garner (8, 1st inning off Jackson, J, 2 on, 2 out), Davis, Kh (12, 3rd inning off Jackson, J, 0 on, 0 out).
TB: Prince; Garner 6; Diaz, R; Davis, Kh 6; Morris, H 2.
RBI: Davis, Kh 4 (33), Garner 3 (28).
2-out RBI: Garner 3.
Runners left in scoring position, 2 out: Prince; Davis, Kh.
Team RISP: 3-for-8.
Team LOB: 4.FIELDING
DP: (Gennett-Prince-Morris, H).
a-Flied out for Jackson, J in the 5th. b-Singled for Ames in the 8th.
BATTING
TB: Valaika; Downs; Kouzmanoff; Mahoney; Petersen 2.
RBI: Downs (35).
Runners left in scoring position, 2 out: Skipworth; Downs; Jensen; Mahoney 2.
GIDP: Brown, J.
Team RISP: 0-for-9.
Team LOB: 7.
WP: Kroenke.
Pitches-strikes: Nelson 96-60, Heckathorn 29-22, Kroenke 10-6, Sanchez, Je 20-14, Jackson, J 88-54, Leverton 30-19, Ames 10-5, Wall 12-7.
Groundouts-flyouts: Nelson 6-2, Heckathorn 0-2, Kroenke 0-0, Sanchez, Je 0-1, Jackson, J 2-6, Leverton 2-0, Ames 2-0, Wall 0-1.
Batters faced: Nelson 23, Heckathorn 6, Kroenke 2, Sanchez, Je 4, Jackson, J 24, Leverton 8, Ames 3, Wall 3.
Inherited runners-scored: Kroenke 2-0.
Umpires: HP: Jordan Ferrell. 1B: Kolin Kline. 2B: Chris Segal. 3B: Jordan Baker.
Weather: 85 degrees, partly cloudy.
Wind: 3 mph, Out to CF.
T: 3:02.
Att: 3,034.
Venue: Zephyr Field.
July 21, 2013