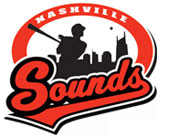 Nashville, TN – Khris Davis' three-run, seventh-inning homer propelled the Nashville Sounds to a come-from-behind 6-5 victory over the Albuquerque Isotopes on Monday evening at Greer Stadium in the opener of a four-game series.
The victory was the fourth in the last five games for Nashville (37-66). Sounds batters rapped out 12 hits on the night but also struck out 15 times.
Albuquerque took a 1-0 lead in the second inning when Chili Buss singled, stole second, and scored on a one-out Justin Sellers double to left off Chris Narveson.
The Sounds rallied into the lead against rehabbing Dodgers hurler Stephen Fife in the home half of the third.
After Narveson drew a four-pitch walk to open the frame, the hurler moved to third on a Josh Prince single before scoring the tying run on Scooter Gennett's rocket RBI single to right that glanced off the top of first baseman Rusty Ryal's mitt. Nashville took a 2-1 lead when Prince scampered home on a Fife wild pitch.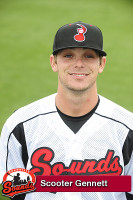 Khris Davis (2-for-4) extended the Nashville lead to 3-1 in the fifth when his two-out single to right brought home Gennett (3-for-5), who had singled earlier in the frame.
Following the second-inning Sellers double, Narveson settled down and retired the next 14 Isotopes batters in succession through the sixth frame.
The Zephyrs brought an end to Narveson's streak by loading the bases with no outs on a double followed by a pair of walks to chase the left-hander. Johnnie Lowe inherited the jam and induced a soft popup from Sellers for the first out before back-to-back bloop RBI singles knotted the game at 3-3.
Following a popout, Travis Webb took over on the hill and walked in the go-ahead run, which was charged to Narveson, as Albuquerque reclaimed the lead at 4-3.
Narveson , who was so dominant over the first six frames, was left with a no-decision after being touched for four runs on three hits while walking two batters and striking out seven.
The Sounds jumped back in front in the home half of the seventh when Khris Davis smacked his 13th home run of the year, a three-run shot to left off Matt Palmer. Gennett and Robinzon Diaz, who extended his longest hitting streak of the year to eight games with a 2-for-4 evening, preceded the slugger with singles before scoring on the go-ahead jack.
The visitors pulled back within a run at 6-5 in the eighth when Alex Castellanos belted a leadoff homer to left off Tim Dillard, the outfielder's 15th big fly of the year.
Rob Wooten recorded the final four outs for the Sounds to lock down the win and earn his 20th save of the year. Albuquerque put the potential tying run into scoring position in the ninth with a two-out Dee Gordon single and stolen base before the right-hander struck out Matt Angle to close out the contest.
Webb (2-4) was credited with the win for Nashville, while Palmer (5-4) absorbed the loss for the visitors after serving up the go-ahead homer.
The teams continue the series with another 7:05pm matchup on Tuesday. Right-hander R.J. Seidel (2-4, 5.52) will make the start for the Sounds and face Albuquerque left-hander Jonathan Sanchez (2-1, 6.93).
Box Score
Nashville Sounds 6, Albuquerque Isotopes 5
July 22nd, 2013
1
2
3
4
5
6
7
8
9
R
H
E
Albuquerque Isotopes
0
1
0
0
0
0
3
1
0
5
8
0
Nashville Sounds
0
0
2
0
1
0
3
0
x
6
12
0
a-Struck out for Moylan in the 9th.
BATTING
2B: Sellers (22, Narveson), Castellanos, A (10, Narveson).
HR: Castellanos, A (15, 8th inning off Dillard, 0 on, 0 out).
TB: Castellanos, A 6; Barden; Sellers 3; Buss; Gordon, D; Baker, Jo.
RBI: Sellers (45), Barden (39), Baker, Jo (10), Gordon, D (24), Castellanos, A (46).
2-out RBI: Gordon, D.
Runners left in scoring position, 2 out: Baker, Jo; Angle 3.
Team RISP: 3-for-9.
Team LOB: 6.BASERUNNING
SB: Buss (14, 2nd base off Narveson/Lalli), Gordon, D (36, 2nd base off Wooten/Lalli).
BATTING
2B: Garner (8, Palmer).
HR: Davis, Kh (13, 7th inning off Palmer, 2 on, 1 out).
TB: Lalli 2; Prince 2; Garner 2; Diaz, R 2; Gennett 3; Davis, Kh 5.
RBI: Gennett (22), Davis, Kh 4 (37).
2-out RBI: Davis, Kh.
Runners left in scoring position, 2 out: Davis, Kh 2; Narveson; Davis, Ke 2; Prince; Gennett.
SAC: Narveson.
Team RISP: 3-for-16.
Team LOB: 8.
Albuquerque Isotopes
Player
IP
H
R
ER
BB
SO
HR
ERA
Stephen Fife
4.0
4
2
2
1
6
0
4.58
Matt Palmer (L, 5-4)
3.1
8
4
4
0
8
1
3.99
Peter Moylan
0.2
0
0
0
0
1
0
2.81
Totals
8.0
12
6
6
1
15
1
4.10
Narveson pitched to 3 batters in the 7th.
WP: Fife 2.
Pitches-strikes: Fife 63-39, Palmer 70-46, Moylan 8-5, Narveson 90-54, Lowe 9-7, Webb 9-4, Dillard 11-9, Wooten 16-12.
Groundouts-flyouts: Fife 4-2, Palmer 1-1, Moylan 0-1, Narveson 5-3, Lowe 0-0, Webb 0-0, Dillard 0-0, Wooten 2-0.
Batters faced: Fife 18, Palmer 18, Moylan 2, Narveson 23, Lowe 4, Webb 2, Dillard 4, Wooten 5.
Inherited runners-scored: Moylan 1-0, Lowe 3-2, Webb 3-1, Wooten 1-0.
Ejections: Albuquerque Isotopes third baseman Ian Stewart ejected by HP umpire Gerard Ascani (3rd)
Umpires: HP: Gerard Ascani. 1B: Joel Hospodka. 3B: Tom Woodring.
Weather: 79 degrees, overcast.
Wind: 5 mph, R to L.
T: 3:04.
Att: 3,003.
Venue: Herschel Greer Stadium.
July 22, 2013