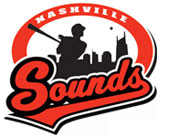 Papillion, NE – Omaha left-hander Chris Dwyer continued his dominance of the Sounds, leading the Storm Chasers to a 6-1 victory over Nashville on Friday evening at Werner Park in the opener of a four-game series.

Dwyer (4-8) hurled his fourth quality start in four outings against the Sounds this season, allowing one run on three hits while striking out eight batters in seven strong inning of work. In his four outings against Nashville this year, he went 4-0 with a 1.63 ERA (5er/27.2ip). Dwyer is 3-8 with a 3.91 mark versus the remainder of the PCL (40er/92.0ip).

The Sounds (38-69) were held to just three hits on the night by a pair of Storm Chasers hurlers.

Omaha grabbed a 2-0 lead against Sounds starter Jimmy Nelson in the bottom of the second inning. After the right-hander labored through a scoreless 31-pitch first frame, he hit Brett Hayes with his first offering of the second inning then gave up back-to-back RBI knocks: a triple to left-center off the bat of Pedro Ciriaco followed by a run-scoring single to center by Paulo Orlando.

The Storm Chasers extended their advantage to 5-0 in the third with three more scores against Nelson. Omaha opened the frame by loading the bases on a walk and pair of singles against the right-hander before each of the next three batters plated a run. Max Ramirez grounded a run-scoring knock up the middle before Hayes and Ciriaco each rapped RBI groundouts.

Nelson (2-4) took the loss after allowing five runs on six hits over six innings of work.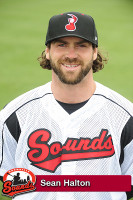 Outfielder Sean Halton, playing his first game back with the Sounds following a month-long stint in Milwaukee, put Nashville on the board with an opposite-field solo homer to right-center to lead off the fifth inning. The slugger's tenth roundtripper of the year, which came against Dwyer, made it a 5-1 contest.
New Sounds reliever Brent Leach made his Nashville debut in the seventh inning and struck out his first batter before being touched for a solo homer by Christian Colon, marking the first run the left-hander has allowed in 10.2 total innings pitched this season. The longball was the infielder's tenth of the year.
Maikel Cleto worked the final two innings in hitless fashion to close out the victory for Omaha.
Infielder Eugenio Velez made his Sounds debut with a start at third base in the contest and went 0-for-3 at the plate.
The teams continue the series with another 7:05 p.m. contest on Saturday night. Left-hander Chris Narveson (2-6, 6.37) will man the bump for the Sounds and face Omaha southpaw Everett Teaford (3-2, 2.80).
Box Score
Omaha Storm Chasers 6, Nashville Sounds 1
July 26th, 2013
1
2
3
4
5
6
7
8
9
R
H
E
Nashville Sounds
0
0
0
0
1
0
0
0
0
1
3
0
Omaha Storm Chasers
0
2
3
0
0
0
1
0
x
6
8
0
BATTING
HR: Halton (10, 5th inning off Dwyer, 0 on, 0 out).
TB: Diaz, R; Halton 4; Davis, B.
RBI: Halton (36).
Team LOB: 3.FIELDING
DP: (Gennett-Davis, B-Morris, H).
BATTING
3B: Ciriaco (1, Nelson).
HR: Colon, C (10, 7th inning off Leach, 0 on, 1 out).
TB: Hernandez, Go; Broussard; Ciriaco 3; Colon, C 4; Seratelli 2; Orlando; Ramirez, M.
RBI: Ciriaco 2 (4), Orlando (27), Ramirez, M (50), Hayes (33), Colon, C (43).
Runners left in scoring position, 2 out: Ramirez, M; Hayes 2.
GIDP: Hernandez, Go.
Team RISP: 3-for-10.
Team LOB: 7.BASERUNNING
SB: Seratelli 2 (22, 2nd base off Nelson/Lalli, 2nd base off Nelson/Lalli).
Omaha Storm Chasers
Player
IP
H
R
ER
BB
SO
HR
ERA
Chris Dwyer (W, 7-8)
7.0
3
1
1
1
8
1
3.46
Maikel Cleto
2.0
0
0
0
0
4
0
6.63
Totals
9.0
3
1
1
1
12
1
4.08
WP: Leach.
HBP: Hayes (by Nelson).
Pitches-strikes: Nelson 93-59, Leach 31-15, Olmsted 16-11, Dwyer 116-77, Cleto 26-19.
Groundouts-flyouts: Nelson 8-2, Leach 1-0, Olmsted 1-1, Dwyer 9-4, Cleto 2-0.
Batters faced: Nelson 27, Leach 6, Olmsted 4, Dwyer 25, Cleto 6.
Umpires: HP: Scott Mahoney. 1B: D.J. Reyburn. 2B: Blake Davis. 3B: Ryan Blakney.
Weather: 75 degrees, clear.
Wind: 21 mph, L to R.
T: 2:42.
Att: 8,285.
Venue: Werner Park.
July 26, 2013
Sections
Sports
Topics
Brent Leach, Brett Hayes, Chris Dwyer, Chris Narveson, Christian Colon, Eugenio Velez, Everett Teaford, Maikel Cleto, Max Ramirez, Nashville Sounds, Omaha Storm Chasers, Pacific Coast League, Papillion NE, Paulo Orlando, PCL, Pedro Ciriaco, Sean Halton, Sounds, Werner Park