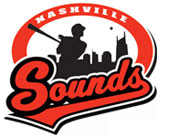 Nashville, TN – The Nashville Sounds downed the Las Vegas 51s by a 4-2 margin Friday night in front of 8,993 fans at Greer Stadium to pick up the team's first series sweep of the season. The win extends the team's season-best winning streak to five games.
Tied 2-2 in the fourth inning, Sounds shortstop Josh Prince dropped a triple into right field to lead off the frame and came around to score on a Blake Lalli's double.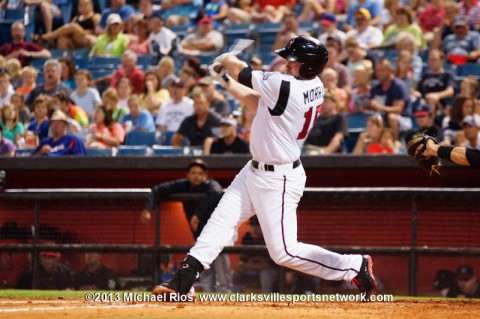 Lalli recorded three of the Sounds 10 hits on the night, while Prince and Sean Halton each recorded two knocks.
In the fifth, Prince scooted a ground ball through the infield for an insurance run, scoring Halton from second for the 4-2 lead.
Reliever Zach Kroenke (5-13) picked up the win for Nashville, his fifth, after delivering 4 1/3 scoreless innings for Nashville. The lefty limited Las Vegas to two hits, fanning four and walking one. Reliever Jesus Sanchez notched his third save with a scoreless ninth inning.
The Sounds took the initial lead in the contest when Hunter Morris and Lalli each connected for two-out RBI singles. Morris' knock scored Halton, while Lalli singled in Prince.
Right-hander Marco Estrada started on the hill for Nashville, making a scheduled 50-pitch rehab start for Milwaukee. The nine-year-pro walked Eric Campbell in the second inning and allowed a two-out single to Juan Centeno for his first of two earned runs.
In the third inning, Estrada picked up a quick two outs but then allowed his next two batters on base, before leaving the runners for Kroenke after 47 pitches. Kirk Nieuwenhuis touched Kroenke for a single to left field that allowed Wilmer Flores to score.
Estrada finished with a no decision, allowing two runs on three hits across 2 2/3 innings of work. He walked two and struck out two.
Relievers Kyle Heckathorn and Brent Leach also saw work from the hill for Nashville, combining to pitch a scoreless eighth inning.
Las Vegas starter Jacob deGrom (3-2) was charged with the loss, allowing Nashville four runs on nine hits and two walks.
The Sounds begin a fresh four-game series with the Tucson Padres (Padres affiliate) Saturday night at Greer Stadium. Throwing for Nashville will be LHP Aaron Laffey (5-5, 5.31) opposite Tucson's lefty Jason Lane (2-0, 3.86). First pitch is slated for 6:35pm.
Box Score
Nashville Sounds (43-71) 4, Las Vegas 51s (60-52) 2
August 2nd, 2013
1
2
3
4
5
6
7
8
9
R
H
E
Las Vegas 51s
0
1
1
0
0
0
0
0
0
2
7
0
Nashville Sounds
2
0
0
1
1
0
0
0
x
4
10
1
a-Bunted out for deGrom in the 7th.
BATTING
TB: Centeno; Baxter 2; Flores, W 2; Nieuwenhuis; den Dekker.
RBI: Centeno (22), Nieuwenhuis (21).
2-out RBI: Centeno; Nieuwenhuis.
Runners left in scoring position, 2 out: den Dekker 3; Centeno.
Team RISP: 2-for-8.
Team LOB: 9.BASERUNNING
SB: Campbell (8, 2nd base off Estrada/Lalli), den Dekker (5, 2nd base off Kroenke/Lalli).
BATTING
2B: Halton 2 (23, deGrom, deGrom), Lalli (10, deGrom), Parker, S (16, deGrom).
3B: Prince (1, deGrom).
TB: Velez; Lalli 4; Prince 4; Halton 4; Parker, S 2; Morris, H.
RBI: Morris, H (55), Lalli 2 (24), Prince (40).
2-out RBI: Morris, H; Lalli; Prince.
Runners left in scoring position, 2 out: Statia; Davis, Ke 2.
Team RISP: 4-for-11.
Team LOB: 7.BASERUNNING
CS: Velez (1, 2nd base by deGrom/Centeno).FIELDING
E: Prince (9, throw).
PB: Lalli (8).
Pitches-strikes: deGrom 94-63, Hampson 12-9, Carson, R 17-12, Estrada 47-25, Kroenke 54-34, Heckathorn 16-7, Leach 6-4, Sanchez, Je 8-6.
Groundouts-flyouts: deGrom 9-2, Hampson 2-0, Carson, R 0-0, Estrada 2-2, Kroenke 6-2, Heckathorn 0-1, Leach 0-0, Sanchez, Je 3-0.
Batters faced: deGrom 28, Hampson 3, Carson, R 4, Estrada 13, Kroenke 16, Heckathorn 4, Leach 1, Sanchez, Je 4.
Inherited runners-scored: Kroenke 2-1, Leach 2-0.
Umpires: HP: Tom Woodring. 1B: Gerard Ascani. 2B: Joel Hospodka. 3B: Cory Blaser.
Weather: 86 degrees, clear.
Wind: 1 mph, Varies.
T: 2:52.
Att: 8,993.
Venue: Herschel Greer Stadium.
August 2, 2013